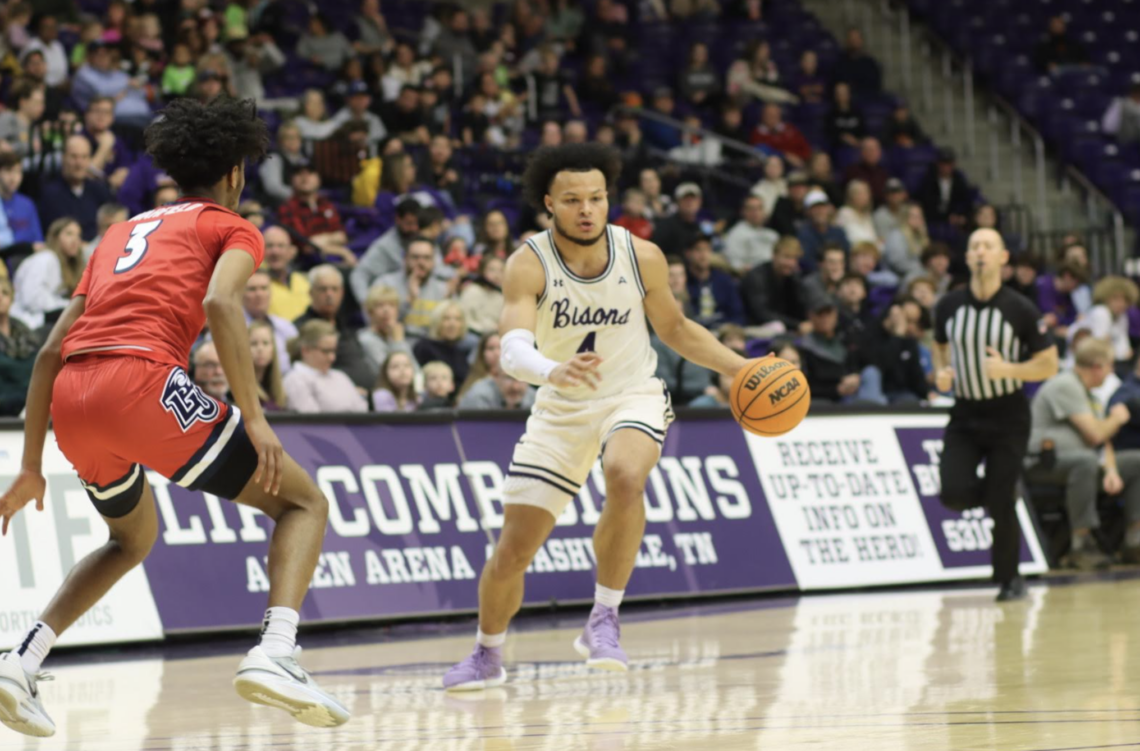 Men's basketball takes down Liberty in thriller
As Will Pruitt's late free throws rattled in and the Allen Arena crowd erupted, it became clear. The Bisons had done it again.
Lipscomb moved to 11-1 at home and once again showed it can win the big one in its 69-64 win over Liberty, the ASUN conference's first place team. 
"It was a lot of fun. I'm proud of our guys. I'm happy for our guys. I'm happy for Lipscomb," said head coach Lennie Acuff. "That may be the last time we play Liberty, so it's a good way to send them out."
As early as the first media timeout, it was easy to see the direction the game was heading. This was going to be a high-powered offensive affair. 
Both groups knocked down five first-half 3's while shooting over 35% from beyond the arc.
The starpower in Saturday's game was shown off early on, as well.
Former ASUN player of the year Darius McGhee led the Flames with eight first-half points while Derrin Boyd and Jacob Ognacevic led the Bisons with 11 and six first-half points respectively. 
Despite its high-level offense and an 11-0 run, Lipscomb couldn't pull away as Liberty tied things at 30 with a few seconds remaining in the half.
It felt like more of the same story throughout the second half until Lipscomb picked up some breathing room behind a 9-2 run that was punctuated with a contested 3 by Boyd.
Lipscomb led from the 8:15 mark on and sealed things behind a few timely free throws from Will Pruitt that extended the Bisons lead to three with 19 seconds to go.
"There was no doubt that he was walking up to the free throw line and making those free throws," Acuff said of the moment.
Liberty had a chance to tie things on a Kyle Rode shot from 3-point range but failed and Pruitt iced things with two more.
The Bisons knock off the league's top dawg
Acuff said on Thursday night that he would be ok with finishing this week 1-1 and cutting his losses. The veteran head coach left the challenging stretch with a better result than he could've anticipated.
In a week, the Bisons knocked off the league's first place team along with a team that is considered to posses the best backcourt in the league.
The win moves Acuff's team to 7-5 in ASUN play and gives it a completely different feel than it had a week ago. 
Three quick takes:
As the lights get brighter, so does Derrin Boyd
When Boyd is at his best, he's in attack mode. On Saturday Boyd came out of the gate looking to be Lipscomb's offensive "alpha."
The 6-foot-3 guard opened the game with eight of Lipscomb's first ten points and finished the half with 11 points while shooting 100% from the field.
Boyd's case as Lipscomb's most talented player has been backed up by big time performances in some of the Bisons' biggest games.
The junior guard had 23 points in Lipscomb's win over Louisville, 18 in the Bisons' win over Navy, and 18 as Lipscomb took down Eastern Kentucky. Boyd added another impressive outing to his resumé on Saturday. 
The Georgetown college transfer finished Lipscomb's win over Liberty with 22 points while shooting 70% from the field and 83.3% from 3-point range.
"I thought Derrin was fantastic," Acuff said, "He was locked in and ready to go. He carried us on."
The next step for Boyd in Acuff's mind: consistency.
"Derrin's really talented, he's had some great games for us, we just gotta keep him a little more consistent," the veteran coach said.
If the Bisons can get what they got out of Boyd on Saturday consistently, their ceiling is significantly higher.
Lipscomb has been tremendous at home and in big games but what determines its fate will be what it does in other games
As Lennie Acuff's team has entered the new year a theme has emerged, they play their best basketball at Allen Arena, particularly against the best teams on their schedule.
The Bisons have won five-straight games at home and boasted a record of 10-1 at Allen Arena. The problem lies in what's happened on the road.
Since the Bisons' win at Liberty, they've gone 1-4 on the road. In ASUN play, just one of Lipscomb's six wins have come away from its home arena.
The theme of playing their best at home in big games continued for Acuff's team on Saturday in their win over Liberty. That certainly isn't a bad pattern to have, but Lipscomb's ability will be tested as it finishes regular season play.
Four of the last six games for the Bisons will come on the road, including its next two against Central Arkansas and North Alabama.
"We need to play better on the road, the road's tough in this league," Acuff said.
The way Lipscomb fares in its road tests will ultimately determine its seed and whether it can capitalize on the momentum its gained over the last week.
The Ceiling with this Lipscomb team – as shown on Saturday – is tremendously high
This Lipscomb team has similar personnel to Acuff's previous teams but has a completely different feel, one that is different from what a normal 7-5 team has. 
Despite not sitting at the top of the league, Lipscomb has the feel of a team that can string off a few wins when it needs to the most.
Acuff's team has quality depth, a few guards who can create their own shot, experience, and a deep, productive frontcourt.
They also have the vibe and swagger to go with it, when this team gets rolling there isn't a team in the league that they can't compete with. That was proven on Saturday afternoon.