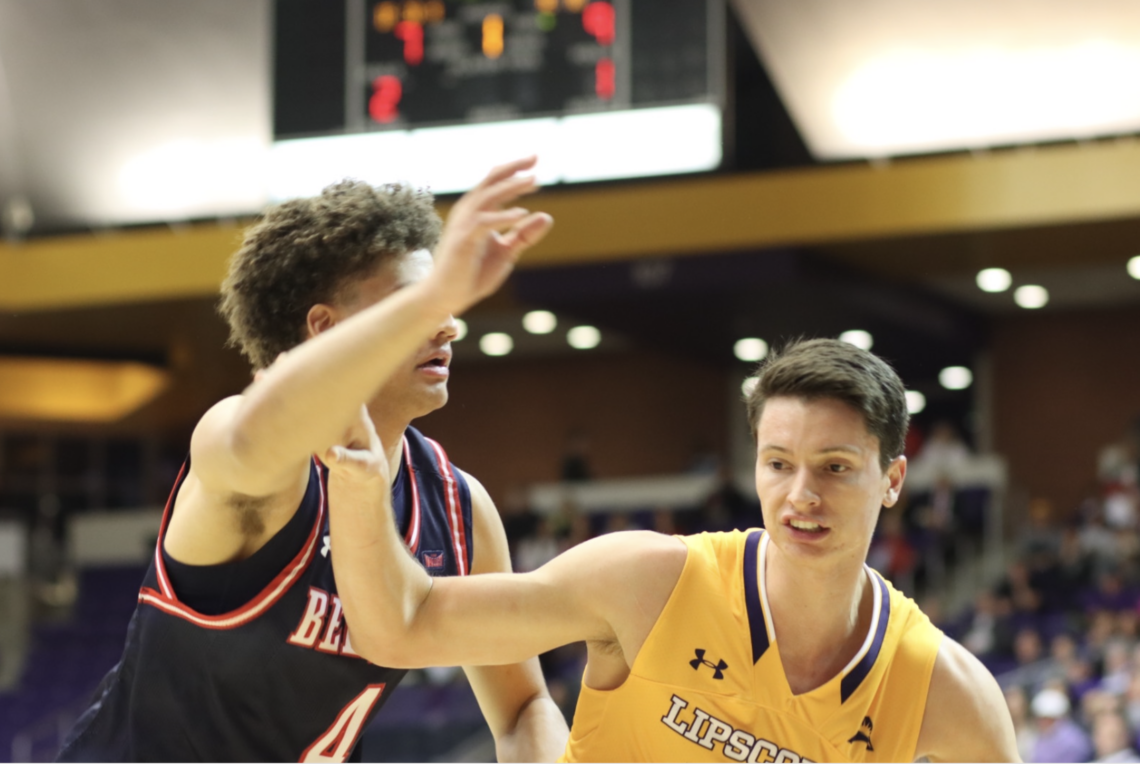 Bisons beat Bruins in new Boulevard chapter
A night in which Jacob Ognacevic started as Lipscomb's sixth man ended with him as the hero, capping off a magical night by sending Lipscomb's student section onto the court to Prince's "Purple Rain" with a game-winning layup.
After six painful losses in a row and 1,806 days since Lipscomb's last victory against Belmont, Lennie Acuff and his team finally did it for the first time in his tenure, beating former Lipscomb head coach Casey Alexander's Belmont Bruins 77-75.
The Battle of the Boulevard, one of the most anticipated rivalries in the nation, took place Monday night at Allen Arena. For the first time in seven tries, though, the result fell to the south side of the street.
The Bruins' starting five consisted of Ben Sheppard, Ja'Kobi Gillispie, Cade Tyson, Evan Brauns and Drew Friburg. The Bisons started out with sophomores Will Pruitt, Trae Benham, and Derrin Boyd alongside graduate students Matt Schner and Ahsan Asadullah.
Brauns, a center from Iowa, won the opening tip for the Bruins.
After a couple of empty possessions, Benham buried a three and Lipscomb grabbed the first points of the game, a shot that sent gold towels flying.
Belmont then went on a 7-0 run in the span of a minute, but Benham ended the run by scoring all five of Lipscomb's points in a 5-0 counter.
Out of the timeout, Lipscomb went on a 7-0 run and held Belmont scoreless for nearly five minutes until Ben Sheppard knocked down one of his two free throws.
Belmont continued to struggle to shoot and was not able to knock down a field goal for 5:31, only scoring off the single free throw.
Midway through the first half, the game was tied at 14 at the 12-minute media timeout.
Buckets were traded back and forth for the next three minutes, but Belmont had a slight advantage. The Bruins led 22-21 with 7:06 left in the half, with forward Friberg leading with eight points.
Over the next four minutes, both sides continued to trade baskets. No team was able to pull away with a big lead.
Lipscomb was on top 29-28 with 3:08 left in the half. Schner continued on with red hot shooting, going 5-of-5 from the field and dropping 11 points.
As halftime hit, Lipscomb was on top, but still not much separation was evident in the score. The Bisons lead was 37-34 thanks to Schner's 13 points, a number that led both sides in scoring.
For the Bruins, Ben Sheppard also put 11 in the books.
After the half, Belmont came out with tons of momentum. Lipscomb head coach Lennie Acuff called an early timeout at the 17:36 mark, as his team was now down 44-39.
Belmont continued to have a hard time, continually missing shots. They scored five straight field goals and only allowed one from Lipscomb. At the first media break, the Bruins were on top of the Bisons 50-42 with 15:28 left in the game.
At the 11:30 mark in the second half, Belmont continued to hang a lead over Lipscomb's head. The Bruins were up 57-51, with freshman Cade Tyson beginning to fill the scoring column as he reached 12 on the evening.
Lipscomb continued to push their way back into the game, carried by an ecstatic energy from the student section. With 7:42 left, the Purple and Gold led 60-59 after a pair of made free throws from sophomore A.J. McGinnis.
With 3:58 remaining, Allen Arena could not have been louder. Schner pulled down a defensive rebound that resulted in a foul. Lipscomb was still trying to grow their lead, as they were now up 69-64.
The fight continued on, but Lipscomb continued to lead. With a pair of made free throws by Pruitt, Lipscomb found themselves on top 75-69 with 2:12 left.
Belmont was not going away. After a timeout with 49.8 seconds left, Belmont trotted back on the court down by two, 75-73. The away team was led down the court by Sheppard, but turned it over on a walk.
Lipscomb's offense, not able to come up with anything, willed Belmont's Michael Shanks to the line with Belmont down by two with 11.7 seconds left. He was able to drill them both, tying the game at 75.
Lipscomb had the ball with a chance to bring it up the length of the court and attempt to end it there.
Boyd controlled the offense and after a few patient dribbles, he drove to his left, seemingly going for a winning shot.
Instead, though, Boyd floated a pass towards the basket which found the hands of sophomore Jacob Ognacevic. Looking to end the game, Ognacevic laid it in with just one second left, resulting in Lipscomb winning the Battle of the Boulevard, 77-75.
Trae Benham led the game in scoring after grabbing 21 points. But the MVP of this one, Ognacevic, completed the evening with 16. Ben Sheppard led the Bruins in scoring with 19.
Lipscomb wins in magical fashion
In an up and back contest against an incredibly talented team, Lipscomb kept finding ways to keep themselves in the game and ultimately found a way to win.
Although it was a closely contested battle throughout the night, it always felt like Lipscomb would have enough to come out of this one with a win.
The Bisons rallied around their energetic home crowd and continued to clap back at Belmont over and over again with huge buckets in crunch time.
From the energetic student section and a half court shot made by a student, to Ognacevic's last-second finish around the rim and Boyd's clinching steal, things just felt meant to be for Lipscomb tonight.
This was supposed to be their night and they weren't going to let it slip through their fingers.
Five Quick Takes:
Lipscomb is closing the gap between programs
Lipscomb's showing in last December's 29-point loss at the Curb Event Center marked the largest score difference and general gap between the two teams since coach Casey Alexander left Lipscomb to head to the other side of town.
Belmont had gained the advantage in six straight head-to-head matchups, quality of facilities, attendance, and recruiting.
The Bruins 29-point win in an Ahsan Asadullah-less contest marked a low point for Lennie Acuff and his program. The Bisons needed an impressive performance to close the gap and that's what they provided.
Lipscomb needed this one to rejuvenate the rivalry and they did it in a way that couldn't have been drawn up any better.
Tonight's last-second win significantly closed the gaps between the two Nashville-based programs.
A unique environment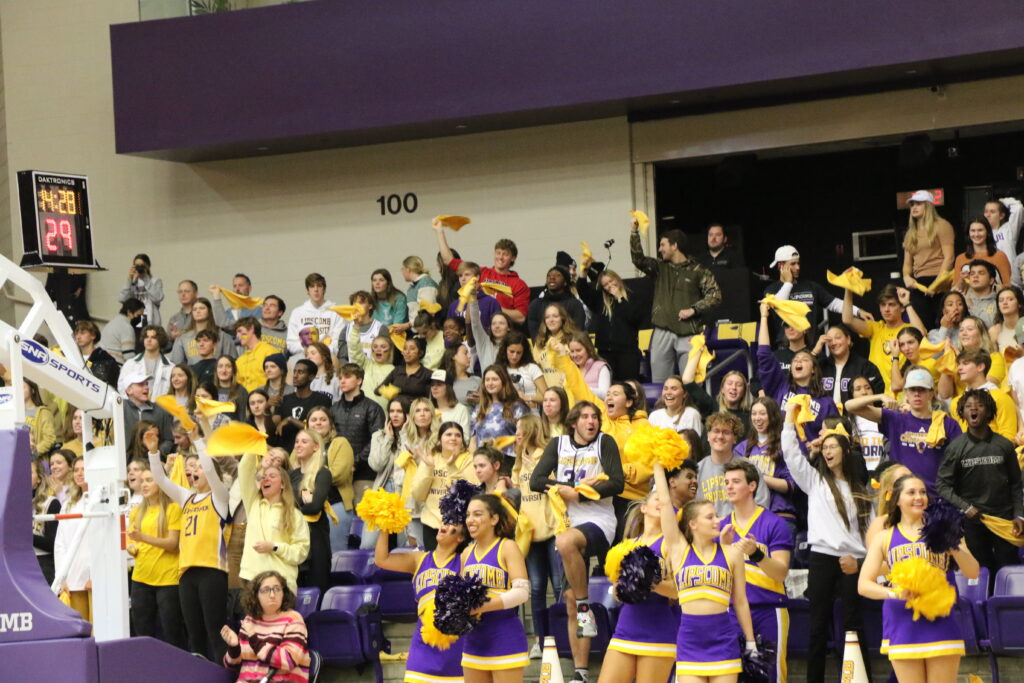 Even throughout Lipscomb's best seasons, the Lipscomb basketball program has struggled to consistently fill up Allen Arena, but that certainly wasn't an issue tonight.
Lipscomb's student section erupted early and often throughout the night.
The Lipscomb student body filled nearly three sections with gold towels, flags, and palpable energy.
The way that the student body energized the Bisons was clear even before the tip-off.
Nearly every Bisons player attempted a dunk in layup lines, something that certainly didn't happen before Saturday's blowout defeat of Campbellsville-Harrodsburg.
The Lipscomb students were certainly loud, but didn't dominate the night. For every eruption that the "Lippy Lunatics" had, the Belmont students clapped back with boos, a chant, or an eruption of their own.
The feel in Allen Arena on Monday night was one of a completely different intensity than Saturday's home opener.
Lippy Lunatics leader Jackson Gibree, one of three students who created the new flagship student section on campus, called it "one of the most energetic crowds" he has ever been a part of.
That energy propelled a Bisons team that has struggled mightily on the defensive end into forcing six turnovers before the second media timeout.
The close proximity of the two rival schools creates an opportunity for one of the most unique environments in the sport. That was on full display during Monday night's rivalry matchup.
Lipscomb's energetic crowd continued the intensity through the last minute of the game and helped to propel Acuff's team to arguably their biggest win of his tenure.
The crowd capped off their energetic night with a mosh pit on the floor of Allen Arena while Purple Rain blasted in the background.
Gibree thinks that the energy in the building won't just be limited to Monday night's contest either.
"The energy at Lipscomb is shifting and Allen is going to be a place people are scared to play in. Tonight proved that to me," Gibree said.
Schner impresses with efficiency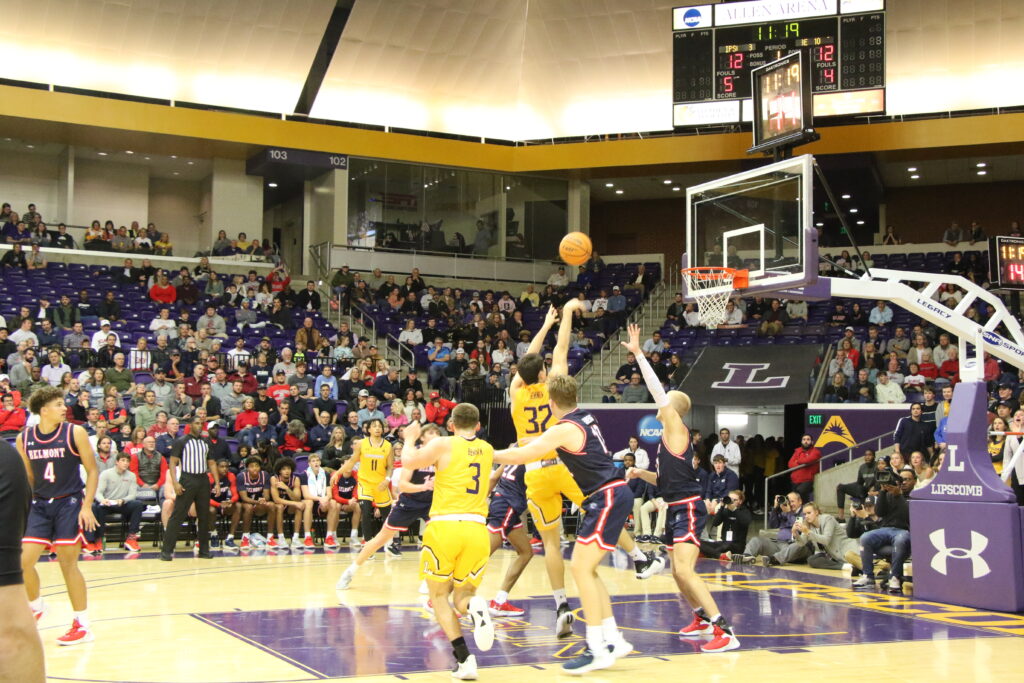 Veteran forward Matt Schner showed his age and experience in Monday night's important contest.
Schner scored in double digits throughout Lipscomb's first two contests, but was generally quiet through those two games.
That quickly changed in the first half of Monday night's contest.
The former Emory forward led the Bisons offensive attack while shooting a perfect 6-6 from the field and totaling 13 points throughout the half.
Schner was unphased by taller, more athletic defenders throughout the night and showed his ability as a potential go-to scorer in the midrange.
The 6'5" forward finished with 17 points on 7 of 9 shooting from the field while also grabbing eight rebounds.
When Lipscomb needed Schner to play like a veteran the most, he came through.
Lipscomb won without getting much from Asadullah
Acuff and his staff have built their entire team around Asadullah; when recruiting through the portal, they put an emphasis on players that would complement the talented big man.
The three-time all-ASUN selection has been and still is Lipscomb's go-to guy that they've been intentional about making their focal point.
Lipscomb won in a different way tonight, though.
Asadullah only had four points, shot just 2 of 7 from the field, and left the game early because of foul trouble.
Lipscomb won with their guard play tonight and the way they thrived on the perimeter, a significant step for the Bisons who have now proven that they can win in a variety of ways.
Good things happen when Lipscomb does the little things well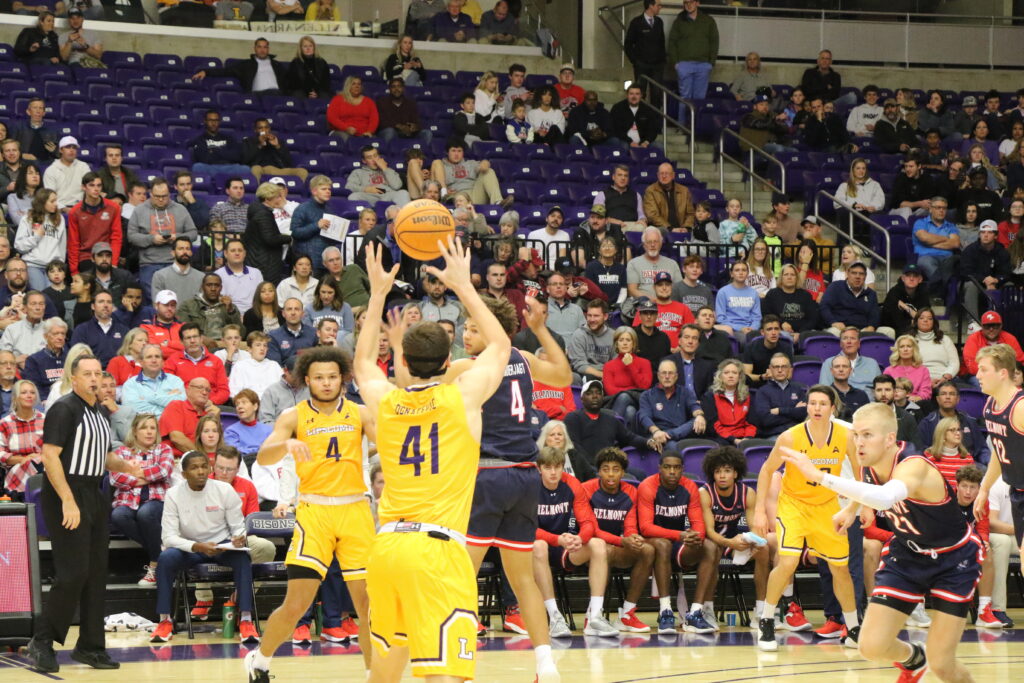 In Wednesday's opening night contest at South Dakota, Lipscomb lost in large part due to the little things.
The Bisons scored well enough to win but turned it over too much, got into scoring ruts, got significantly outrebounded, and defended poorly in the second half. Those little things led to the Bisons' demise.
That night showed Acuff's team the importance of doing the little things at a high level.
The message carried over into Monday night's rivalry contest.
Throughout nearly the entire game, Lipscomb defended at a higher level than they had, won the turnover battle, outrebounded Belmont, and shot a better percentage from the free throw line.
Acuff's team allowed Belmont to climb back into the game after a few crucial missed free throws by Pruitt and Boyd along with a turnover from McGinnis that led to Belmont tying the game in the final seconds.
Lipscomb has shown flashes of doing the little things well throughout the early part of the season, but has to do them more consistently to be a real threat in the ASUN.
Trae Benham is built for the big game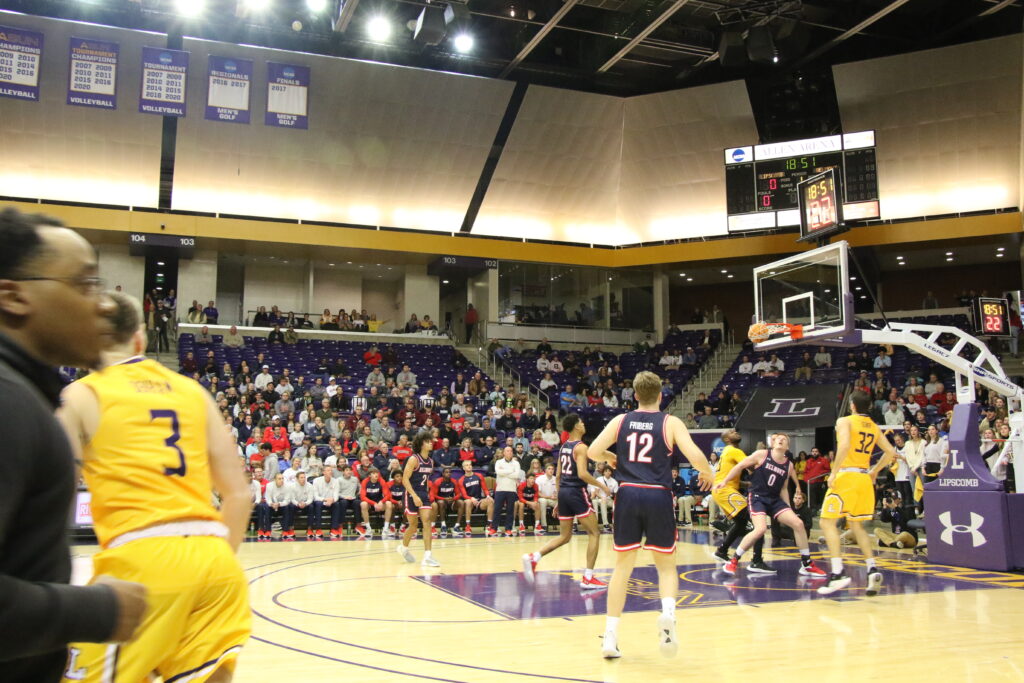 Lipscomb's backcourt was excellent offensively throughout the first two games of the season, but one important member remained quiet.
Benham averaged just seven points per game while shooting 33% from the field and 11% from three in Lipscomb's first two games.
After a crowd-energizing five-point run, Benham nearly reached that scoring mark before the first media timeout.
Whenever Lipscomb's back was against the wall on Monday night, it was the 6'3 guard that they turned to.
Benham accounted for all four of Lipscomb's made threes throughout the night and hit them when the Bisons needed them most.
When Lipscomb was fighting to keep their season alive last March, the Concord, North Carolina native had his best performance of the year in a back and forth contest with Liberty.
Tonight, the sophomore guard had a performance echoing his career-defining night in Virginia, and this time, the win to prove it.
"My shot felt great," Benham said. "Whenever you get in a situation like that, your mind honestly just goes blank."
"Towards the end, [Allen Arena] was pretty packed out, and I was like 'holy cow, there's so many people here,'" Benham said.
It is abundantly clear that when Lipscomb needs him the most, Benham is capable of flipping a switch and becoming the Bisons' best player.
Simply put, if Trae Benham didn't step up the way he did tonight, Lipscomb's losing streak against their rivals from down the street would likely have been extended to seven games.
The Bisons came through despite adversity and pulled out quite possibly the biggest game of the Acuff era.
After the win against their archrivals, Lipscomb will look to continue their positive momentum in South Bend, Indiana Friday night against the Notre Dame Fighting Irish.
That game will be streamed live on The Bison, Lipscomb's on-campus radio station.
Photos by Gracey Parnell, Parker O'Neal, Addie Daubenmier, and Forrest Maners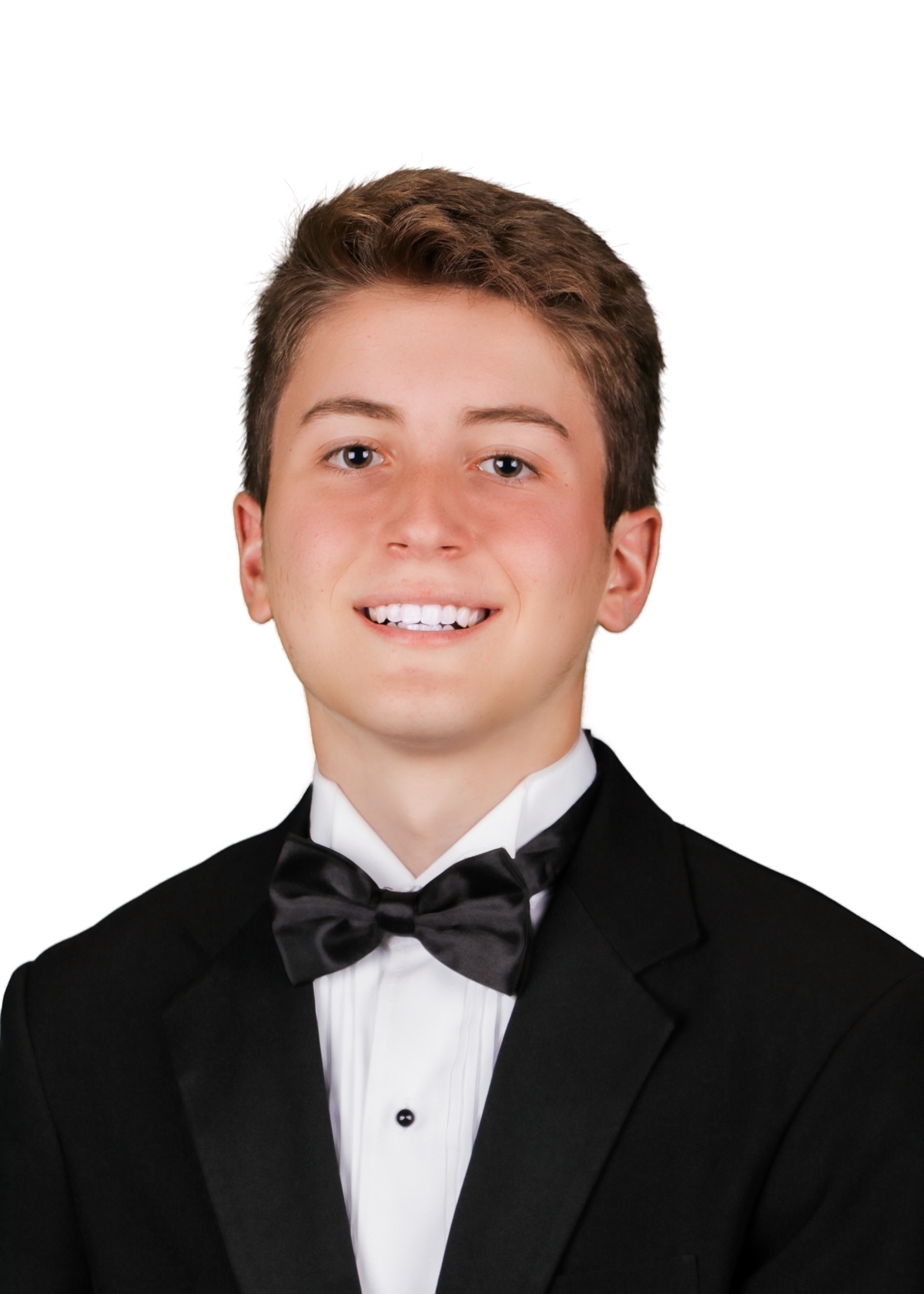 Joey Dwyer is a sports media major who will primarily cover Men's and Women's Basketball. Joey also works for VandySports.com of the Rivals network as a basketball beat writer. The freshman got his start covering Notre Dame as a freelancer for his own podcast and website called Breaking Down Brey's Boys.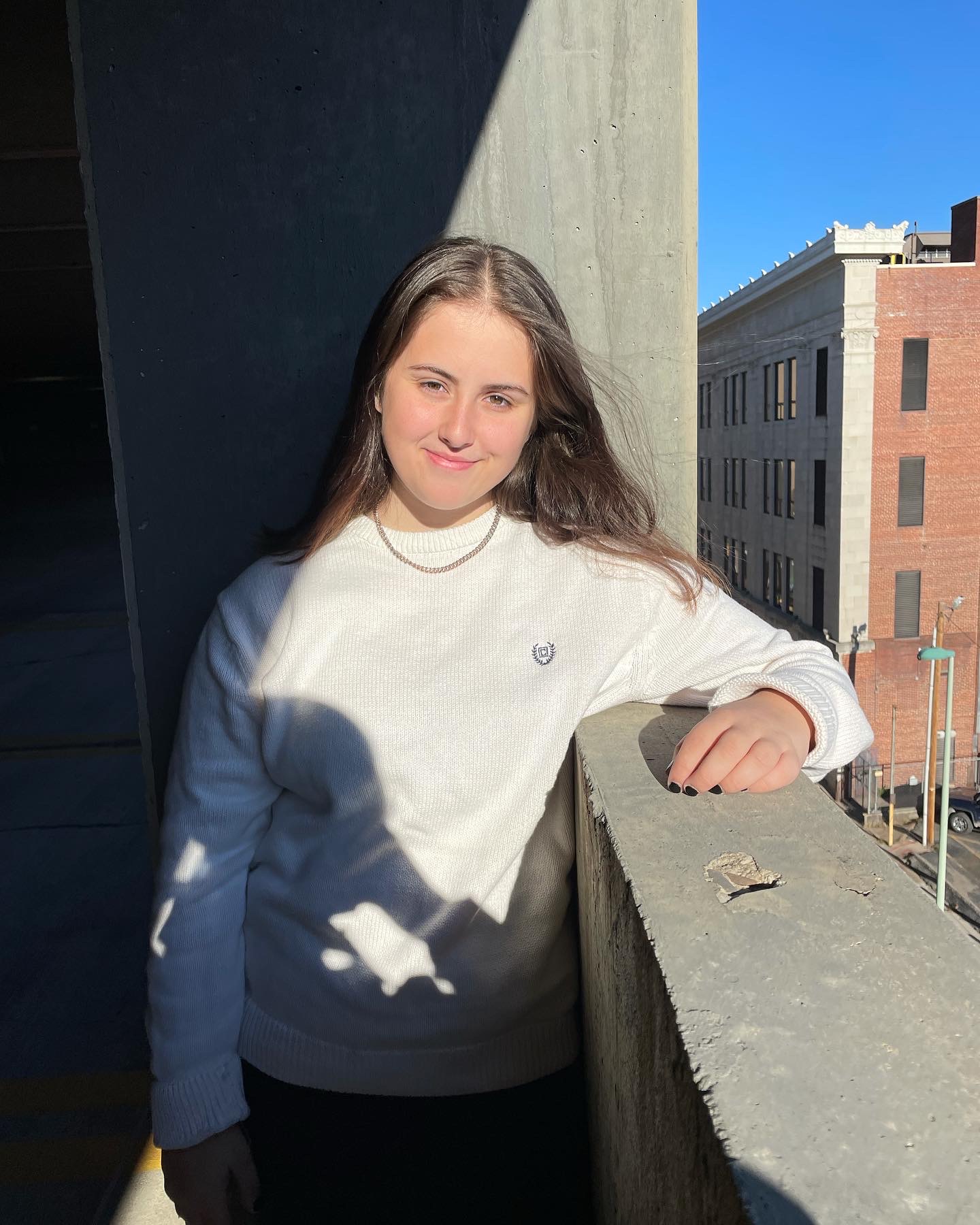 Alaina Morris is a sophomore who joined Herd Media in 2022. She is a sports media major who focuses her articles around Lipscomb athletics and is an assistant sports editor for Herd Media. Alaina also contributes live sports commentary for the school radio, The Bison.  Her favorite sports teams are the West Virginia Mountaineers and the Pittsburgh Steelers.