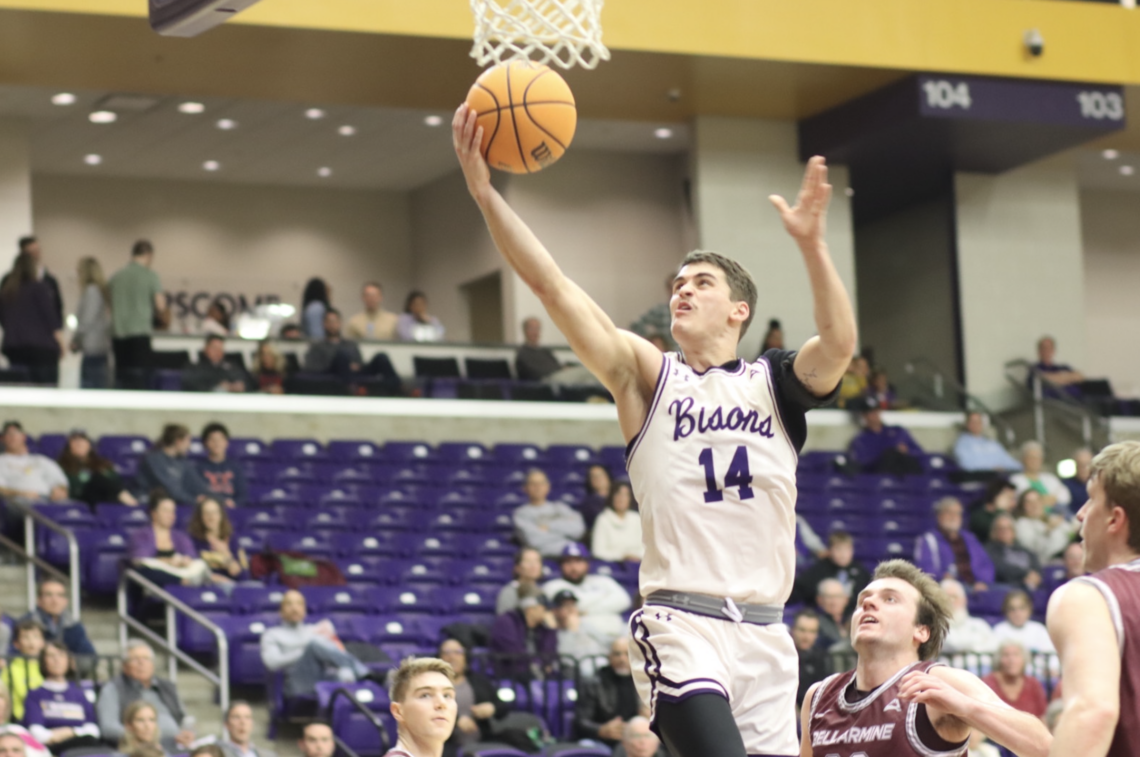 Men's Basketball shows upward trajectory in win over Bellarmine
Just over two weeks ago, Lipscomb sat in the basement of the ASUN, but as Lennie Acuff's program enters the heart of league play it has plenty of reason for hope. 
The Bisons encountered a litmus test today and passed with flying colors in its 69-49 win over Bellarmine at Allen Arena.
"At this time of year you're obviously concerned with your record, but you're more concerned with the direction you're going and I think our trajectory is up," Acuff said.
It felt like Lipscomb had this one under control for most of the afternoon.
Coach Lennie Acuff's team went on a 12-0 run midway through the first half and didn't look back. From there the Bisons took a 13 point lead into the break.
Lipscomb held Bellarmine to just 22 points on 33.3% shooting from the field, the Knights were also held to an uncharacteristically-low 7.1 shooting percentage from 3-point range in the half.
Jacob Ognacevic led the way with eight first-half points while Matt Schner chipped in seven.
Bellarmine put themselves within striking distance, but a 4:30 scoring drought led to a 14-2 Lipscomb run that put things out of reach for the Knights.
Lipscomb extended its lead from there and knocked off Bellarmine by a 20-point margin.
The Bisons 69-point performance was led by Tommy Murr, Matt Schner, A.J. McGinnis, and Jacob Ognacevic. All of which scored in double figures.
Lipscomb extends its winning streak to four games
Just fourteen days ago things the Bisons program had plenty of darkness, Acuff's team sat at 1-3 in the league after their worst offensive showing of the season in Jacksonville. The Bisons had also suffered a blowout loss at the hands of Liberty just five days earlier.
As of January 21st, Lipscomb sits at 5-3 in the league and is in the midst of a four-game winning streak.
As the Bisons enter the heart of league play they certainly have plenty to hang their hat on.
Three Quick Takes:
Lipscomb's offensive "flow" is coming back
As Lipscomb faced off against a team notorious for its passing, the Bisons' offense may have had more movement and may have been in a better flow.
The Bisons were not short of stretches where they looked jointed at the hip offensively. Everyone got a touch, Lipscomb's guards weren't afraid to get their feet in the paint, and it felt like the Bisons got a good look every time down the floor that they didn't turn it over.
That unselfishness and confidence is what allowed Lennie Acuff's team to put together an impressive stretch in non-conference play, when Lipscomb is best it is unselfish and unafraid.
When they've gone through slow stretches, Lipscomb hasn't had those qualities, but in the midst of its four-game win streak, the Bisons have looked like an Acuff led team on the offensive end.
"I think we're figuring some things out, we're getting a bit better at playing downhill, the ball is moving a little bit better, when the ball is moving and players are moving good things happen," Acuff said.
Even when the shots weren't falling in the second half, the way Lipscomb shared the ball and hit the offensive glass was encouraging in its 69-point performance in which it shot 48.1% from the field and accounted for 15 assists.
Acuff's team's biggest area of improvement may be the way in which it defends the 3-point line
In 2021-22 Lipscomb routinely lost leads because of its inability to defend beyond the arc.
As the Bisons have found themselves in ASUN play, it's been largely because of the way they've slowed down the high-powered offenses of the league.
"We're just so much better defensively, we work real well together," Acuff said.
"I'm really proud of our defense, they're hard to guard," Lipscomb's head coach added.
Lipscomb outshot Bellarmine 40.7% to 7.4% from 3-point range on Saturday afternoon and have won the battle from beyond the arc in its last four games.
All four of those games turned out to be wins for Lipscomb, that wasn't a coincidence either.
Winning that way is a dangerous way to play, but with the way Lipscomb has defended from beyond the arc it seems like it could be a stat that could be sustainable for the Bisons.
Tommy Murr was tremendous
Lipscomb's "quality depth" in the backcourt has carried it through much of the season, but the downside to it is that sometimes players like Murr get lost in the mix.
On Saturday night Murr was determined to make sure that wouldn't be the case. When the Bisons sputtered offensively it was Murr who sparked their second-half run that ultimately put the game out of reach.
"I thought Tommy was great today, Tommy is really talented and really fast twitched," Acuff said.
What may have been most encouraging was the multitude of ways that the junior guard scored in, though.
Just nine of Murr's 14 points came from beyond the arc, the junior guard was also tremendous when going downhill. Murr showed that off with two finishes around the rim along with three assists that resulted from Murr getting his feet into the paint.
The Alabama native may not need to be a factor for Acuff's team every night, but the junior showed that he can be when the Bisons need it most.
The win moves the Bisons to 13-8 as they look ahead to Thursday night's matchup against Jacksonville State.