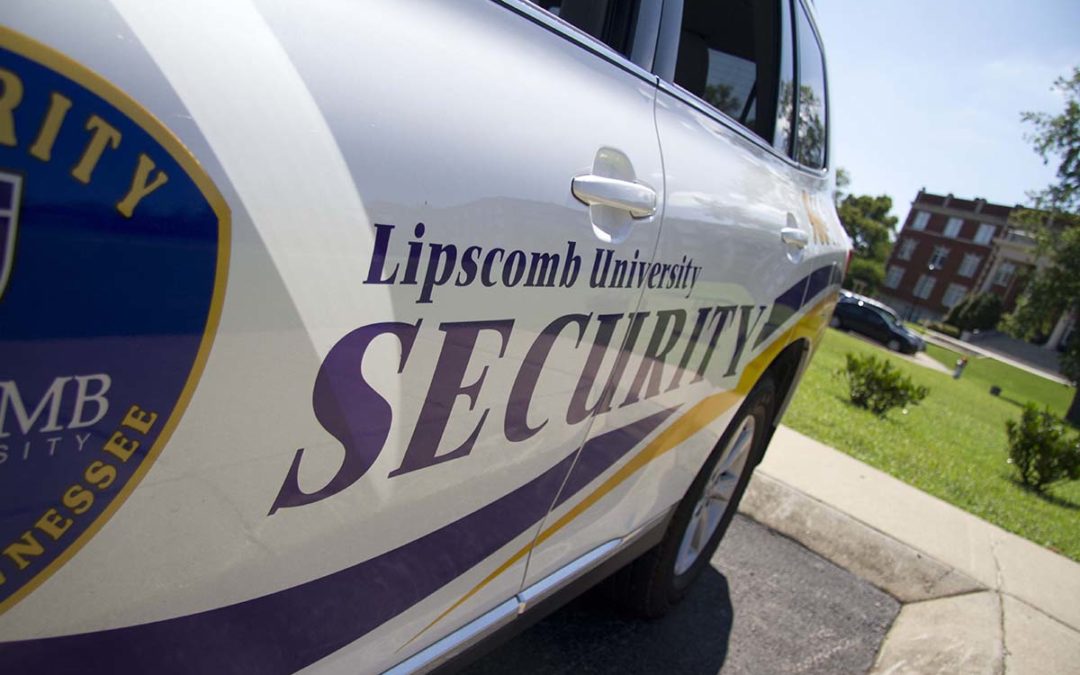 Lipscomb security staying proactive
After the March 27th incident at Covenant, people have been talking about security. What does security look like at Lipscomb University- both at the upper and lower school? What protocols do we have in place to protect us? 
Former FBI Agent and current Chief of Security for both the upper and lower schools, Jeff Dale, speaks about how old protocols are being reinforced and how new protocols are on the horizon.
Lipscomb has increased their patrolling and Dale has retrained the security department on effective patrolling. The active shooter training for Lipscomb faculty and staff has always been required, but Dale says he plans to roll the training out to students as well.
Dale is aware of The Gathering being the largest campus gathering each week and is committed to taking steps to ensure Lipscomb is prepared if anything were to happen at te chapel. 
"Now we block off the horseshoe right in front of the arena. We've got two marked units, our patrol guys are blocking traffic, and we have a Metro Nashville PD presence… we are taking measures not because there's a credible threat that something's gonna happen, but we're all about being proactive so that no one wants to come and do something. But if they do, we're prepared for it," says Dale.
Speaking of proactive, Dale has even formed relationships with the Metro PD, and they know that Lipscomb is always a place for them to come, eat, take a restroom break, and rest.
"…if you're on this campus and you're in a marked unit, you're not just here because we've called you and we need you, but to take a break," Dale says. "The bad guy sees that and says, 'Man, there's a heavy police presence- ongoing it looks like. I don't want to be here.'"
Inviting police on campus for breaks is caring and effective in a heavier police presence.
"Any criminal, any active shooter, any person that wants to do harm, they don't want security. They don't want people to be around. If they can be seen, they'll go somewhere else," Dale explains.
In addition to this, Dale is also trying to get the word out about all the perks that Lipscomb Security offers to its students. For example, did you know that Lipscomb Security is like your very own AAA service?
"We're basically your AAA. You get up and you're like, 'Oh, my car won't start.' We have the equipment and we will unlock it," Dale says. "We will change your tires, we will jumpstart your car. Even if you're two or three miles off campus, we will come to you!"
When you feel unsafe, Lipscomb security can also escort you to and from your dorm- 24 hours a day 7 days a week, they'll have someone for you.
Have you ever heard of the virtual bison walk for when you're off campus and worried about making it on campus?
"Let's say you're in downtown Nashville or wherever and it's two o'clock in the morning and you're like, 'Hey, I'm gonna be late getting back to campus but I'm by myself.' You activate on the Lipscomb Ready App 'virtual bison walk' it brings our dispatch on screen," Dale says. "They see you and you tell them 'Hey, I'm traveling from here to campus.' And now our people watching will see if you stop…we will call and if you don't answer, we'll send services to that location immediately."
All of this and more is available in the Lipscomb Ready App, which every student should download to stay informed about emergencies and to have access to all the security benefits you are paying for as a student.
Although Dale has only been at Lispcomb for a few months, he is implementing more and more in phases.
Dale graduated from Lipscomb, his wife is a nurse at the University Health Clinic, his daughter went to Lipscomb, and his son is currently enrolled. He is passionate about keeping the community at Lipscomb safe, protected, and proactive.
"I didn't take this job because I needed this job," Dale says, "I took this job because I felt it was a mission for me to come here and give back to the school that gave me so much."
Photo Courtesy of Lipscomb University.