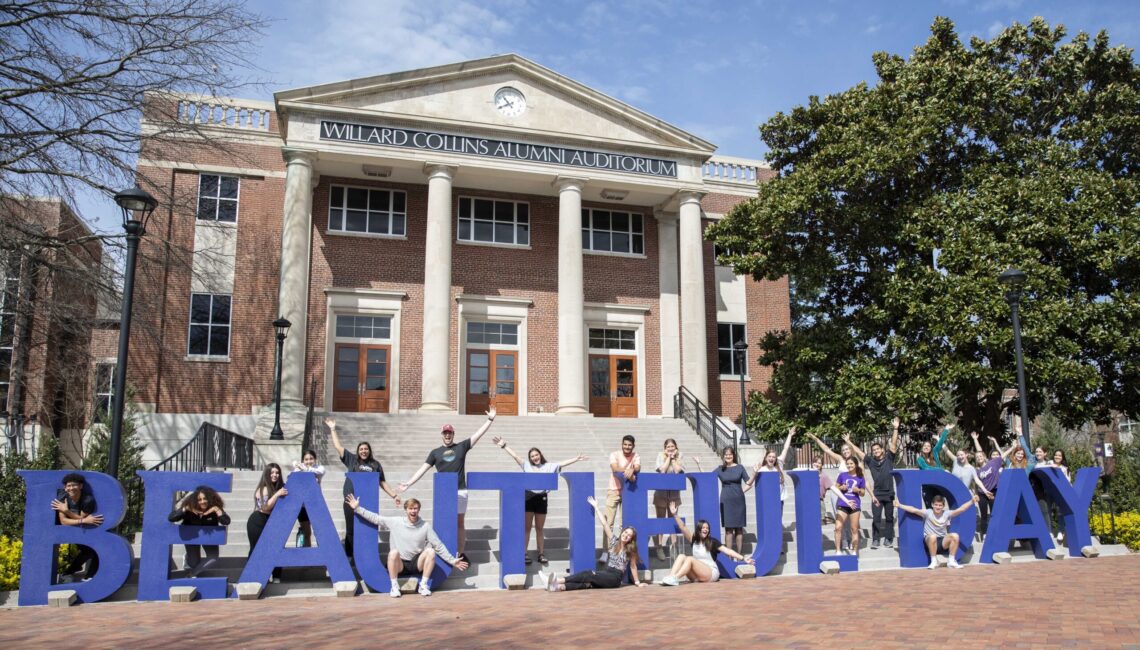 Dr. McQueen announces "A Beautiful Day" – The fascinating history of Lipscomb's "A Beautiful Day"
When you hear the phrase "it's a beautiful day", there are many different things that come to mind. For some, it may be sunny weather. Perfect conditions, that aren't too hot and aren't too cold. Some may think of Mr. Rogers' famous theme song, "Its A Beautiful Day In This Neighborhood". For others, it may be just a common expression in passing conversation. For Lipscomb students, however, the phrase "it's a beautiful day!" takes a much richer meaning.
It means a day for students to temporarily forget the pressures of classes and enjoy festivities with their peers. A day for the Lipscomb community to create life-long memories and share a fun impromptu experience. It's a day in the academic calendar that's been a staple in Lipscomb's student-life tradition.
The roots of "A Beautiful Day" can be traced back to as early as the 1930s. Before earning its memorable moniker, the event started as a humble, annual school picnic at Percy Warner Park. The first picnic was held in 1935, and according to documents obtained from Lipscomb archives, the first official "A Beautiful Day" event was on Oct. 21, 1937. The event was given its name from the announcement of the year's picnic, which began with the phrase "It's a beautiful day".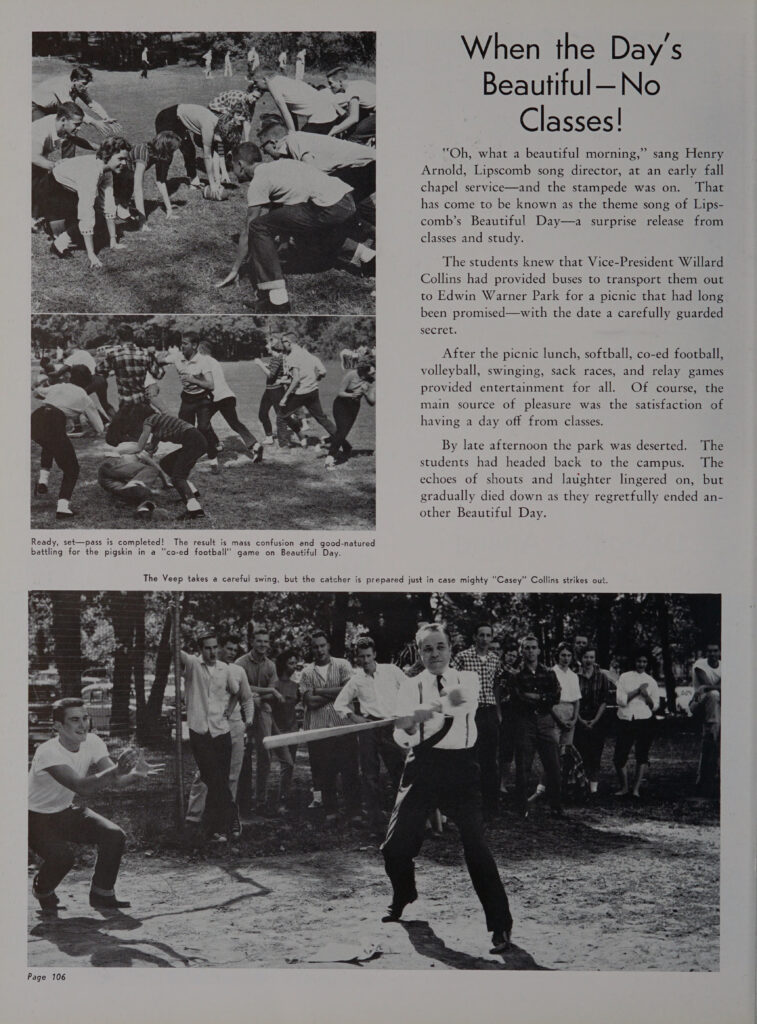 Despite all of this, it wasn't always embraced. The impromptu event continued for years after this and became an annual tradition that many students on campus looked forward to. However, in 1965 the sun would set on A Beautiful Day, and it would remain that way for nearly fifty-seven years.
But why was this? With 'A Beautiful Day' being so popular amongst students, what reason would the school have for discontinuing the event for as long as they did?
According to an issue of Lipscomb's former student newspaper "The Babbler", it was stated that the event "no longer served the same purpose as it did when Lipscomb was a small junior college," and that "Once the school had grown so much it was impossible to develop close relationships through such an event. The surprise element lost," the excerpt said.
The school's growth wasn't the only reason for A Beautiful Day's abolishment according to the piece. It was also mentioned that faculty members at the time were not on board with the event, as they felt that A Beautiful Day hurt academics, citing that the students' anticipation of the event would cause them not to study.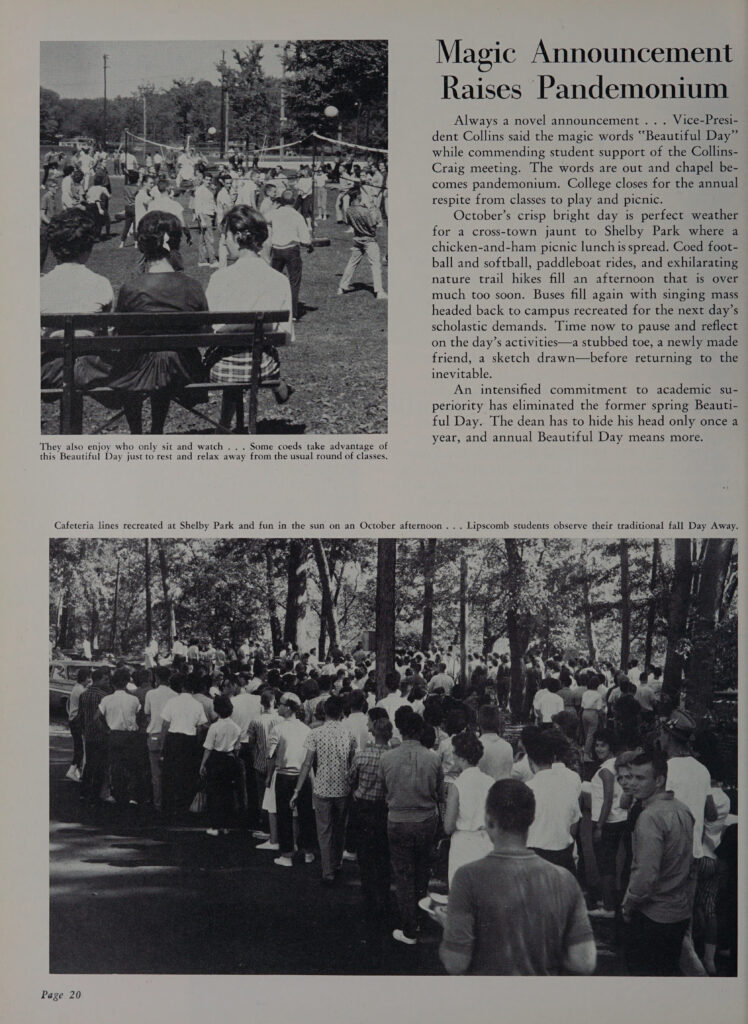 Because of these reasons, generations of Lipscomb students were deprived of one of Lipscomb's most memorable annual events. However, last year on the final day of Lipscomb president Dr. Candice McQueen's inauguration celebration, students were treated to pleasant surprise. 'A Beautiful Day' was back.
"After hearing the stories and seeing photos of Beautiful Days of the past, I thought it would be fun, as I officially started my new presidency, to bring that idea back to life and make it part of the inauguration festivities," said President McQueen. "It was a way to connect the present to the past, and to refresh it in a way that is meaningful today."
The event was filled much excitement amongst students, with multiple activities being held at Percy Warner Park, the same venue that held the so many years ago. There were also food trucks, a carnival with a ferris wheel, and roller skating in Allen Arena.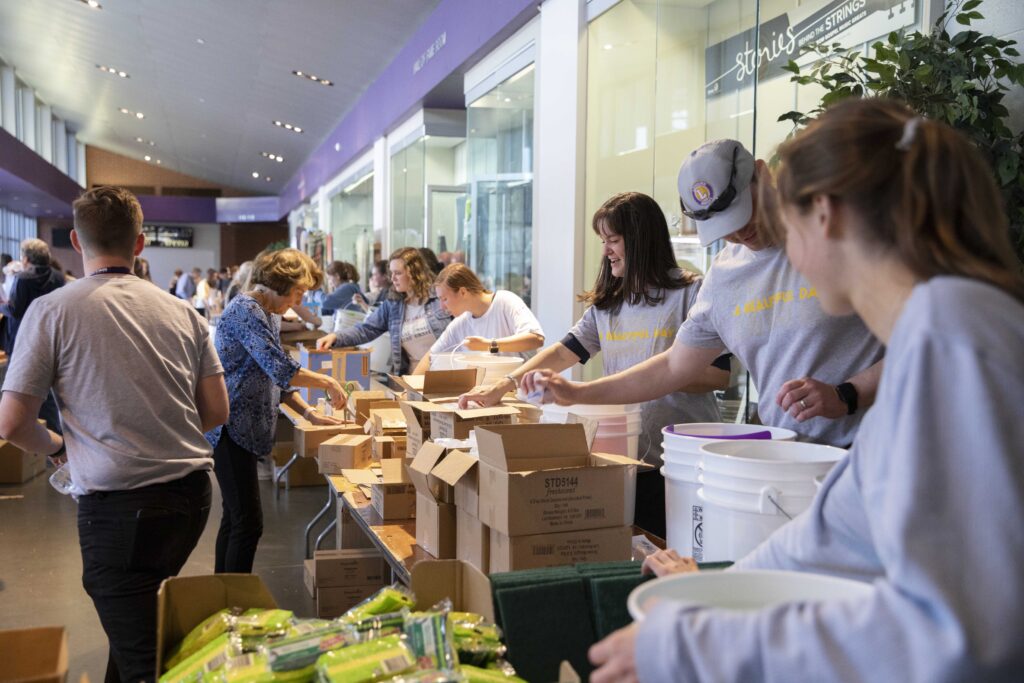 For President McQueen though, the games and activities weren't even the best part of last year's excursion.
"I have to say my very favorite part was serving alongside our students during the service project," McQueen said. "Serving others is central to who we are as a university. So, the service project was most meaningful to me and a great reminder that we are a Christ-centered community that seeks to serve others."
"I think any time we can do something specifically for our students, it's a good thing," McQueen said. "While I think it is important to work hard to accomplish the goals of a school year, I also believe it is important to take time to stop and just enjoy being in community with one another — to make memories that hopefully will be some of a student's favorite memories of their time at Lipscomb."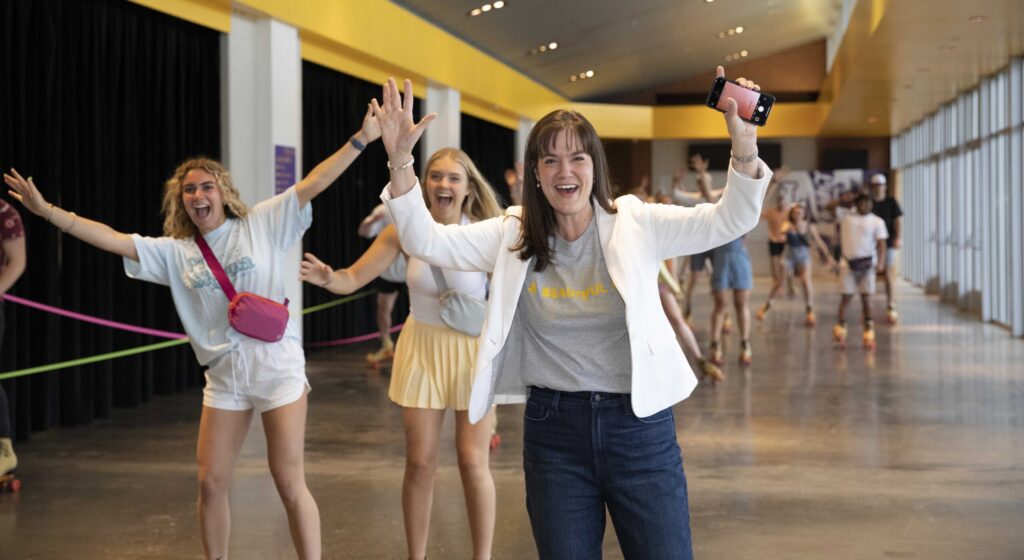 And for President McQueen, it's more than just a day for students to get away from classes.
"I am here because of the students, and to me Beautiful Day is an opportunity to do something fun just for the students. So, to me it means having a day to spend with students, just having fun and enjoying the beauty of a day spent together in community."
So be on the lookout Lipscomb students. You never know if President McQueen will walk in on what seems to be a normal Tuesday morning in Allen Arena during the weekly gathering. Saying that historic phrase: "It's a beautiful day!"