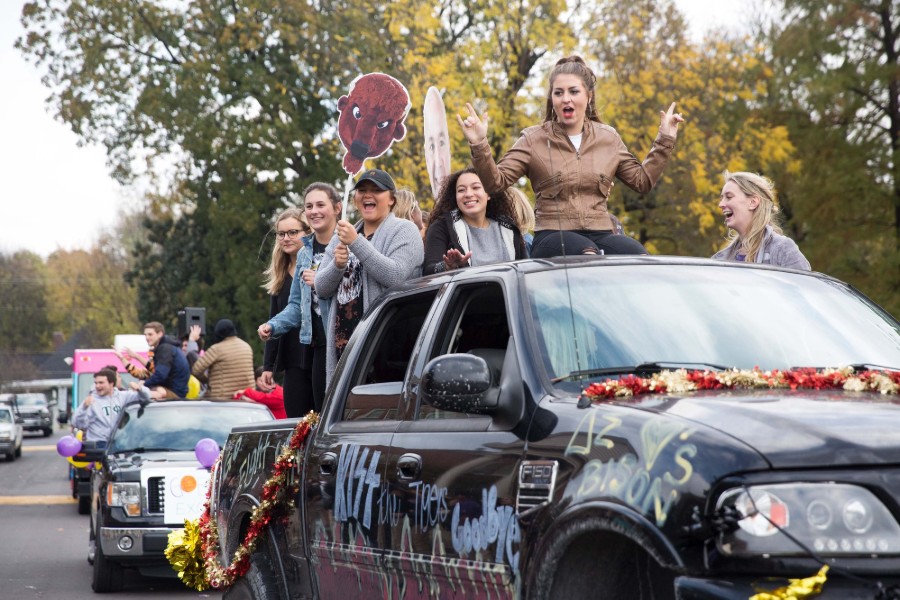 Homecoming rebranded Bisons Weekend
Bisons weekend is an annual event for all members of the Lipscomb community, past and present! Families, alumni and staff are all welcome participants in the festivities.
NASHVILLE – Lipscomb University's annual Bisons Weekend will take place November 11 and 12.
A schedule of events can be found here. 
These events express the joy of Lipscomb's surrounding community through traditions that have lasted for years.
Bisons Weekend gives participants various activities to pick and choose from.
Guided tours will take place on Friday, with lunch and lectures from faculty and administration. Current students will be celebrating at the annual Bisons Weekend parade at that time.
Families of current and prospective students will have individual activities on both days.
All students, whether prospective, current, or former, are welcome, though registration is required for some events. The weekend will include activities such as reunions, sporting events, a 5k run/walk, and free food.
In the past, this weekend has gone by many names. President Candice McQueen has rebranded Bisons Weekend under her leadership to create a more holistic experience for those involved.
Senior Tour Guide Allen Bass elaborated on his anticipation for the weekend. 
"I'm excited about the rebranding of Bisons Weekend," Bass said. "In the past, it's been centered around prospective students but now it seems more inclusive for everyone. We are preparing for a big crowd for the whole weekend."
Lipscomb University will host a variety of guests across the weekend as well.
Many students may make the decision to attend Lipscomb during this time, and information will be provided throughout the weekend to those interested in attending.
Prospective students will hear directly from current students, faculty in their department of interest and President McQueen herself. All activities that require registration can be found on the link above.
Below is a list of some of the major events. 
● Nov. 11, 8:30 a.m. – Bisons Weekend Central Opens in the George Shinn Center
● Nov. 11, 1:30 p.m. – Bisons Weekend Parade
● Nov. 11, 6:00 p.m. – Lipscomb University Volleyball plays Kennesaw State in Allen Arena
● Nov. 12, 8:00 a.m. – Ideal 6th annual Savannah's Boogie 5k
● Nov. 12, 11:30 a.m. – Bison Square Fair
● Nov. 12, 4:30 p.m. – Lipscomb Men's Basketball plays Campbellsville-Harrodsburg
Lipscomb has long history of successful athletics program, a program which highlights the community's passion.
"Basketball is what brought me to Lipscomb and seeing the crowd turnout means the world to this team and its staff," Jack Ingold, a junior guard on the men's basketball team, said. "We hope to see the whole community in the stands when we run out of that tunnel."
Bisons Weekend serves many purposes, but bringing together the community is the primary goal of the two-day experience.