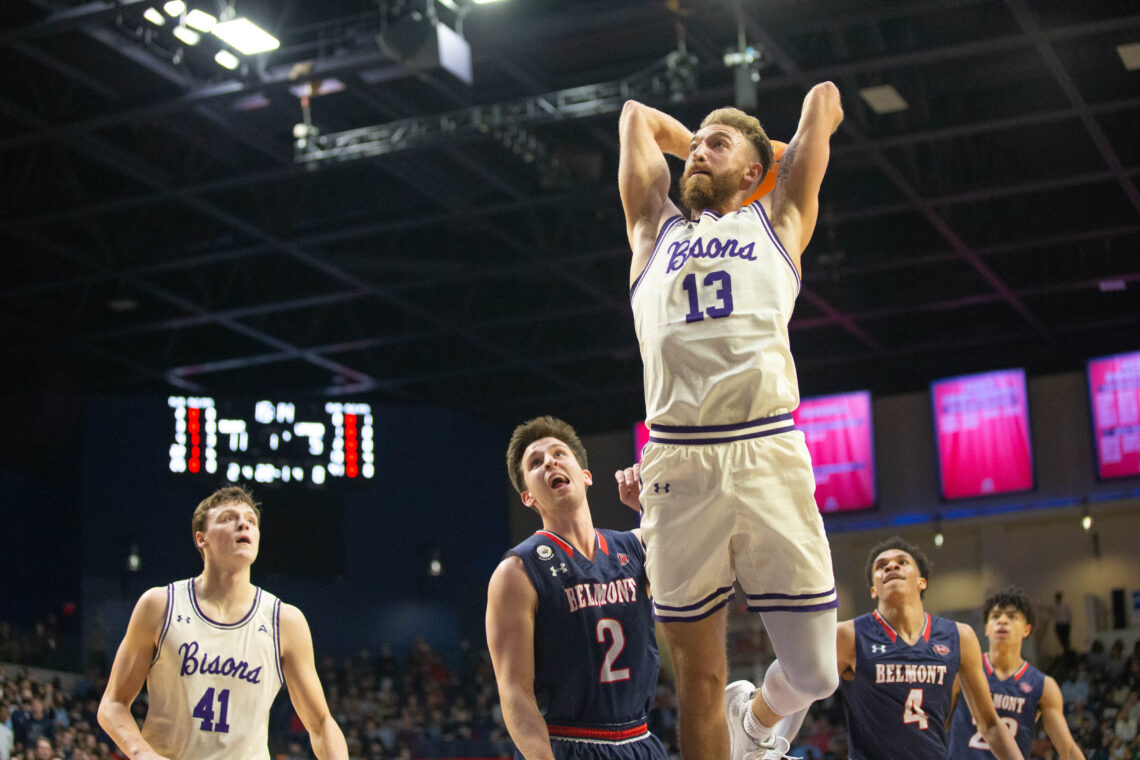 Men's basketball Battle is back on campus
The Battle of the Boulevard is a 142-year-old tradition between the athletic programs of Lipscomb University and Belmont University, two Nashville schools sharing Belmont Boulevard and sitting two miles from each other.
This year, the Bisons of Lipscomb will host the Belmont Bruins in Allen Arena, at the heart of Lipscomb's campus.
This nationally-known tradition started back in 1953 and has rolled over into other sports, but no game is as important as men's basketball.
"Continuing this rivalry with Belmont each year is such a privilege. We are so thankful to the community that makes this game so special," Bisons head coach Lennie Acuff said. "The players always get an adrenaline rush from the large crowd. After they get a taste of this competition, they crave it more each year."
The rivalry was most nationally relevant in the 1980s, while both programs were still members of NAIA prior to their eventual switch to NCAA Division I athletics.
The rivalry was intense under legendary coaches Lipscomb's Don Meyer and Belmont's Rick Byrd, both of which created NAIA basketball dynasties.
The rosters included some of the greatest players in NAIA history: Lipscomb's Darren Henrie, Philip Hutcheson, Jerry Meyer, and John Pierce matched up against Belmont's Joe Behling, Scott Corley, Scott Speedy and Greg Thurman.
In the 1990 season, one of five Battles played that year took place at Vanderbilt's Memorial Gymnasium. Over 16,000 fans showed up to watch the game, making it the largest-attended game in NAIA history, a record which still holds today.
That night, Lipscomb defeated Belmont 124-107. After the 1996 season, the Battle was put on hold as the two schools transitioned to NCAA.
Nine games out of 147 have seen overtime throughout the rivalry, and five went to double overtime. Blood, sweat, tears, hard work and effort are put in by each player, coach, and fan year after year. This monumental rivalry is a focal point in both schools' athletic departments.
This year, the Bisons welcome four freshmen and five transfers to the team as they look to shake off a blowout loss to Belmont at Curb Event Center in 2021.
Sixth-year center Ahsan Asadullah has been named to the ASUN's preseason All-Conference team after a third consecutive First-Team All-ASUN selection in 2021-22.
Belmont will be starting its first season in the Missouri Valley Conference (MVC) and has been picked sixth in the conference according to the league's preseason poll. The Bruins only bring back one returning starter in Ben Sheppard, who was named preseason First-Team All-MVC.
The last ten years on Lipscomb's end have been tough in terms of trying to claim a win. The Bisons have only won three times in the twenty contests since 2012, with a 3-17 record in that timeframe.
"[We're] staying in consistent shape and working to push ourselves to keep steady stamina and endurance throughout the whole game," Acuff said. "I have no doubt Belmont will come prepared, and we need to be ready to fight hard and keep a level head.
"I've been teaching the boys to stay mentally tough and not focus on one bad play; they still have an entire game to play."
The men's basketball Battle of the Boulevard tips at 7 p.m. November 14. Live radio coverage will be provided by The Bison, Lipscomb's on-campus radio station, with pregame coverage starting at 6:30 p.m.