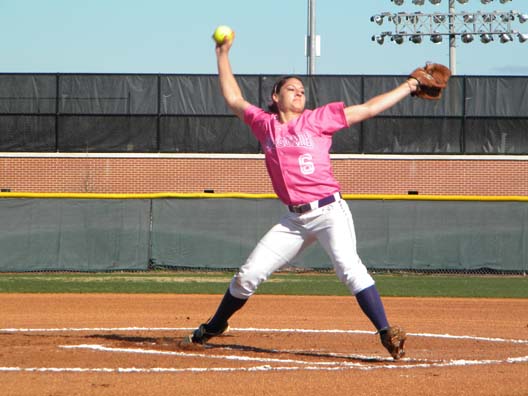 Softball sweeps ETSU in A-Sun opener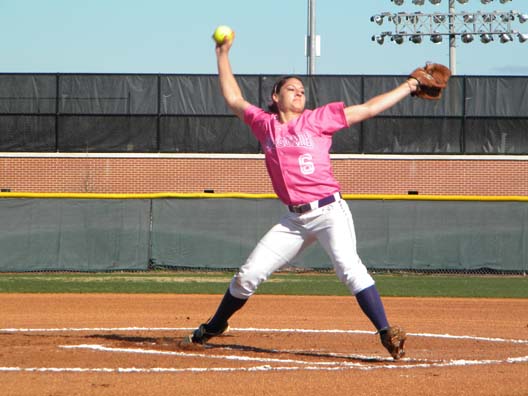 It was a busy weekend for the Lady Bisons hosting ETSU and USC twice on the weekend.
The ladies swept ETSU 5-0 and 2-1 as part of their "Strike Out Cancer" night to raise breast cancer awareness.
Game 1
Sophomore pitcher Whitney Kiihnl improved her record to 15-2 Friday night in game one, throwing her fourth no-hitter of the season.
The Lady Bisons scored four runs in the fourth.  Megan Rottler singled to score Christen Campbell for run number one.  Lauren Dortwegt then singled to center, which brought in Mollie Mitchell and Rottler.  Dortwegt scored the fourth run when Mackenzie Tucker singled to bring her in.
The Lady Bisons added one more run in the sixth to make it 5-0 when Whitney Kiihnl scored on an error by ETSU's catcher.
Center fielder Lauren Dortwegt had a great game from the plate, going 3-4 with 2 RBI's.  Her double in the third was also the only extra-base hit from either team.
Mackenzie Tucker and Kellie Sirus both had two hits.
Kiihnl shut down ETSU, striking out 10 and walking none.  Kiihnl was one error away from her second perfect game of the season.
Game 2
In the second game of the evening the Lady Bison's got on the board early.  In the first inning the ladies loaded the bases with Tucker, Keese, and Sirus.  The next batter, Campbell walked to bring in Tucker.
ETSU tied the game at one in the third inning when Schneider doubled to left, driving in one run.
The game remained tied after 7 complete innings, sending the game into extras.
In the bottom of the eighth Abby Keese singled, giving herself a game high three hits.  Courtney Billington then grounded to third; Keese was thrown out at second.  With two outs Christen Campbell walked.  Mollie Mitchell singled to left field, bringing in Billington to end the game.
Christen Campbell threw eight complete innings for the Lady Bisons, striking out five and walking zero.  Her record is now 5-2.
The two wins bring the Lady Bisons' record to 22-7.