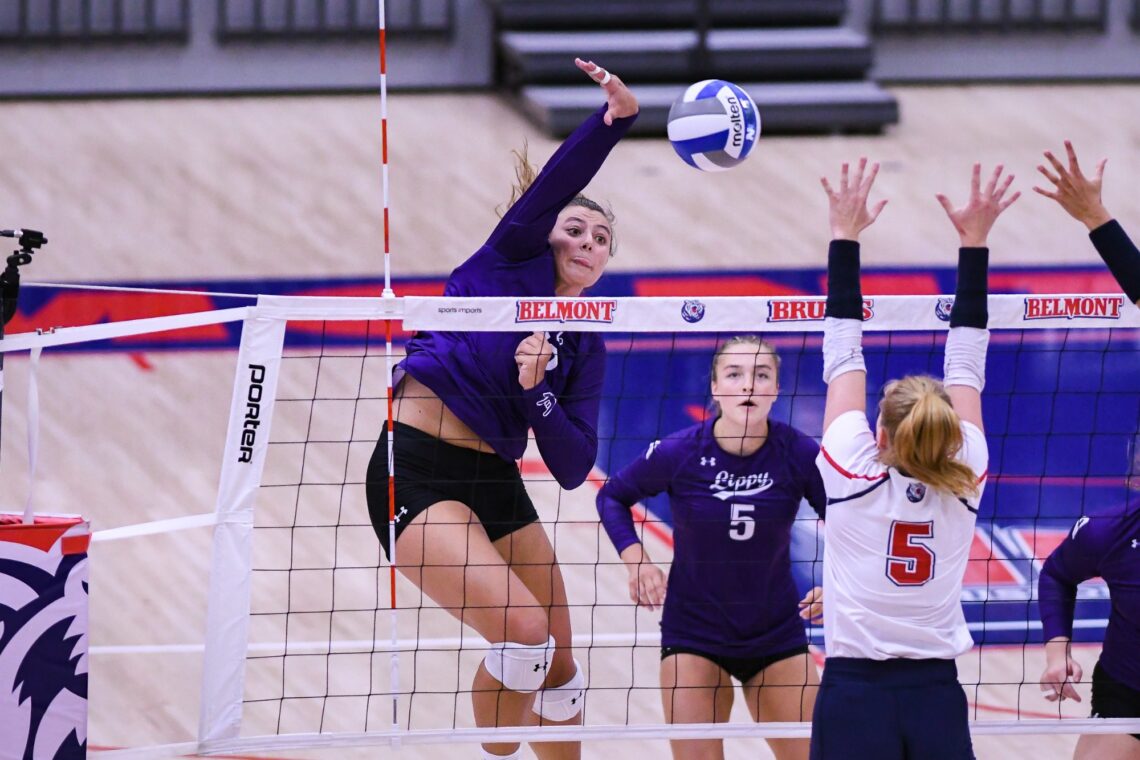 Freshman DiVita sits at center of volleyball's future
As just a freshman, Jada DiVita has already cemented herself as a key piece of Brandon Rosenthal's team for years to come. 
DiVita isn't new to early success, though. The Michigan native was a four-year starter at Grosse Point South High School and was named all district along with all region throughout all four seasons of her high school career. DiVita was also part of four district championship teams throughout her high career. 
The talented freshman has been around sports for her entire life. DiVita describes her family as a hockey and volleyball family; Jada's mom, Janeil, played college volleyball at Lake Superior State University and coached Jada for her junior and senior seasons at Grosse Point South.
Spending time at Lake Superior State isn't just limited to Jada's mom, either. Her dad, David, played hockey there and her brother, Gianni, recently committed to play hockey there as well.
The DiVita family describes themselves as "True Lake Superior State fans."
So why Lipscomb for the former Grosse Point South Star?
"I wanted to be down south just like [my mom Janeil] and loved Nashville and Lipscomb." DiVita said. "Everything appealed to me. I loved [Lipscomb head coach Brandon Rosenthal], I loved the smaller school vibe…it had everything I was looking for."
Because of that, DiVita chose the Bisons over nine other schools that extended her an offer. Rosenthal and his staff are already feeling the impact of winning the recruitment, but part of the reason they were able to land DiVita was something that was intangible. 
The freshman can already tell that Rosenthal has built an "amazing" culture in his 20 seasons in Green Hills.
The culture of Lipscomb volleyball is made clear through the way that DiVita refers to her coach as simply "Brandon." 
The culture is also evident to DiVita through the support system around her through her ankle injury last month, one that continues to keep her off the court.
"I had such an amazing support system through all of that," DiVita said. "Megan, our trainer, is doing amazing things."
The support didn't stop with the trainer, though. 
"I'm just amazed by all of our support system. Brandon has been amazing through all of it," DiVita said.
Along with the head coach, Divita also gave a nod to director of spiritual formation Christopher Klotz, affectionately known as "Klotzy."
"Klotzy has been amazing, he's been super helpful through all of the mental stuff [around my injury]," DiVita said.
Before the injury, the star freshman and her young teammates got some experience against a few of the premier teams in the nation.
In the early portion of the season, the Bisons faced off against a myriad of Power Five opponents like Mississippi State, Kansas, Oklahoma, Stanford, and Ole Miss. Although Brandon Rosenthal's young group struggled, it wasn't for nothing.
"Obviously, we didn't get the results we wanted most of the time," DiVita said, "but we learned a lot from that." 
Now that conference play is in full swing, Rosenthal's young team is showing what they've learned. Even after a recent loss at Liberty, the Bisons sit fourth in the ASUN standings and have clinched an ASUN Tournament berth.
Their success stems from a standard that was set through their struggles. 
DiVita and her teammates have made it an emphasis to "continue with that high standard" and to remind themselves that "you cannot underestimate any opponent."
With that standard, the Bisons have turned their season into one that has a hope-filled future, but that future isn't only limited to this season. 
DiVita is one of four freshman who are regulars in starting lineup. The hope is that the group can be the core of the program going forward.
"It's amazing, I love my little freshman group," DiVita said. "I think we have a lot of potential to continue to grow the program; I cannot wait to see what we're like senior year."
Lipscomb volleyball has a bright future, and Jada DiVita is surely one of its cornerstones.
Photo courtesy of Lipscomb Athletics