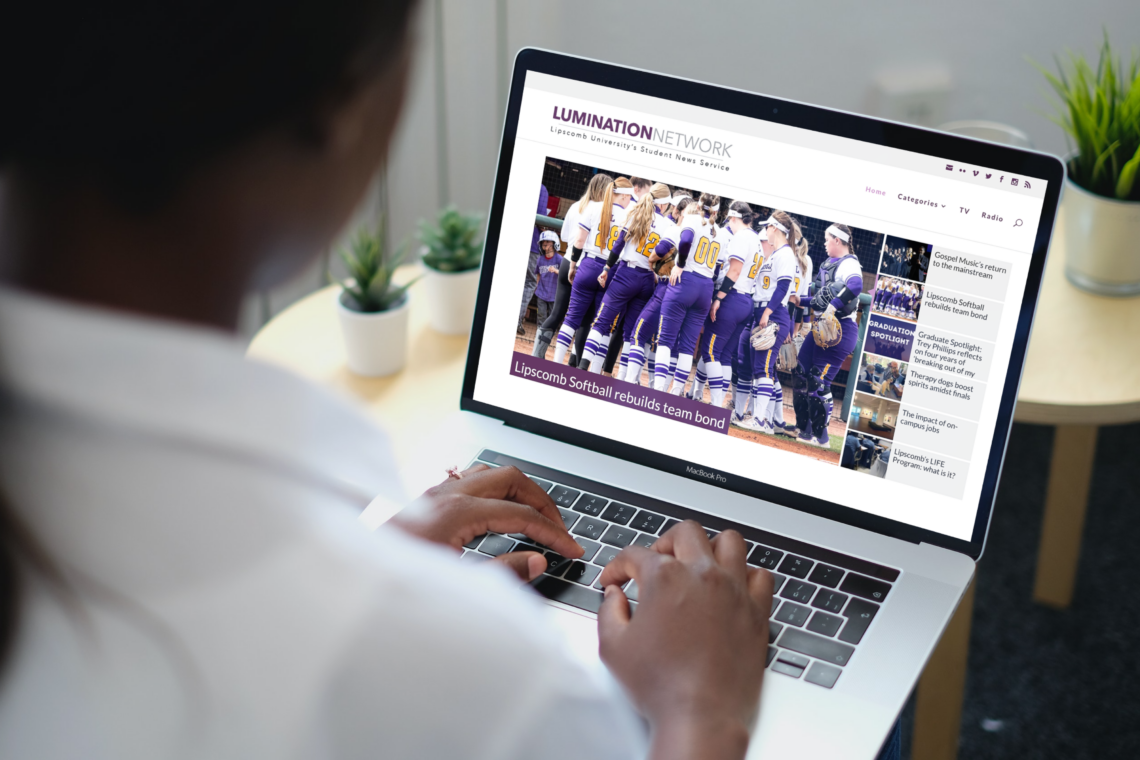 Transcript: Incoming president Candice McQueen's announcement speech
Republished from Lumination Network, Aug. 5, 2021.
Transcript of Dr. Candice McQueen's speech during the presidential announcement Thursday, August 5, 2021, on her view of the university and hopes for the future: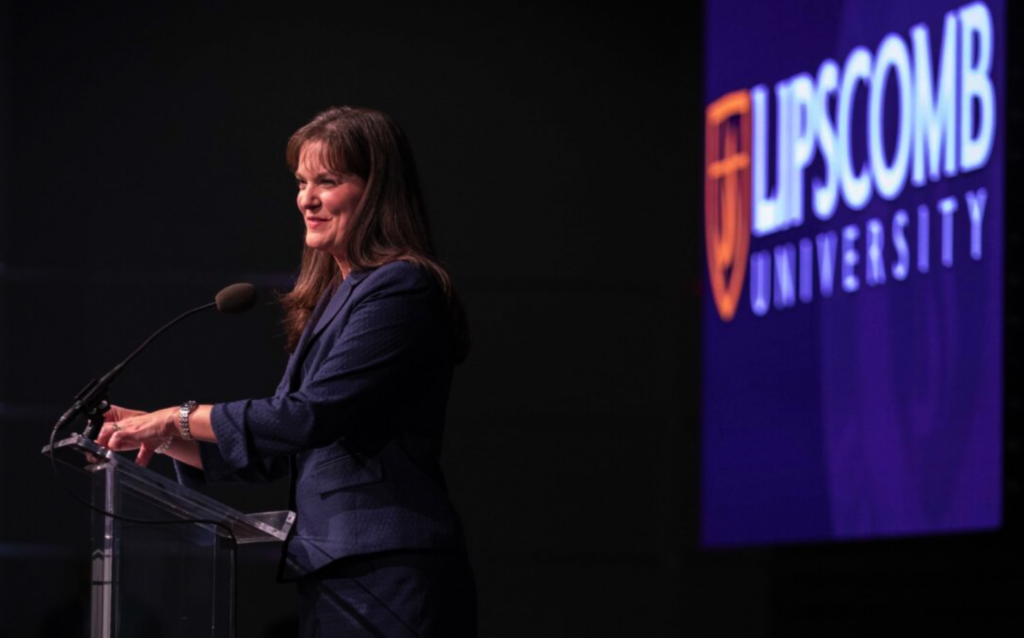 Through my own prayer, a lot of it, certainly my family's prayer and no doubt many of you who have been praying for the next president, I came to this possibility and am deeply humbled and grateful to serve with you as the next president of Lipscomb University.
As I've shared with board members on several occasions, my conviction for this role at this moment in time comes directly from John 1: "The light shines in darkness, and darkness has not overcome it." I fully believe that Lipscomb's 130-year history has been life-changing as we have continued to elevate the only light that overcomes darkness by revealing Christ to our students, from preschool to graduate school and even to Lifelong Learning programs. And we've done this in meaningful and life-changing ways. Lipscomb and the people in this Lipscomb community have been the light for me, from my time as a student and then as a teacher at the Academy, to my time as a faculty member, and eventually as a dean. I now turn again to you, the faculty and staff and leadership here at Lipscomb, because I want you to be partners in this work, to bring light to our students and continue to bring light as they prepare for their work, their families and their service.
Our students deserve our best as we confidently help prepare them to pursue their careers, think deeply and increase their character and faith.
When your light is passed to our students and our community, we illuminate hope, peace and show them the very best way to live.
We also begin to fully embody one of my favorite verses, from Micah 6:8: He has shown us what is good: to act justly, to love mercy and to walk humbly with our God.
I look forward to partnering with you to shine the light for our students and our community.
As I look ahead, the future is very bright.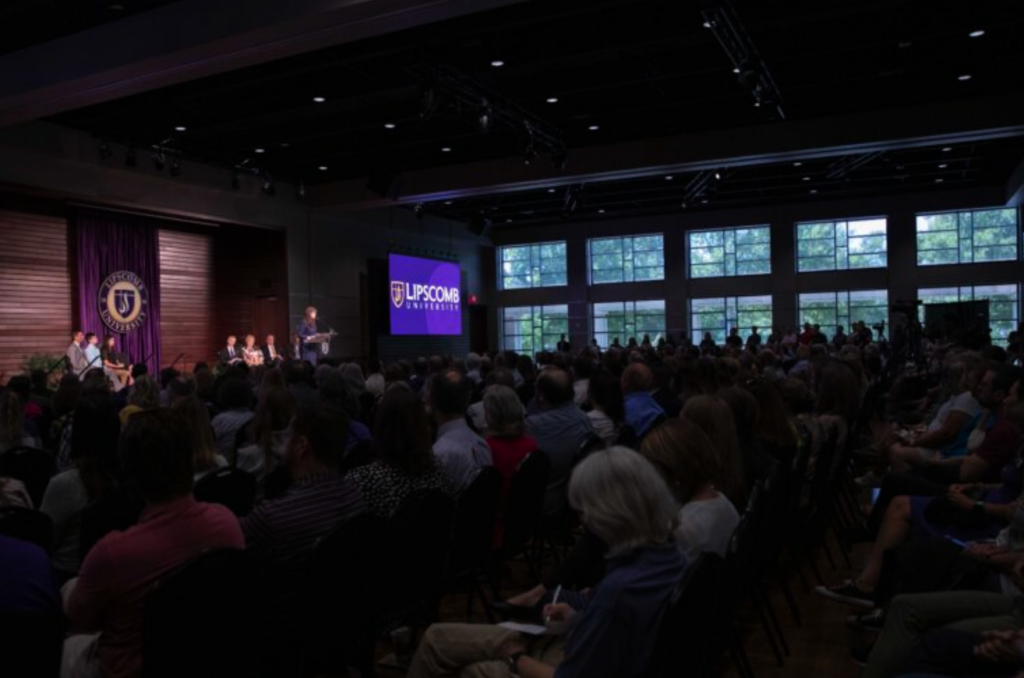 First, I want to make sure we continue to solidify and advance work to be the national leader in Christian education. We've been on that path; we're moving that forward. We want to be the top choice for students looking for education that supports their career goals and embodies a place that has character at its core, Christian faith at its core, from K-12 all the way up to graduate education.
We will also be the employer of choice in Christian education. We will be the place that faculty and staff will know they can come to grow and excel.
And we will ultimately be a place of hope and love for students that energizes all of them in how to excel and to lead.
Our history has prepared us for this future. Our Church of Christ family and our larger Christian community have consistently shown the need and elevated Christian education for decades under leaders like Willard Collins, Harold Hazelip, Steve Flatt and Dr. Randy Lowry. As leaders, each of them, just like you, has only one life to live on this earth. And they took that moment, that one life they had, to give it to Lipscomb and to make sure Lipscomb's history is strong so we can build a foundation for the future. They did all they could do in their moment, in their time, to advance the work and to pass the baton to the next person.
I am very fortunate that I had the opportunity to work with Dr. Lowry for almost 12 years in his time. And in that time, I was fortunate to see what Lipscomb can become under his leadership. I'm also fortunate that he will continue to serve as chancellor, and while he passes that baton to me, he'll be running beside me as we continue to plan for the future of Lipscomb.
In Dr. Lowry's 16 years as president, I saw, I experienced and I benefited from Dr. Lowry's and Rhonda's heart for Lipscomb. Their tireless, 24/7 work has led to many opportunities, a number of amazing new programs, stronger community bonds and our reputation and a very different looking campus. This foundation will take us to the next level
My first priority is to listen and learn from you. I will be reaching out to many of you, I am sure, before my official start date on Sept. 7, to learn more about this community that I have not been physically a part of for seven years. But my heart has always been here. And I look forward to envisioning with you what that next stage looks like.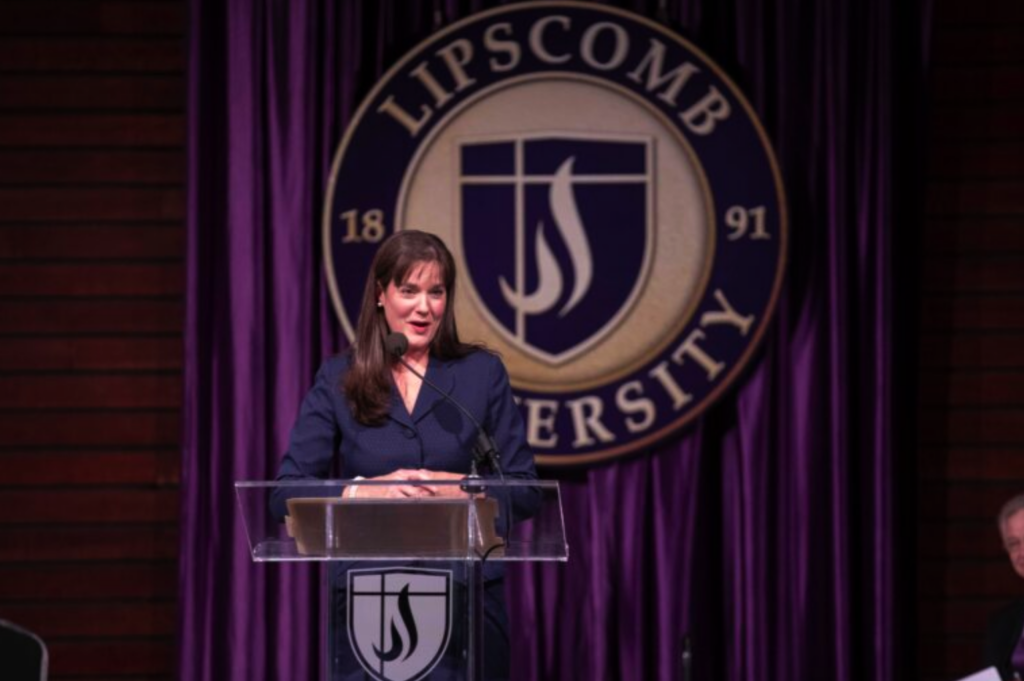 I do want to end my comments where I started. Our students deserve our best, our very best that each of us can give, as we prepare them to confidently pursue their careers, we help them think deeply and we increase their character and their faith. I am here to simply advance their calling, and I thank you for this opportunity to be a partner in that work, to increase Christ's light throughout our entire community and across the world and to continue to bring excellence to all we do.
Thank you.
[standing ovation]
Photos via Lipscomb University