Trent Dilfer finds a home at Lipscomb Academy, aims to revitalize Mustang football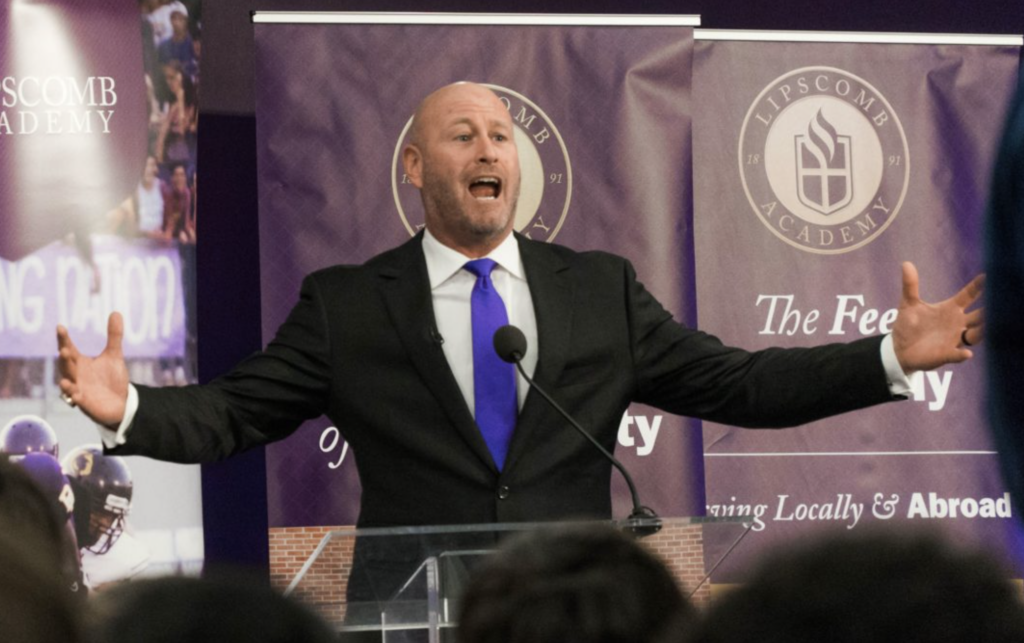 When Trent Dilfer toured Lipscomb's campus, he knew he had found a special place.
What the former NFL quarterback didn't realize was that Lipscomb University had an affiliated high school on its campus that just happened to have a need for a new head football coach.
It turned out to be the perfect marriage.
"I didn't even know much about the Academy," Trent Dilfer said. "But to be here for the last few days and really dive deep and see what's going on has been an amazing journey for me."
The official announcement of Dilfer's hiring came during a jam-packed press conference at the McCadams Athletic Center Friday afternoon. But the news was leaked earlier in the day and caused the school to buzz with excitement, according to the players.
"Rumors started going around [Friday] at school," rising senior tight end Houston High said. "When we were walking through the hallways, that's all everyone was talking about."
Lipscomb finished the 2018 season with a dismal 2-9 record. Coach Scott Tillman resigned in November, and the administration began a nationwide search for his replacement. The opening generated interest from more than 80 candidates, according to Lipscomb Academy headmaster Greg Glenn.
"The resources here are great," Dilfer said of Lipscomb. "There's no reason we can't be really, really, really good. I know the competition around here is insane. But I'm more concerned about what we're going to do."
Following a 14-season NFL career that included a Super Bowl victory with the Baltimore Ravens in 2001, Dilfer spent a decade in the broadcast booth with the NFL Network and ESPN. However, he was one of nearly 100 ESPN employees given the pink slip in April 2017 as the network lost millions of subscribers to "cord-cutting."
But Dilfer didn't see much "nobility" in the TV world and knew he wanted to get into coaching. He served as an instructor at Elite 11 football camps, where he mentored quarterbacks like Kyler Murray, Jared Goff, Tua Tagovailoa, DeShaun Watson and Jameis Winston.
"[Elite 11] was probably the catalyst that got me here," Dilfer said. "To experience the level of growth I've seen through Elite 11…and to see what those kids have gone on to do and the impact they've made on my life has only made me want to [coach] more."
The Lipscomb Academy football team is in rebuilding mode after going 3-19 over the last two seasons, but that did nothing to curb Dilfer's enthusiasm for the job.
"Today's a fun day of saying great things, but I know the work starts tomorrow and it's hard work," Dilfer said. "Something special is about to happen here."
Dilfer said he will look far and wide to find assistant coaches to help him run the program. But first, he wanted to make one thing clear: he believes the current players have potential.
"Nobody outside of God sees more potential in these young men than me," he said. "That's how I'm wired. We're in a world right now that wants to put limits on people.
"But there are no limits. You don't know what you have inside you. I want to be the one that helps pull that out."
Video by Erin Franklin and Mckenzi Harris
Article by Russell Vannozzi.
Republished from Lumination Network, Jan. 19, 2019.