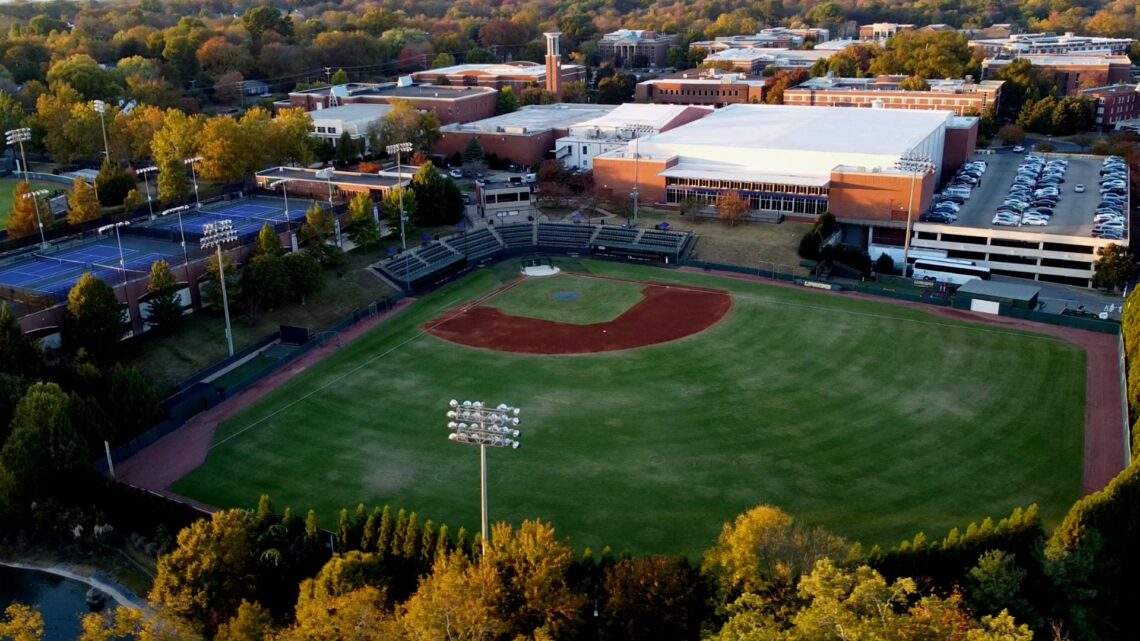 The countdown to baseball season begins
The Lipscomb Bisons have been training hard during the offseason, and in early February they'll have a chance to prove it.
The 37-man roster features only five freshman and a large mix of upperclassmen. The team is dominated by juniors, with 16 on the roster; there are three graduate students, two fifth-years and one senior.
Junior left-handed pitcher Logan Van Treeck said is excited for the upcoming season.
"We lost some big pieces — seniors who got drafted or signed a pro ball contract," Van Treeck said. "So coming into this season — man, we lost a lot of great dudes. But just seeing this fall, we have come back with even more ammo, honestly; more dudes are just ready to go locked in…a lot of the same guys from last year, but a lot of guys are new pieces, and they're gonna be huge for us this year. It's been exciting seeing everyone this fall just perform to their potential and seeing what they can do. And it's honestly made me more excited for this season than even last season."
Van Treeck, a member of the team since 2020, has seen the team grow and change over time and said this year's unit has some of the best chemistry he has seen.
"We don't have a guy on the team who doesn't work hard or who's toxic in the locker room," he said. "Everyone works so hard and everyone's just focused on the same goal. We've got everyone pulling in the same direction; it's got me excited for what we can do this season."
Despite being new to both the team and the college experience, freshmen Will Dugan and Walker Strange said they felt at home on the team. 
Dugan, a right-handed pitcher on the team, said the team's chemistry was really great.
"Having so many new guys, you would think that it'd be kind of tough to get it all to click and gel," said Dugan, a right-handed pitcher. "But really quickly, everybody kind of came together. And everybody is super close. And [this season's] gonna be really fun because everybody's just gelled so well."
"It seems like everyone's got each other's back and we're all playing for one reason, and that's to win," said Strange, a utility player.
Junior left-handed pitcher Patrick Williams also had good things to say about the team's build and chemistry this season. "I know this sounds cliche, but like I truly believe that this is one of the closest teams I've been a part of. I feel like on and off the field, everybody likes each other. Obviously not everybody are best friends all the time, but we're brothers, brothers fight, that happens. But as a whole, we grow from that. And this is one of the like closest knit teams that I've been a part of. And that's one thing that I think can lead to more success. More so than like, just having abilities, being able to be together and like work together is something that creates and is what makes a strong team."
Williams has also been on the Bisons baseball team since 2020, and has seen teammates come and go as the team grew and changed. He remarked that each year he'd been here at Lipscomb, the team had gotten more talent. This year was no exception, he said.
Of course, college ball is different from high school ball, and both Strange and Dugan shared about the change.
"It's extremely different," said Dugan. "You know, in high school — not that, like, it's an ego thing — but just like, you're kind of one of the better players on the team. And you come here, and that's how everybody is. Everybody was that person on their team. So just kind of experiencing all of it and just kind of, it's more listening and more learning."
Strange said that though it was a lot like high school, it was also very different. "Like we get more practice and it's more time spent, which is good cause I feel like I've been getting better and stuff like that. Of course, competition's better, but that's good too. I've really enjoyed gettin' to meet new people and workin' with the team and just tryin' to get better every day."
Every player interviewed had things they were looking forward to this season.
Van Treeck said he was excited to see how the team worked together — not just how they gelled, but how they responded to losses and adversity as well. During the fall, everyone on the team got playing time and there were no wins or losses or stats to worry about, Van Treeck said.
"When the season comes, when you do face adversity, when you take a hard loss or when you don't get a play as much as you thought you would or all that, I'm excited to see how we respond to all that. How we gel together as a team and overcome obstacles."
Williams said it was definitely their schedule this season. "This will be the start of my fourth year, and I've never really had this strong of a schedule. It's something that I've wanted to do and it's what's gonna make it a lot of fun this season. A lot of fun," Williams knew the schedule like the back of his hand, and proceeded to list off each team the Bisons would play in midweek. "We're just playing all these top teams — like I think all of them are ranked in the top 25 — to start the year," he finished. "It's a schedule that I'm looking forward to. It's gonna be tough, but that makes it fun."
Williams also added that he was looking forward to the travel aspect of the season. "That's where a lot of the relationships and memories are built," he said with the knowing smile of an athlete who had traveled with his team before. "I mean, obviously there's on field stuff, but then you have traveling to get places. And I think that's where a lot of like team chemistry, team bonding, all that kind of stuff comes into play. And that's always one of my favorite parts: just getting to see people's personalities even more so [than on the field], when you put them in a confined space for six to eight hours at a time, or more."
Dugan said he was also looking forward to the schedule — to not only playing tough teams, but to traveling and experiencing all of it with his team. "I'm looking forward to just the experience of college baseball, getting to experience it with the team that we've got, because I've watched it for so long and I'm actually part of it now."
Each player also had personal things they were looking forward to during the season.
Wanting to get better as a baseball player was Strange's personal goal for the season. Dugan said he hoped to continue in his grandfather's footsteps and win a championship.
Van Treeck was incredibly candid, sharing a very personal reason to be excited for this upcoming season.
"Coming off of last season, the Lord taught me so much. I could not throw a baseball to save my life last year. That was the first time in my life where I did everything I knew how to, worked as hard as I possibly could, and just the performance and results on the field had nothing to show for it. That was just really hard to walk through. But I know that God used that to prepare my heart and my mind and my soul for last summer and this last fall. So I'm just excited to see how the Lord uses this season to mold me and my heart, but also use this team for incredible things. There's a lot to be excited about for sure."
Williams was also candid, talking about how he was working on consistency and reliability, both on and off of the field. "When you think of upperclassmen, you want them to be someone who can lead the team, can be a person when every time they touch the field you know what you're gonna get out of them. And that's just been the biggest thing for me that I've been trying to work through this year, is growing into that, of just being somebody that the coaching staff can rely on, not necessarily just on the field, but off the field, you know? Someone who's gonna try to lead people and keep people on track. You have to have somebody who is willing to teach others, help others learn, and just all that kind of stuff is like consistent through and through on and off the field. Being somebody that can be relied on, that's one of the biggest things for me this year, and with my whole collegiate career."
The players also gave us some things to watch out for this season.
Strange commented that he'd been working on a lot of things during training that he was excited to make use of this season. "Being able to lay off tough pitches and definitely gettin' better with my defense and bein' more comfortable fielding with one hand. That's one thing I've been workin' on a lot, and workin' on the X and stuff, so those're some things that I hopefully can do a better job at this season."
"Everybody's always looking for new ways to be better," Williams praised the team before turning to himself, unconsciously highlighting one of the strengths of the team — they aren't out there for themselves. "I do try to like have a, like nobody can beat me kind of mentality when I'm on the mound, and that's not something I've always had, it was something I had to learn to do. It was a here's what I have try to beat me with it, and if you beat me, hats off to you. I just lay it out, lay it all out on the field, and make people beat me with what I have. I go on the mound, just thinking that nobody in the box is better than me. It could be Mike Trout in the box, and I would like, I would do the same thing, like I would pitch to my strengths to try to get him out. He might beat me 10 outta 10 times, but every time I'm gonna go in the box thinking that he can't beat me. Even if I'm not the best, I believe in it and I think that anything that I throw can get you out."
A few final things seemed to sum up the attitude of the team prior to the start of the season.
"[I've learned] it's way less dependent on my individual performance and more about what the Lord wants to do with it and how the team does," Van Treeck laughed. "But honestly, what's been so cool is just seeing the community around me being so supportive, and knowing, man, I don't have to be someone I'm not. I don't have to, you know, try to be someone's savior or I don't have to, you know, be like the perfect baseball player, the perfect anything. [Instead it's] knowing like, man, if the Lord calls me to someplace, then he's gonna provide in that. 'Cause it's so easy for me to just be like, man, I gotta make this happen or I gotta do this. Or like, man, I have to do this all, try to do that on my own strength, but knowing that there's grace, that God gives grace and it's so undeserved. But also that if He's gonna call me somewhere and He is leading me somewhere, like he's gonna provide in that, and that brings a lot of comfort."
Williams, excited to compete against highly ranked teams, said it would be a good season, and that they were excited to compete with the other teams and show them that "we're no slouches either." He added that, "We can and should beat the teams that are on our schedule. We can a hundred percent play with anybody that we have on our schedule."
Official practice begins this afternoon. The team's first game follows three weeks later, on February 17th.
"The main thing is to just go out there every day. Just being out there playing, competing and having fun with it," Strange said with a smile.