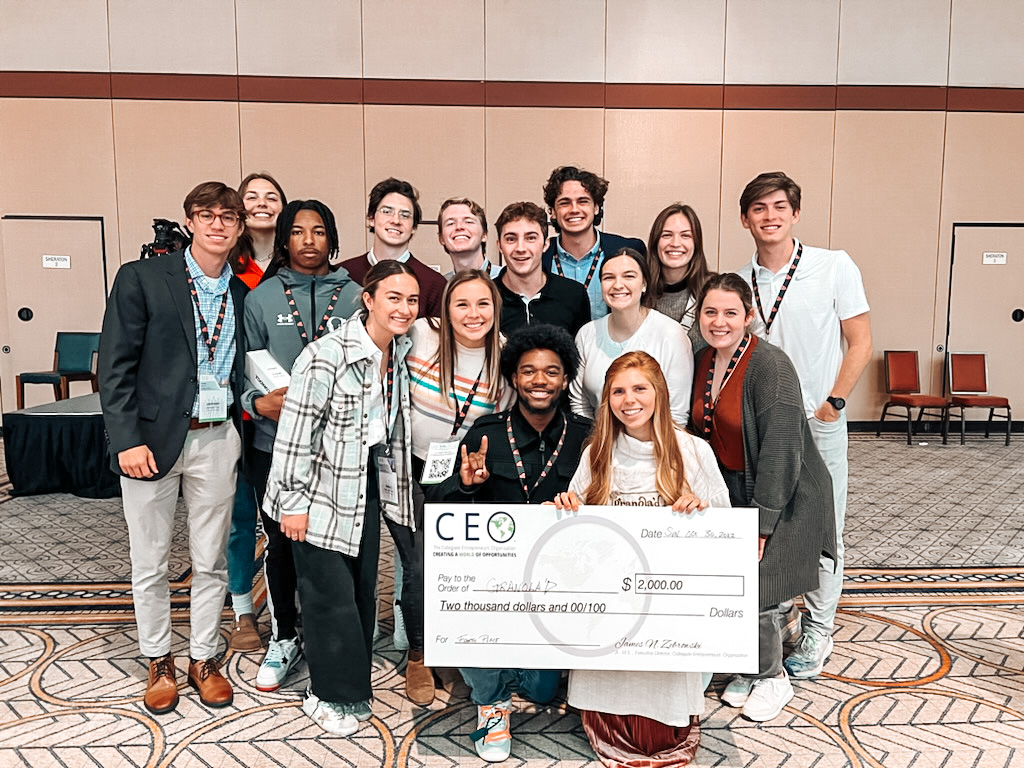 Lipscomb students attend entrepreneurship conference in Chicago
CHICAGO, Illinois – It was clear to the audience that this was not their first rodeo. 
At a high-stakes competition in Chicago, Lipscomb students competed in a collegiate version of "Shark Tank". Two students had clawed their way out of a pool of 600 to the top 25 over the past year. Now it was the real deal. The final competition. 
Junior Anna Belle Skidmore's presentation began with the line,
"You've all heard of the muffin man, but have you heard of the granola girl?
Senior Aidan Miller followed, articulately sharing the success of his company,
Kwizera Coffee, which seeks to bring farming opportunities to the people of Rowanda. Aidan operates his Nashville-based coffee shop, owns two coffee carts for catering, communicates with Rwandan farmers, and provides nationwide shipping for his customers.
This was the first time in Lipscomb University history that two student entrepreneurs had gotten this far in the competition. There was a lot on the line.
Fifteen Lipscomb students from the Center for Entrepreneurship and Innovation attended the CEO Global Conference and Pitch Competition this year in Chicago, Illinois October 28-30. CEO is a global organization that supports student entrepreneurs through workshops, conventions, and pitch competitions.
The 2022 CEO Conference doubled as the final pitching round for the top 25 collegiate entrepreneurial ideas and ventures. Those who qualified, included entrepreneurs at the idea stage, looking for startup funds and those who have already begun their own endeavors.
This was the case for the Lipscomb Students. Both Anna Belle and Aiden have been operating each of their businesses for over a year.
Anna Belle's business offers high-quality gluten-free granola with iconic flavors such as cinnamon roll and birthday cake. She and her sister began the business in 2021 as a hobby and it has now grown into a flourishing small business that ships products nationwide.
On Friday evening, after a gruesome 24-hour waiting period after Friday afternoon's presentation, the judges announced the top eight student entrepreneurs who would move on to the final round. Anna Belle of Granola'd had made it to the top eight.
"I was flooded with encouragement by the people I was with and I immediately accredited it to the Lord showing favor upon Granola'd. I sometimes laugh because I think how could something as small as making granola go so far, but I know and trust it is all of the Lord's doing and he had given me yet another amazing opportunity."
Anna Belle added,
"The help from Dr. Cohu and Alexandria throughout the week made me feel prepared for continuing on and pitching in front of my largest audience ever".
Those who made the final eight would then pitch their ideas again to a larger panel of judges and in front of the entire conference.
Anna Belle along with seven other students each had their moment alone on stage to present their business to the panel of professionals.
After the judges deliberated for about forty-five minutes they re-entered the room and announced the winners.
Anna Belle placed fourth, winning her company, Granola'd $2000, and a ceremonial oversized check.
The competition was stiff but the Lipscomb Students pressed on and proved their determination.
This was the first time in Lipscomb history that two students have placed in the top 25 and the first time that a student has placed in the top four.
"This opportunity was a great step for me when it comes to my vision for all that Granola'd can be,"
Anna Belle reflects,
"I am forever grateful that Lipscomb has allowed me to pursue my passions all the while cheering me along. I plan to use the prize money to continue to expand Granola'd's reaches, grow the company, and one day soon––own an industry-grade kitchen."
For more information about Lipscomb entrepreneurship visit:
Center for Entrepreneurship and innovation.
Or contact Dr. Jeff Cohu at:
Or Ms. Alexandria at: