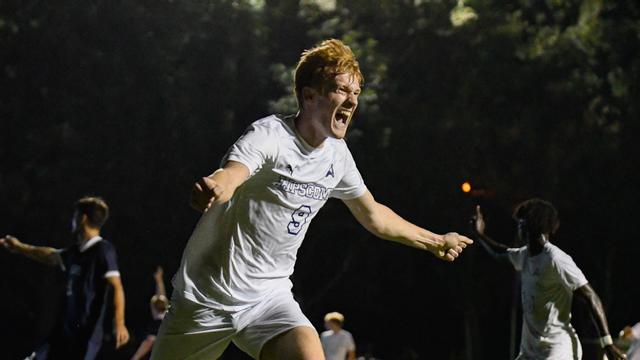 Bisons buoyed in advance of ASUN final
By any metric, 2022 has been a highly successful year for the Lipscomb men's soccer program.
Every individual ASUN Conference superlative award was clinched by Lipscomb personnel this season, and the Bisons finished their regular season with only two losses and two draws.
In the process, the Bisons lost only one conference game and earned a 12th-place ranking nationally.
The Bisons ground out a 1-0 win against FGCU this Monday to claim their spot in the ASUN Final Saturday, beating one of the two teams they had lost to during the regular season.
With confidence and national relevance at an all-time high, there is understandable confidence among the squad.
"I feel pretty confident [going into the final], more confident than in the semifinal and the quarterfinal game, to be honest," said senior forward Jelldrik Dallmann of Kuhstedt, Germany.
Dallmann, a transfer from fellow Division I school, put up another productive season with Lipscomb in 2022. A senior who has scored double-digit goals at all four schools he has represented, Dallmann leads the team in points, goals, shots on goal, and game winning goals en route to being named ASUN Player of the Year. 
"My dream when I came to the United States was to win a ring, and I'm in my fourth year right now and haven't won a ring until yet, and hopefully it's gonna happen this Saturday," Dallmann said. "Obviously I'm a little bit nervous but not too scared. I'm more nervous and scared about the national games, but not that much to be honest. I thought I would be more nervous. But, it's not that time yet, still today's."
"I mean, [I have] a little bit [of nerves], but I feel like once the whistle blows I'll be fine," said second-year freshman center back Nick Dang. The Brentwood, Tennessee native has also excelled in a breakout year, especially in comparison to a 2021 where he only saw two minutes of playing time and was eventually redshirted.
"It's what I've always done my whole life – it's nothing new, it's just a big game. That'll keep me sane."

Nick Dang
Dang is also looking forward to the NCAA tournament, which figure to be the biggest matches of Dang's young career. He admitted to a few nerves but thinks they'll go away Saturday when the starting whistle blows. "I think that as soon as the game starts everyone will calm down and we'll be fine. I can't wait."
The semifinal game on Monday was a close contest to say the least. The Bisons beat the Florida Gulf Coast Eagles 1-0 at Lipscomb Soccer Complex, needing a goal from midfielder Luca Naumann in the last two minutes of the second overtime period.
Dang saw the field the entire game, and Dallmann saw less of the game than normal, playing only 43 of 110 minutes. Both players felt the full emotions of the night from different perspectives.
"It was an intense game, it was crazy. I was done like, I wasn't even playing that much, but mentally I was done after the game. I just lay down in my bed, went to sleep, and was just emotionally drained."

Jelldrik Dallmann
"The endurance… of 110 minutes of up and down running all the time. So just being fit and not cramping and stuff. It was pretty hard… I didn't cramp, but I felt my legs were really heavy and sore."
"I literally just lay down after celebrating," Dang said. "A lot of the guys did that. We were like, thank everything that this is over. We just laid down, and kinda enjoyed the win. We were on the ground all over the place."
Dallmann on the other hand, who saw less of the field than any game he'd played with Lipscomb but one, shared his emotions while sitting on the bench. "I hated it," he said. "I hate to sit on the bench and just see it.
"I'm not that nervous when I'm in the game, but just watching the game and seeing crosses in our box, and every time they were this close to getting a foot on that cross, and on the other side we missed some chances… it's horrible to watch, but we made it," Dallmann said.
About emotions before the game, Dang said, "Obviously they beat us earlier in the season, so it was kind of like a revenge game for us, and we were just kinda like, we need to win – to get to the finals obviously.I think that as the game wore on we got a little nervous that some things might happen, like it might not go our way, and that was a little bit scary. But after we scored and after like the final whistle blew we were all relieved that we got away with the win."  
Finally, regarding the NCAA tournament, it seems that the team has a secret wish. "I would like to play against Kentucky. A lot of us would," said Dallmann.
"[Playing Kentucky] would be nice, to get revenge," said Dang.
"Just to show them like, okay we lost against FGCU, but we beat them now in the semifinal, and so if we play Kentucky, if we beat Kentucky then we've beaten everyone we've played against, even in the preseason games and everything."

Jelldrik Dallmann
Regarding other teams in the tournament, "I think any team that we play we have the ability to beat, but also they have the ability to beat us. So it's kind of like a go-back-and-forth," said Dang.
"I wish Niagara – my old team – would have made it," Dallmann said, "but they just lost 5-2 in the semifinals so they won't make the nationals. It would be funny to play against them of course, but they're not in it."
He still keeps up with the guys on his old team, however. "I was just watching the game, and was talking to them. They're all sad right now, but that's just how it is." 
"We know that we're not finished yet until we win the final game of the season, and we're on top. We're not done until we win that national championship," said Dang.
"This Saturday will be it," promised Dallmann. "I want to earn that ring," he added with a smile, "and go as far as possible."
As Dallmann says, this Saturday will be it – the face-off that determines the champion of the ASUN Conference. The Bisons are the incumbents to the ASUN title, and this game against the Central Arkansas Bears will answer the question of whether or not the Bisons will retain it.
Kickoff is at 7 p.m. in a match that promises to be electric, and the match will be streamed live on The Bison, Lipscomb's on-campus radio station.
Photo courtesy of Lipscomb Athletics