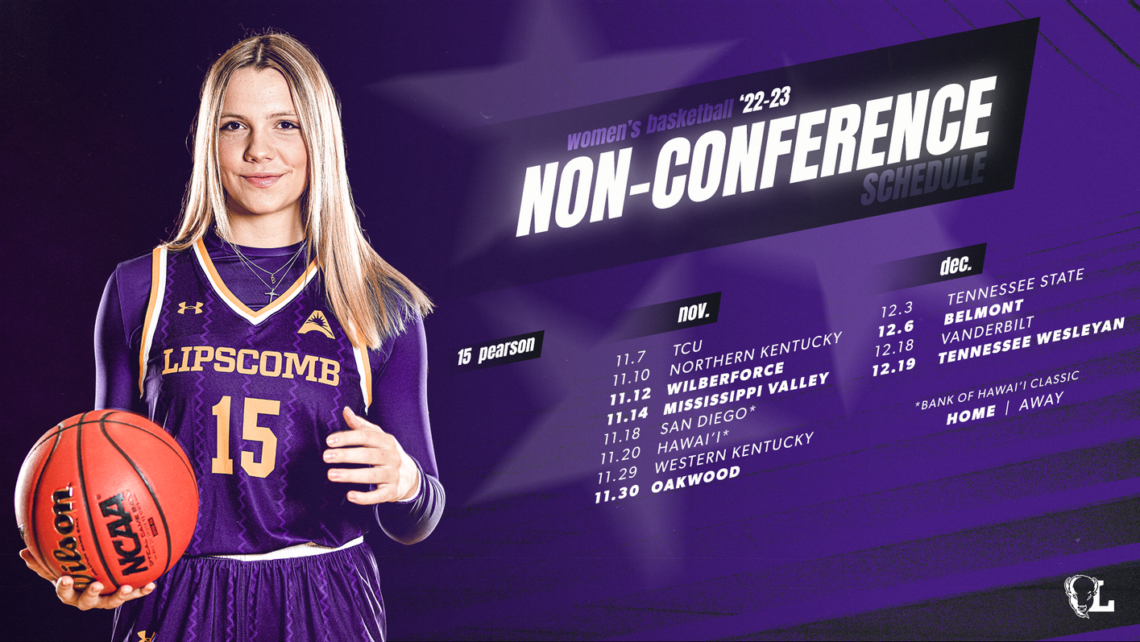 Three takes from basketball exhibition victory
After nearly an eight month hiatus, basketball returned to Allen Arena on Monday night.
Lipscomb women's basketball unofficially opened their season Monday night against Blue Mountain College, a NAIA team that surprisingly took the Bisons to the wire.
Although the game does not officially count on either team's record, it certainly wasn't uneventful; the Bisons' preseason debut consisted of a 10 minute scoreboard delay and a pressure-filled finish.
Lipscomb was able to hold on in the final seconds to cap off a 72-67 victory over their NAIA opponent, but it wasn't without a brief scare from a talented Toppers team.
The Bisons were led by a starting group of point guard Ainhoa Cea, wings Jalyn Holcomb and Blythe Pearson, forward Bella Vinson, and center Aleah Sorrentino along with plenty of contributors off of the bench.
The group got off to a bit of a slow start but flashed potential all night, with plenty of important things to note from the five-point win.
Lipscomb wants to get out in transition early and often
One thing was clear immediately: head coach Lauren Sumski's group wants to play fast.
No matter who was running the show, Lipscomb was constantly pushing the pace and taking looks early in the shot clock.
The Bison got plenty of easy shots throughout the night as a result of their pace, but also played a bit out of control at times and sacrificed some advantageous matchups on the block.
Lipscomb's inexperienced group could have won this game by more had they slowed the tempo down a bit, but in this contest, building an identity was likely more important than the final score.
Sumski's group has a clear identity, and that identity is that they will live and die with a fast-paced attack.
Newcomers are making an impact
Lauren Sumski's team finished last season with a 10-19 record, though many around the program view last year's turnaround as progress.
Either way, it's been obvious for a while that Sumski will heavily rely on newcomers to lead her team to the next level.
Lipscomb's starting lineup included Cea, a true freshman, as well as Ole Miss transfer Sorrentino.
Although Cea had a few tough possessions in the first few minutes of action, it was easy to see how her speed immediately translates to the college level.
When Cea is running the show, the Bisons especially want to get out and run. The game may not be fully slowed down for Cea, but as she gets acclimated to the college level, her ability as a playmaker will be important to the future of the program.
Clara McGowan, who served as Lipscomb's secondary ball-handler, is also new to the program and will likely play significant minutes.
The transfer from Murray State was a stable presence in the backcourt who took control of the offense when Cea was out.
McGowan is also able to provide value as a mainstay in the backcourt through her ability to play both spots in the backcourt. McGowan likely won't be Lipscomb's leading scorer, but she's a nice complement to Cea and will able to effectively team up with Lipscomb's older guards.
Lipscomb's newcomers weren't limited to the point guard spot, though. The Bisons have two newcomers on the wing and two down low.
On the outside, freshman Molly Heard contributed big minutes and converted on a few shots from beyond the arc. The forward from Pisgah, Alabama was impressive on both ends and may be a candidate to have her role increased throughout the season.
Freshman wing/forward combo Taylor Bowen was able to chip in significant minutes as well.
Two of Lipscomb's three rotational players in the front-court are new to the program as well. Sorrentino along with freshman forward Kamil Collier will anchor the frontcourt and get the majority of the post touches.
Sorrentino looks to be a mainstay in the starting lineup for the Bisons and will be important to their operation down low.
Collier also provides much-needed physicality and energy off the bench. Lipscomb's early second half run was largely a result of the connection between Cea and Collier, highlighting the latter's ability to finish around the rim.
Having a roster full of newcomers certainly resulted in some growing pains throughout the night, but the talent level seems to be on the uptick around the program.
Things are still a work in progress
We saw talent flash around all around the floor tonight for Lipscomb, but the final product is still likely not where Lipscomb's young coaching staff would like.
Lipscomb's offense had stretches of excellence throughout the night where it seemed that everything was clicking and that the Bisons would soon pull away, but they never did.
Sumski's team struggled a bit with turnovers and played a bit out of control at times while trying to keep up the pace of the game.
The defensive end will likely also be an emphasis point for the Lipscomb coaching staff as they prepare for November 7th's season-opening contest at TCU.
Part of why Blue Mountain was able to hang with the Bisons for so long was the quality of look they were consistently allowed to have on the perimeter. The turnover issues that the Bisons had offensively also created good shots for the Toppers on the other end.
This may be the most talented team that Lipscomb's current regime has ever had, but they will have to work through some things to hit their high ceiling.
The young group has around two weeks to make progress before their first game in Fort Worth.
Their contest with TCU tips at noon central on November 7 and will be available on The Bison, Lipscomb's on-campus radio station.
Photo courtesy of Lipscomb Athletics