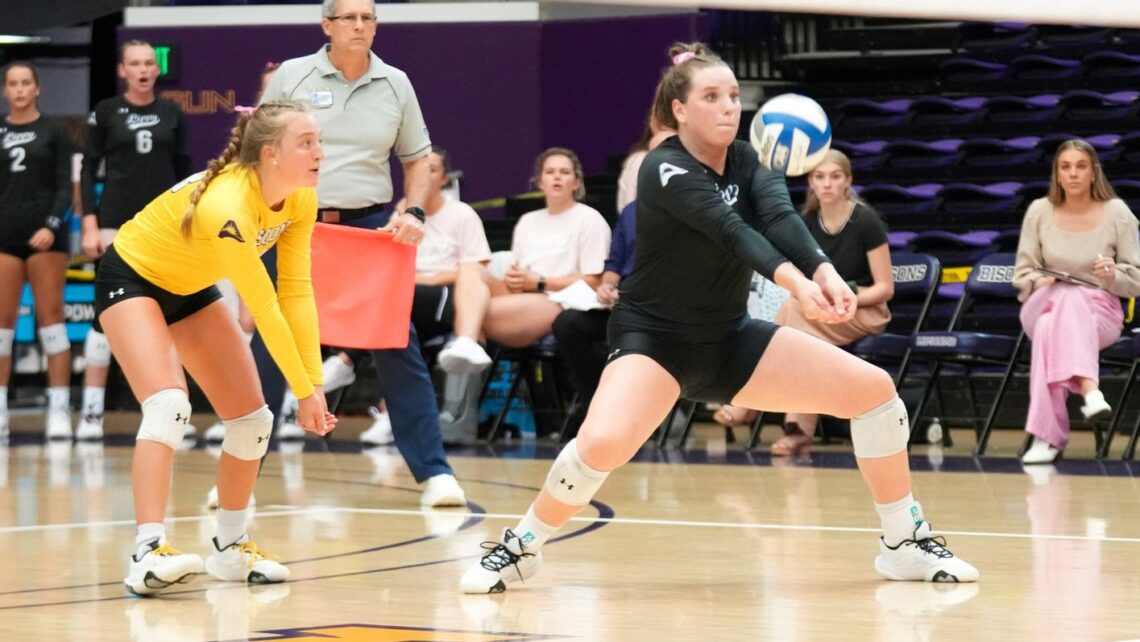 Bisons volleyball at the heart of ASUN chaos
After a weekend trip that was chaotic enough in itself, Lipscomb volleyball finds itself in a wildly competitive cluster at the top of the ASUN Conference.
With only four regular-season matches left for most teams, crunch time has arrived in full force, with the top six places in the conference standings separated by just two matches.
A win on Sunday at perennial rival Liberty would have put the Bisons in first place outright, but instead, they fell 3-0 in Lynchburg, Virginia, setting up a potential photo finish to determine the regular-season champion.
Liberty's dominant win sees them take first with a 10-2 conference record, followed by Kennesaw State, Central Arkansas, and Lipscomb, who all hold a 9-3 mark. FGCU occupies fifth place at 8-3, with a game to make up at Stetson taking place Tuesday. Behind them looms Jacksonville State at 8-4, a full game back from the 9-3 group but the only ASUN team with 20 or more wins on their record in 2022.
In their four remaining contests, Lipscomb will host three top-six matches in the friendly confines of Allen Arena, including a battle with Jacksonville State Friday followed by two straight matches against Kennesaw State.
As they lick their Liberty-induced wounds and prepare for more fierce battles, the Bisons are expected to be without a pair of key players on the offensive end.
Junior middle blocker Meg Mersman is the biggest loss the Bisons have faced this season, and she is also one of Lipscomb's most permanent losses. The absence of the 6'3″ blocker has left the team without much depth at the position and with a lack of height compared with their fellow top-six ASUN teams.
Meanwhile, the most promising player in Lipscomb's future corps and one of its leading kill sources, outside hitter Jada DiVita, has also been out for weeks on end with an ankle injury. The setback was supposed to last just a week, but she's remained out well after the initial prognosis was set to end.
The most recent addition to the injury list was outside hitter Courtney Jones, another freshman who flashed immediate quality and immense potential. Jones is lost for the season after she underwent surgery last week to repair a broken finger.
On top of the others, backup setter Ashleigh Albert is also gone for the rest of the year, leaving the Bisons with just one healthy setter in Sophia Hudepohl.
"Nobody wants injuries, but nobody's gonna feel sorry for us, either," Lipscomb head coach Brandon Rosenthal said. "We've gotta keep going, and we've got a great group that's ready to go."
As a result of all the injuries, attacking quality will have to come from second- and third-choice options off the bench, one of which includes a veteran hitter who fell down in the depth chart behind a talented freshman class in 2022.
Graduate student Logan Gish was relegated to a reserve role this year after starting nearly every contest for the Bisons a season ago. Gish picked up 12 kills last week in a 3-0 win over Queens, leading the team, but only managed eight in the 3-0 Liberty loss.
"[Gish] played this position for us all last year," Rosenthal said. "Ultimately, what I said to Gish and what I said to everyone else is that there's a reason why Gish came back. When she said she wanted to come back, there was a reason for it.
"She's a fifth-year player, and she knows what she needs to do. Love to see her back out there and love to see what she's doing."
Despite the situation at hand, there's no margin for error if the Bisons want to be in prime position during the ASUN Tournament two weeks from now in Nashville. Lipscomb will host the tournament no matter their seed, and they have already clinched a spot there, but seeding could be crucial in a weekend full of tough competition.
Here's how each of the teams currently in a playoff spot shapes up and an idea of where they can expect to finish based on their current standing and remaining schedule:
Liberty, 10-2 – The Flames put themselves in the driver's seat with the home win against Lipscomb Sunday. Their last difficult test is a date with Central Arkansas in Conway, so if they take care of business there, the title is essentially theirs. They'd hold the tiebreaker over Kennesaw State, Central Arkansas, FGCU, and Lipscomb, so they'd have to drop multiple games for others to be in contention. A loss to UCA this Sunday, though, and things get a lot more complicated in the battle for first.
Kennesaw State, 9-3 – KSU still has a crucial stretch ahead, with Central Arkansas on the schedule as well as two dates with Lipscomb at Allen Arena. Win all three, and the Owls can't finish lower than third; if they pick up the fourth against Austin Peay, they'll be top-two guaranteed and well-positioned for first if Liberty happens to slip up. A loss to Lipscomb could be problematic, as it would open up the head-to-head series and invite a host of teams to stick around in a tie for second place. There's a lot to play for when it comes to the girls from Georgia.
Lipscomb, 9-3 – The way this regular season is remembered will very much come down to the way the Bisons play in the four games to come. A win Friday against the Gamecocks of Jacksonville State would be a great start, effectively guaranteeing a top-five finish and setting them up to pass KSU for good if they can beat them twice in one week. From there, they've just got North Alabama to beat, and a four-for-four finish would guarantee them no worse than third. It's entirely possible, though, that the Bisons drop one or two of these final four, which would mean they'll either drop to the bottom half of the eight tournament teams or need some help elsewhere to stay up.
Central Arkansas, 9-3 – Known as the Sugar Bears, the ASUN's westernmost team has work to do to claw their way back into top-seed contention. They're down in the tiebreaker to both KSU and Lipscomb, and they don't get a chance to change either of those fates. Even though they play the Owls on the final day, they'd simply be leveling the season series and would still lose out on overall win percentage. That said, winning out would work wonders for them. It's a tough ask with away matches at Liberty and KSU still to play, but winning all four would actually put them in great position to take the ASUN throne. They already have the edge on FGCU and would add a tiebreaker over Liberty and push KSU behind them, too. If they win out, it's as simple as watching Lipscomb lose one of their last four to grab first place.
Florida Gulf Coast, 8-3 – Hailing from Fort Myers, Florida, the Eagles are in a very strange position. They've got the easiest remaining schedule of anyone in the conference, but that means they're forced to settle for what they've got in terms of tiebreakers. They'd lose a tie with UCA or Liberty, but they do have the edge against KSU and Lipscomb, so they'd be in need of two Liberty losses, one loss for the Sugar Bears, and five wins to close out their season if they were to finish first. FGCU does have a good shot at the top three, just needing to take care of business in matches they should be winning to confirm a top-three place.
Jacksonville State, 8-4 – The Gamecocks may have the lowest record of the top six right now, but their schedule is very light to finish out and they might just be able to waltz their way into a competitive seed while watching higher-ranked teams beat each other. Lost tiebreakers against KSU and FGCU could spell trouble, but the Alabama-based school has something almost everyone in the ASUN covets: the edge over Liberty. JSU is good value to win out if they can steal one from Lipscomb this Friday, and if they do that, they're guaranteed to finish fourth or better. The only way they pick up first, though, is if Liberty and KSU drop two and everyone else in front of them loses at least once. It's definitely a long shot as of now, but this is a crazy division.
North Florida, 7-5 – There have been some bonafide head-scratchers for UNF this season, but their win column is as impressive as any in the ASUN. With tiebreaker advantage over JSU, KSU, and FGCU, the Ospreys could potentially sneak into a high playoff spot if they can win out and get a little help at the top. At the same time, it's still possible they miss out on the playoffs entirely after strange losses to Stetson and Eastern Kentucky.
Eastern Kentucky, 5-7 – There's a chasm between the Colonels and the upper reaches of the standings, but they're in good shape for the last of eight playoff spots if they win their easier matchups. FGCU and Liberty away aren't likely sources for a win, but a home date with Queens is the easiest ASUN contest there is and an away win against Stetson would stave off their closest competition.
It certainly looks advantageous to finish in the top two and face North Florida or Eastern Kentucky in the first round of the ASUN Tournament, but with talent and crazy finishes evenly distributed across the conference, there's no easy way to grab the ASUN's automatic berth into the NCAA Tournament in 2022.
Whoever does win it all will be battle-tested, and Lipscomb's reserves will have to adjust quickly if they're going to set themselves up well for the toughest tournament of their volleyball careers.
The 2022 ASUN Volleyball Tournament will be hosted at Lipscomb's Allen Arena November 17-19, with match times available on the official bracket at asunsports.com.
Every match across the tournament will be streamed live on The Bison, Lipscomb's on-campus radio station.