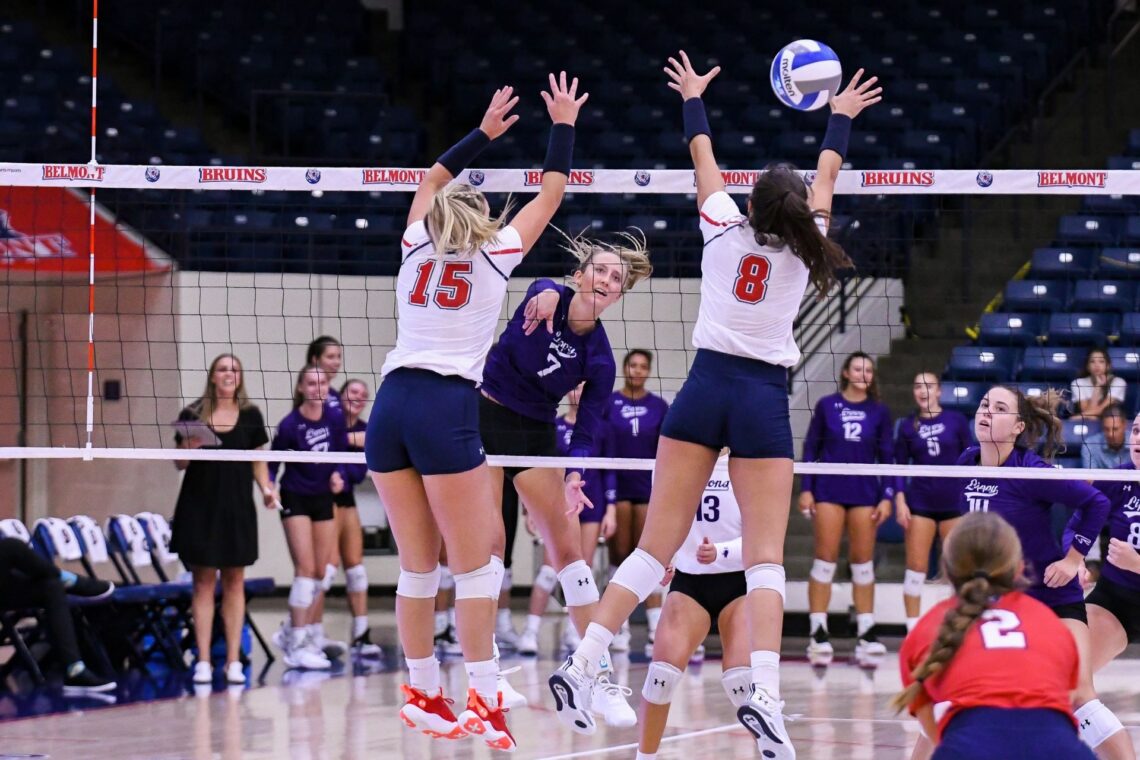 Volleyball prepared for ASUN play after tough schedule
A suffocating non-conference schedule from Bisons head coach Brandon Rosenthal has Lipscomb ready for the conference slate
In two decades as Lipscomb's head volleyball coach, Brandon Rosenthal has become notorious for creating a non-conference schedule that will challenge his team.
Even so, this year's slate in particular is one he won't soon forget.
The Bisons just wrapped up their last match in non-conference play, falling short short three sets to none while facing the University of Central Florida Knights at a neutral location.
UCF, a team receiving top-25 votes, was not the most difficult team they've faced ahead of ASUN play. In fact, that may be one of the more manageable opponents Coach Rosenthal has pitted his team against in 2022.
The Bisons opened their 2022 season by hosting nationally ranked Stanford, who started at number 13 in the polls. The Bisons weren't able to steal a set from the Cardinals, but they did walk out of Allen Arena with more knowledge and experience as they prepared for future opponents.
"The non-conference play is something that I have always been a fan of," Rosenthal said. "I'm a competitor, so I've always been of the mindset [that] I like to play the best."
Facing teams like Louisville, Kansas, Oklahoma, Mississippi State, and many more were all a part of the plan that Rosenthal created. The Bisons weren't able to capture any wins against a Power Five program, though, only taking one set against Oklahoma across those four matches.
"Wanting to be a program that gets to the Sweet 16 and things like that, you can't get to the NCAA tournament and see those teams that you're potentially going to face for the first time," Rosenthal said.
Lipscomb would go on to face four different teams from Power Five conferences, including the Big 12, Atlantic Coast, and Southeastern Conferences. On top of that, they took on opposition in other well-known conferences like the Big East and the American Athletic. Among those teams, three of them were nationally ranked and were as high as number four.
Knowing that these teams were ranked does not seem to phase him, but instead excites him when looking at the bigger picture with a relatively young team.
"This year we're inherently young, so at times we make really young mistakes, but that's part of it."
The Bisons squad consists of four freshmen, all of whom have featured in the starting lineup and played major minutes on the court, and four sophomores who are making quite the contribution as well. Despite some inexperience, he feels strongly about his players' ability.
"Whether the team is better than us or worse than us, I think if we can compete in a consistent, high level then the scores and things like that will take care of itself."
Eliminating some of the errors is also a key to a successful conference season as the Bisons shift gears to their ASUN Conference opponents.
In fact, Lipscomb has racked up 121 service errors, almost doubling the 63 service errors they give up to opponents. Cleaning that up is something that he wants his team to do, and he knows once they do that, they can be successful.
"We didn't serve particularly well this past weekend [at the Jayhawk Invitational]," Rosenthal admitted.
They head into conference play with a record of 3-8, having defeated Xavier, Tennessee State, and Belmont.
"It's tough because you have to manage just the morale [of the players]," Rosenthal said. "I think, ultimately, if we get one more win in that pre-conference schedule, I think we feel a little bit differently."
On September 23, they head to Richmond, Kentucky to play their first conference game against Eastern Kentucky, and then stop by Louisville to face the Bellarmine Knights the next day. They hope to bring their record up to 5-8 over the next two matches.
Looking forward to home, Rosenthal is ready to see the people who come to support the Purple and Gold. "I think our fans have been absolutely awesome, so I am excited to get back to them."
After a month of being gone, the team will return to Allen Arena on September 30th to host the North Florida Ospreys. First serve is set for 7 p.m.
Photo courtesy of Lipscomb Athletics