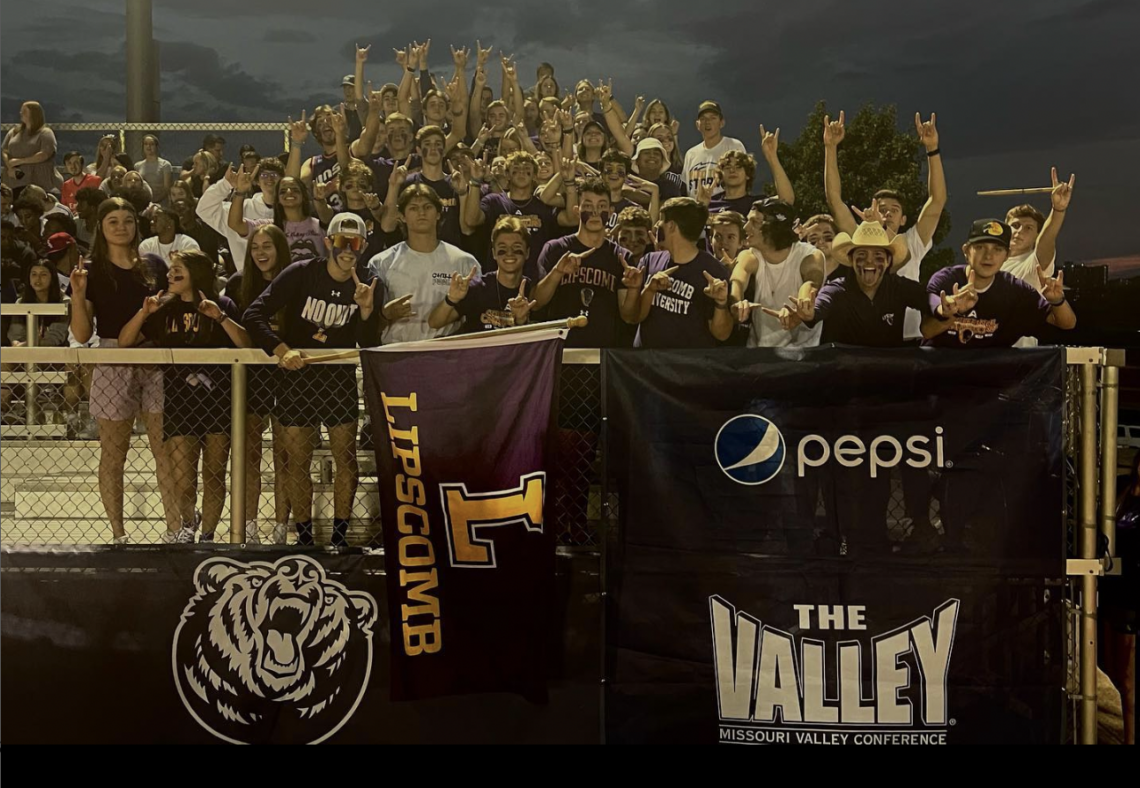 Newfound lunacy around Lipscomb sports
Duke has the Cameron Crazies. Ohio State has The Nuthouse. Texas A&M has the 12th Man.
And this year, Lipscomb might just be forming their answer to great student sections at the biggest athletics programs in the nation.
Behind a few friends who are new to campus, a simultaneous idea birthed in separate states, and pure passion for the Purple and Gold, an upstart fan base has quickly snowballed into an official student section.
It's complete with watch parties, trips to away games, and dreams of much more. They're the Lippy Lunatics, and by the looks of things, they're only getting started.
Everything began with two student managers on Lipscomb's men's basketball team, a pair of Lipscomb newcomers who have love for sports and pride in the Purple and Gold.
One of the two, Ty Benham, also happens to be the cousin of Trae Benham, a sophomore guard for the Bisons who developed into a future starlet over the course of his freshman year in 2021-22.
Alongside him at the helm is Jackson Gibree, a freshman with equal passion for sports in general.
So similar is the passion shared by the two, in fact, that both Benham and Gibree came up with the idea for an organized student section almost simultaneously.
"We're like on the same level with stuff," Benham said. "When he made a GroupMe [to organize a student section], Trae and I were driving from home in North Carolina to Lipscomb.
"We were driving from there, and Trae just mentioned something about making an Instagram page called Lippy Lunatics. So in the car, I was making a profile picture and everything, just the movie-type stuff on my computer."
Benham's next move was to get his fellow manager involved with an idea that Gibree had already been working on.
"I find it funny that we were on the same wavelength and started it separately," Gibree said. "Ty texted me and asked me for a picture of the student section and I asked, 'what for?' He said, 'we made an Instagram,' and I was like 'give me access to that!"
"Then he put me in the GroupMe he had created," Benham said, "and it started kinda rolling, honestly."
The Lunatics' first shining moment was quick to arrive in the form of a Battle of the Boulevard contest. In early September, Lipscomb men's soccer traveled a few miles north to face their rivals Belmont, boasting a top-25 ranking.
It was the perfect opportunity for a student section to show out, and they took full advantage.
"That game at Belmont was so fun," Gibree said. "It was the best 0-0 draw ever!"
Over a hundred Bisons fans packed a small stand at E.S. Rose Park, the home of Belmont soccer, and the purple-clad crew was louder, more engaged, and more sizeable than that of the home side. Chants were tossed back and forth by the two student sections, almost as if the friendly insults were being hurled across Belmont Boulevard itself.
"We posted about it probably three times on Instagram," Gibree said of their recruitment efforts.
Instagram may have helped, but both fanatics agreed that the biggest driver of excitement was an unexpected mention at The Gathering, Lipscomb's mandatory weekly chapel.
Student body president Liz McKell hinted that a student section would be present at the match that evening, and the Lunatics saw an immediate boon.
"That was so cool–me and him looked at each other like, "she's talking about us!". We were high-fiving and stuff," Gibree said.
"That same chapel is when the Lipscomb Bisons page reached out," Benham said. "They asked to partner with us with funding and make us an official student section."
Once the pair learned funding was on the table, they knew something big was possible.
"That was huge, because what kid's not gonna pull up if there's free t-shirts and pizza?" Benham said.
Talks of t-shirt cannons, thousands of shirts on seat backs, and more ideas that formerly felt outlandish were suddenly being thrown around by two guys who just wanted to see their sports teams on campus get more support.
Gibree first wanted to see an official student section when he watched Lipscomb host nationally-ranked Stanford in Allen Arena in late August. Three thousand fans crammed in, but Gibree felt they could have done more to stay engaged and create a true fan atmosphere.
"Me and a bunch of friends all painted "BISONS" [on ourselves] with yellow chests and purple letters, and it was awesome," Gibree said. "But we had three thousand people there and it was quiet. Not everyone was into the game and people were just sitting on their phones, and I was like, 'We need to have energy.' If ranked team is at our home court, we have to use that advantage. So I just made a GroupMe."
Gibree's GroupMe and the Instagram page from the Benham brothers quickly merged into one effort, all from one moment of inspiration. Now, the effects are going beyond excitement on the court or the field.
"Just on campus in general, this energy is way better," Benham said, explaining the difference his cousin has experienced in fan support from 2021 to 2022.
"I think a lot of it is just my class [of 2026]," Gibree said. "After the Stanford match, we asked ourselves why it was so dead. I was like, 'Do y'all wanna start something?' and everyone said, 'okay!' They just kinda followed and… rolled with it."
The Lunatics are also expecting to get a boost from fall athletes once their seasons end, creating a cycle of support.
"I genuinely think the freshman soccer guys, a lot of those guys are going to be huge during basketball season and step up as leaders," Gibree said. "I've talked to them and they've said, 'y'all are doing this for us, so we've got y'all.'"
Although they're still reveling in the surprise and excitement that the first month have already brought them, both Gibree and Benham have one eye on making the future even brighter than the present for the Lunatics.
"If we build this now, imagine what the year after us is going to look like. And after four years, it should be absolutely massive," Gibree said.
"There's huge potential," Benham agreed. "It could be something massive."
The Bisons are currently unbeaten in ASUN Conference play across three sports; women's soccer and men's soccer are both 3-0, while volleyball is 2-0. All three sports play at home in the next two weeks, starting September 27 at 7 p.m. with men's soccer hosting Georgia State.
From every vantage point, Lipscomb athletics seem primed to be at their collective best for the current generation of Bisons fans, and thanks to the hardworking duo behind the Lippy Lunatics, it won't go to waste.
Photo courtesy of Lippy Lunatics