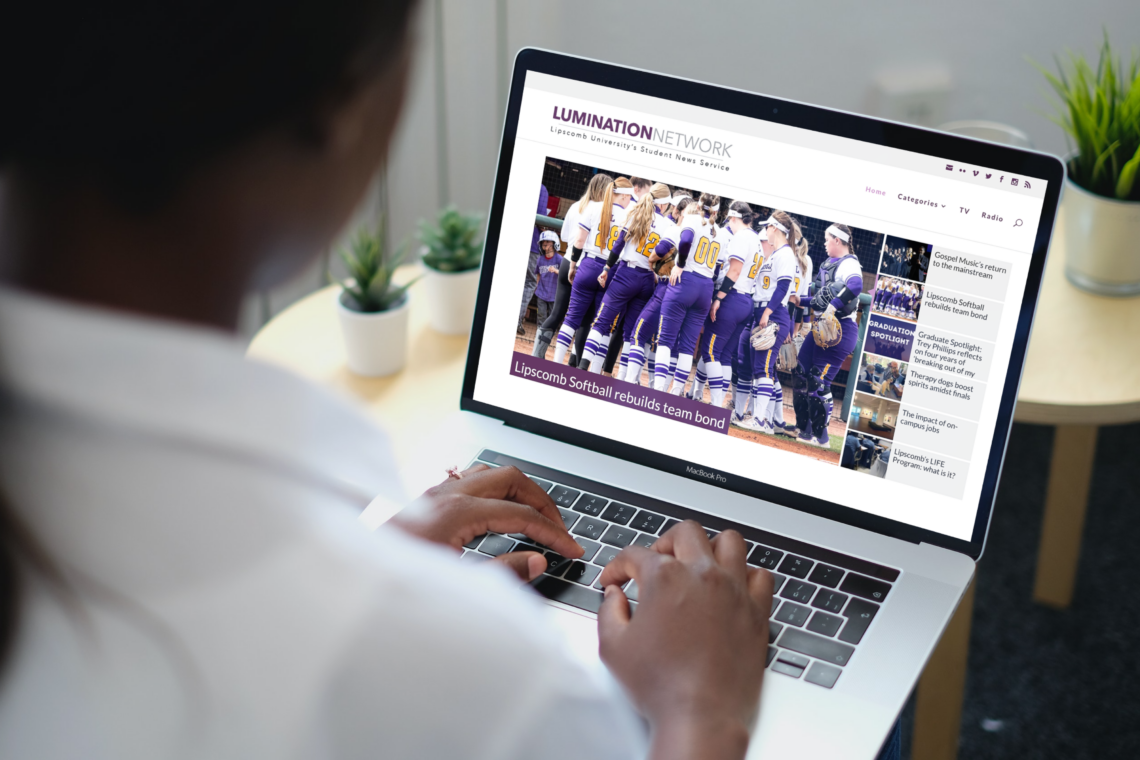 Students speak out after BLM painting of bison was defaced
Republished from Lumination Network, Nov. 3, 2020.
Vandals who tried to destroy the Black Student Union's message on the Lipscomb bison only succeeded in angering that organization and making it more determined to get its message across.
"Honestly, I was ticked off, but not surprised," said BSU Vice President and Chaplain Trey Phillips.
Saturday afternoon, the BSU painted the bison in celebration of the "Educate, Empower, and Elevate" event they held the previous Thursday. They originally planned to paint the bison the day of the event but had to postpone due to rain.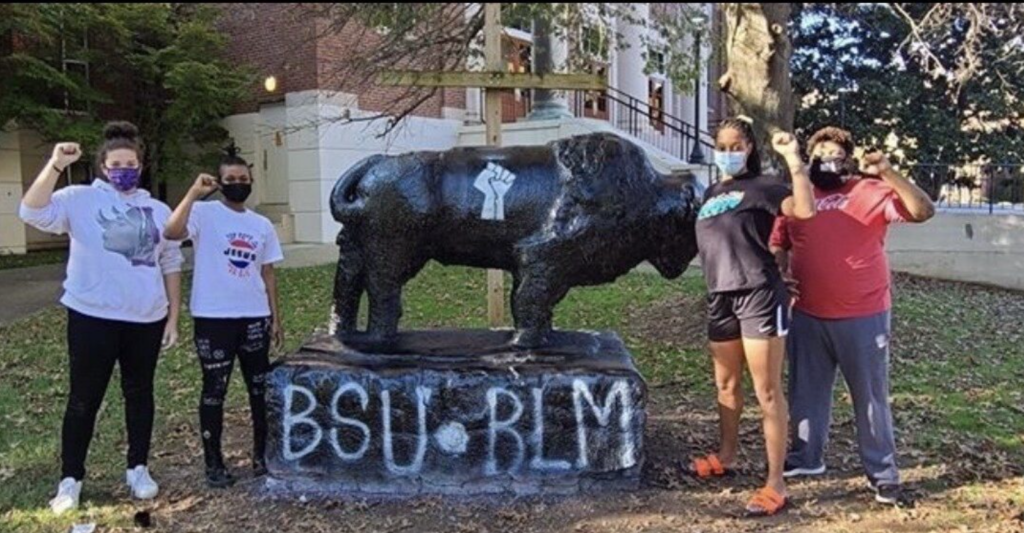 BSU's president, Dorie Harrison, made sure they followed all protocols required to rightfully paint the bison. She went through both Student Life and their sponsor, Asa Bailey, to get permission. When the BSU finished painting the bison, they wrote the time 3:30 p.m. on the back. This was done to comply with a new rule that was put in place last year. It ensures no one could mistakenly paint over the bison within the 24-hour time period in which the approved painting is required to stay on.
They had originally painted the bison black, with a raised fist and the acronyms "BSU" and "BLM" below it.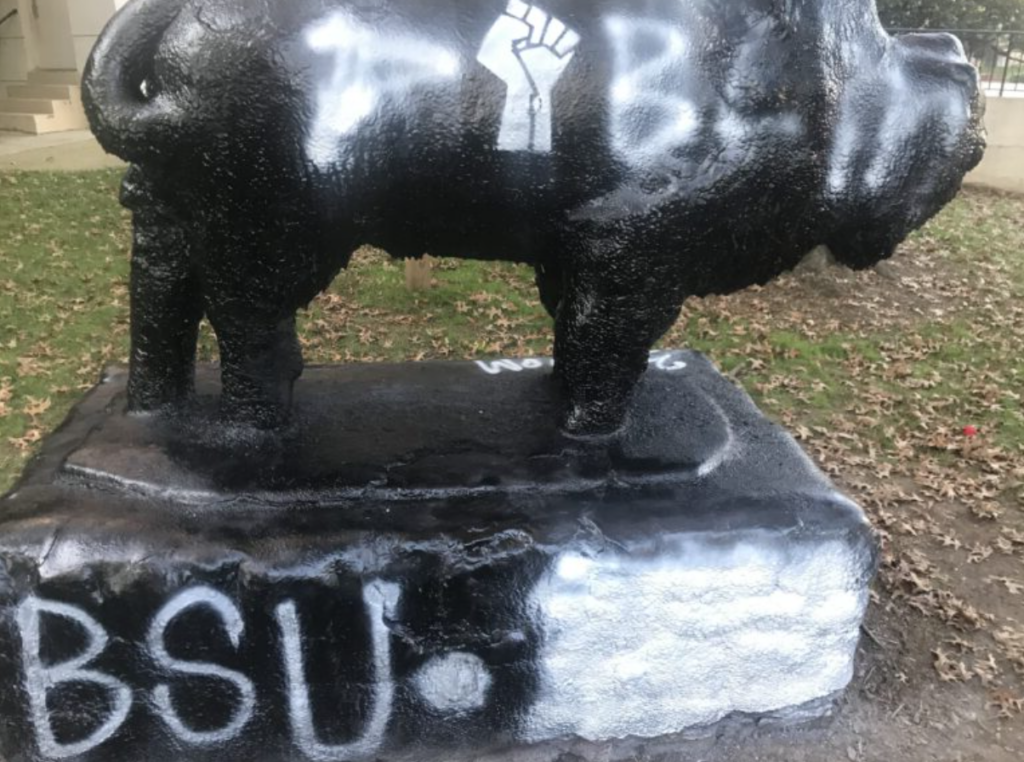 On Sunday morning, however, Phillips woke up to find someone had defaced the bison. "BLM" had been marked out and rewritten at the top, with what appeared to be the letter "F" in front of it.
"When we got done painting it the first time, I expected the resistance, but you know, it still angered me when I saw that someone did it," Phillips explained.
Phillips sent a picture of the defaced bison to the BSU GroupMe, trying to find out if anyone knew what had happened. They were outraged but decided they would paint the bison again at 12 p.m. on Monday. They even got other students to sign the bison and put messages on it.
One student wrote, "When you don't respect existence, you get resistance." Another quoted, "Injustice anywhere is a threat to justice everywhere."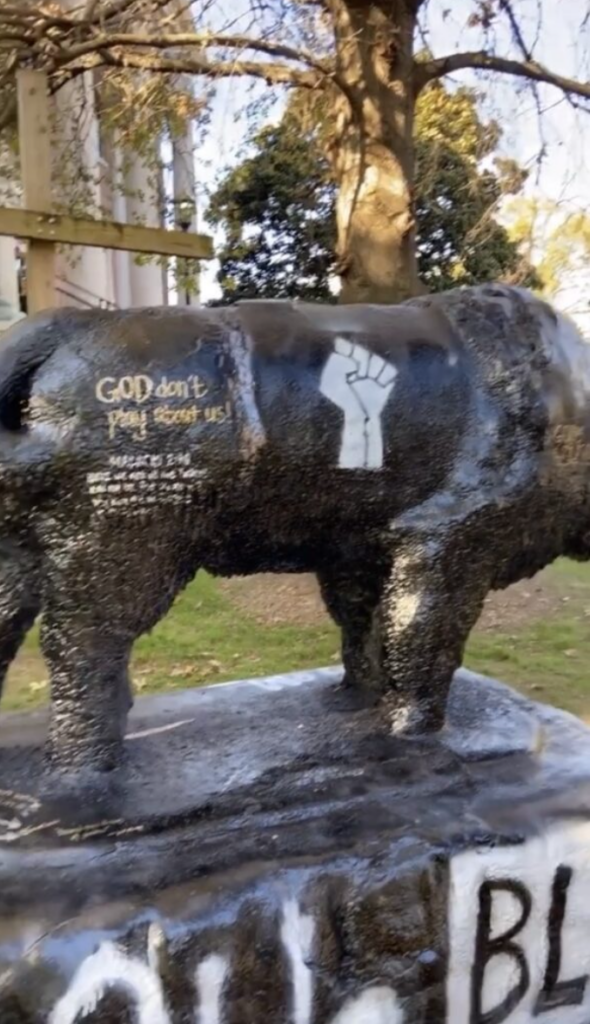 Painting over the bison within the 24-hour period was a student conduct violation, so a biased incident report was filed. The Dean of Community Life, Dr. Prentice Ashford, is looking into who vandalized the bison, using cameras in the area to find the perpetrator.
"Honestly I would say you've failed at what you were trying to do because not only did you make yourself look bad, you made us look better," said Phillips, when asked what he would say to the person who defaced his organization's work. "I know you probably weren't expecting the response you had after, but it's a different time and age and people are tired of seeing injustice go down."
And Phillips said the incident hasn't deterred BSU's efforts.
"I just want to let people know that they can keep trying, but we will continue not only as BSU but as a student body to speak out against things that are not correct and not right."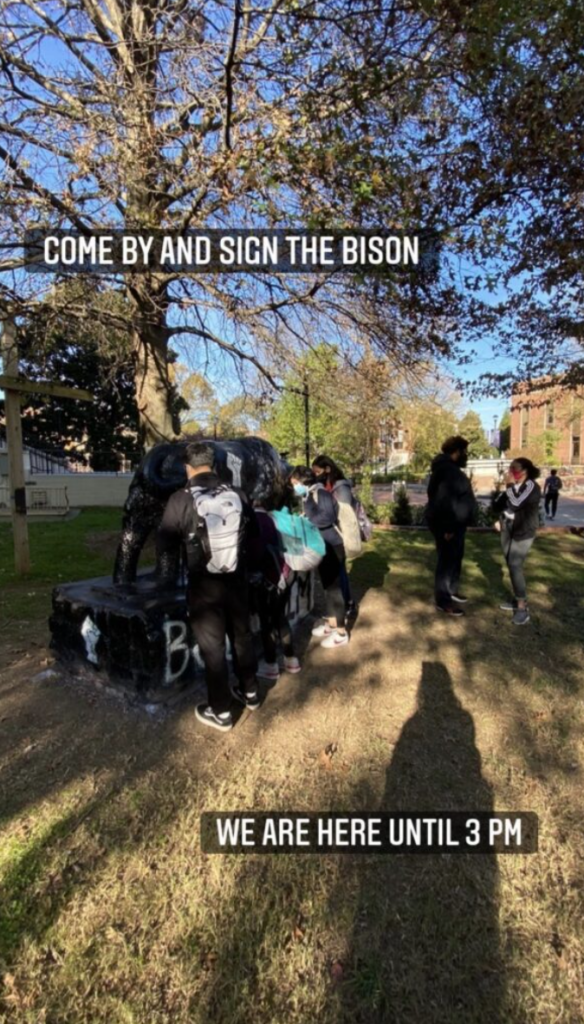 Pictures provided by Trey Phillips and the BSU Instagram account. 
Article by Schylar Jones