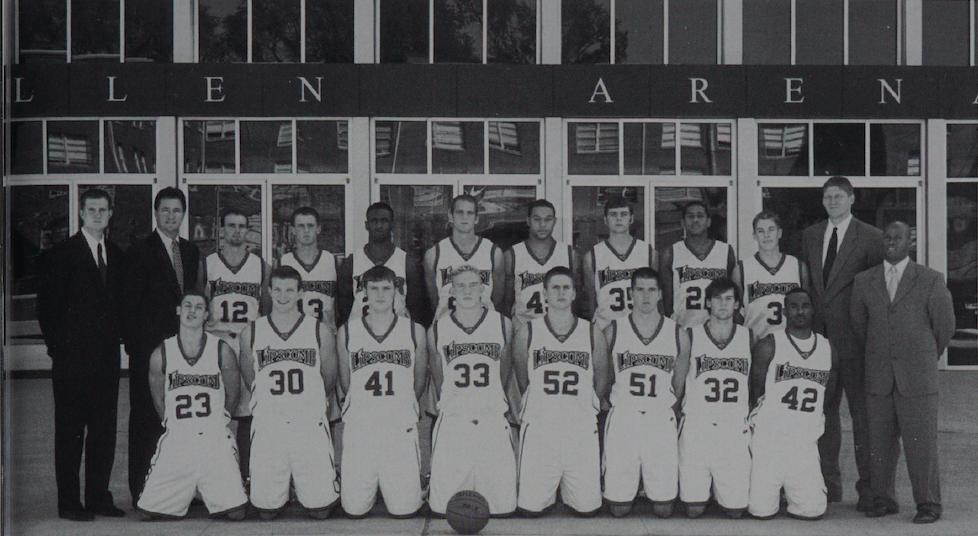 "The shot" still replayed today
It may be the most famous few seconds of Lipscomb Sports history.
A 75-foot 3-point buzzer beater known as "the shot."
And while this "shot" took place in 2001, 22 years later during every Men's Basketball game fans get to relive the magic. The video is shown on the screens and then a lucky student gets to try to recreate the shot.
Who was the player who took the shot? How did it change his life?
Herd Media tracked down Clayton Osborn, a former student, in Utah, to talk about the legendary shot that put his name in the Lipscomb History books.
An Answer to Prayer
Clayton when looking back said the shot was an answer to the personal prayer of the campus, alumni, and the community. It happened during the first game in a brand-new stadium.
"There was so much riding on this game for the community; they were trying to take so many donations and building so they could become a Division 1 school; that night was a true inaugural night for Lipscomb."
Going into Halftime against North Texas, the Bisons found themselves down by 19. The coach took out the starters and put in all the freshmen and one sophomore. Surprisingly enough, the Bisons actually ended up storming back to put them in striking distance. Clayton Osborn can remember every move.
"We got the ball back on our end the possession prior with 7-seconds to go down 1 and we turned over the ball we had to foul, the wind was knocked out of us so much by the play before that people thought it was over. At the time I had 16-points in the second half, I felt hot and I wanted the ball."
Preparation for the Shot
Every player dreams of a chance to make a spectacular shot like this. Clayton had rehearsed it. He said when he was younger he would go to his local church and would practice crazy shots from half-court and off-balance. But never from the distance of "the shot" before.
The Shot
"My teammate had another teammate but he sat on it and gave me it." Osborn says, "When he gave me it (the ball), I knew I needed to turn, so I positioned my body when I caught it so I could run."
When the ball went into the hoop Clayton was turned around because the shot took everything he could to launch it and he missed the ball going through. But the crowd knew it and they went crazy and stormed the field
"Hell ya it went i!" Clayton when he figured it went in.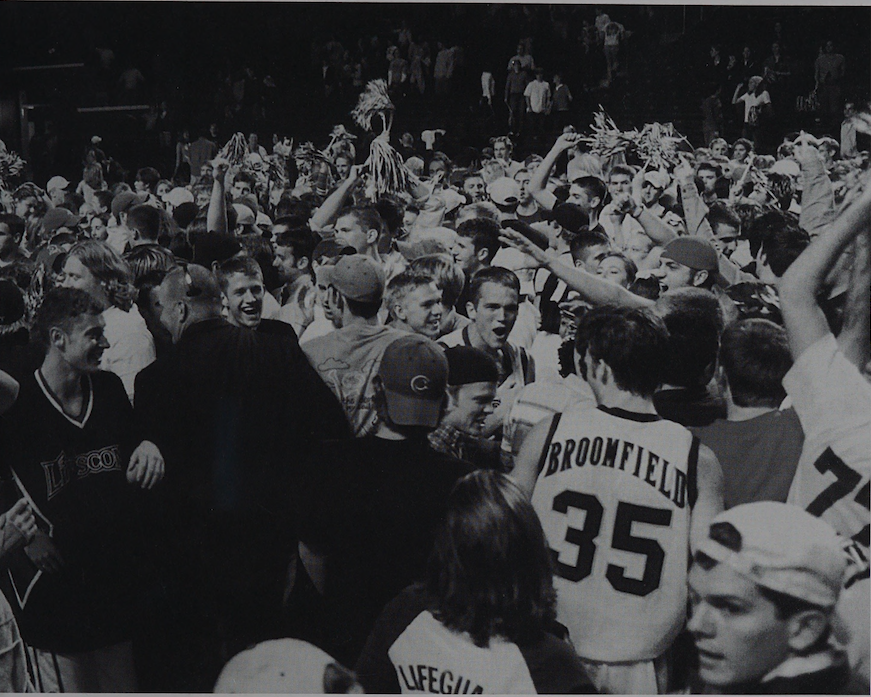 It may be hard to believe, but the shot wasn't the only miracle shot of his career. A few years after "the shot," Clayton was taking part in the Nashville Pro-AM Basketball League.
The Pro-AM Basketball league is a six-week summer tournament where college basketball players, NBA players, and overseas players get to enhance their skills on the court.
In a game, Clayton's team found them down by two after the other team split the free throws in the waning seconds of the game. Clayton, just like in the game for Lipscomb throws up a prayer, this time from further out and it banks off the backboard and goes in.
A Numbers Game
Following his game-winner, Clayton became an instant celebrity on campus, but with him being so new to Lipscomb, he didn't even have a permanent uniform number. Clayton says to finish his Freshman year he wore three different numbers.
Clayton wanted to wear the number 3, but another player had it at the time, so he received the number 10. But following the shot, the player said he would give it to him. Before printing another jersey, he was given a backup, which was the number 12.
In researching this story, there was a bit of confusion, if you go back and watch the video, he's wearing number 10…yet in the yearbook, he is pictured that year in the number 12.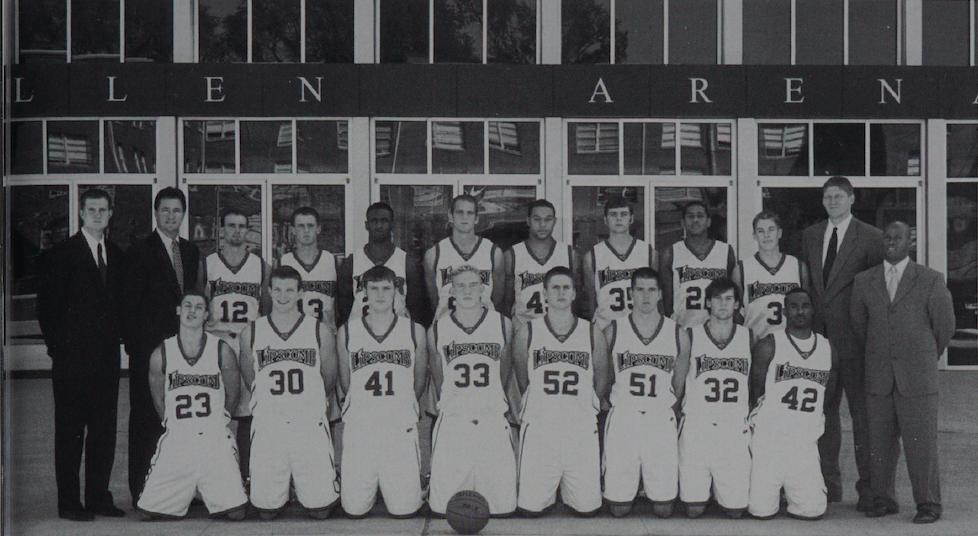 | | | | | | | |
| --- | --- | --- | --- | --- | --- | --- |
| Team | Year | GP | PTS | AST | REB | FG% |
| Lipscomb | 01-02 | 27 | 8.1 | 1.8 | 1.7 | 37.4 |
| Cal Poly | 05-06 | 22 | 2.1 | 0.9 | 1.2 | 30.0 |
| Cal Poly | 06-07 | 14 | 1.5 | 0.5 | 0.7 | 28.3 |
| Lipscomb | 07-08 | 1 | 0 | 0 | 2 | 0 |
Clayton's stats for Lipscomb and Cal Poly
A Change of Career
After finishing his freshman season, Osborn, who is Mormon, decided to do mission service for two years. There was very little time to practice or train and he put his game on the "sideline."
Following his mission, he would redshirt at CSI Junior College in Utah, which was the best-winning junior college in the country. Yet luck was not on his side.
While at CSI, playing in a scrimmage for the scouts from Cal Poly, he was undercut and messed up his ankle.
Despite the injury, Osborn was given a full-ride scholarship to play at Cal Poly but his injury was misdiagnosed and he ended up playing on it with the help of injections. The damage resulted in career-ending arthritis. At Cal Poly, he would join the just-opened business school and he would earn a bachelor's degree in business.
Following his graduation, Osborn wanted to come back to Lipscomb for the graduate program and ended up playing basketball too, because he had one year of eligibility remaining.
But the pain outweighed the love for the game. He would only play one game where he would only get 2 rebounds. Osborn ended up pursuing his master's in conflict resolution at Lipscomb.
After leaving Lipscomb, he joined his family-owned apparel company, Game Gear. He was the CEO of the company until he left four years ago. He is currently building his own brands.
BaeME is a baby company that specializes in baby hats and blankets, TeamSportsWear a sports company specializing in making jerseys and sports clothing, and Hooder a jacket company.
A Legacy of Success
Clayton was not the only family member destined for greatness. His sisters found fame as the early 2000's country band SHeDAISY!
Embed from Getty Images
window.gie=window.gie||function(c){(gie.q=gie.q||[]).push(c)};gie(function(){gie.widgets.load({id:'xjGfcavcRghr6ZaWPcCftQ',sig:'3Fzoo6GQwfHMJWsjssNzfhyKx9_oPpTMi_zSCU9-30A=',w:'594px',h:'449px',items:'117787746′,caption: true ,tld:'com',is360: false })});
When asked what it was like growing up with his star sisters, Clayton said, "I am one of the luckiest men to be raised with four beautiful, strong, talented women. It has been the foundation of how I try to treat women and it's been the foundation of how I see women which are powerful and complete equals in my eye. I still see it that way. They also helped correct how I should act as a man and what I should be." But he jokes that it wasn't always easy " hearing them sing all the time in the house.'"
While everyone hopes that one day they will have the chance to make an insane game-winner like Clayton, what he did reminds us that we should "be just as concerned as the ambition of your team's success as your own."