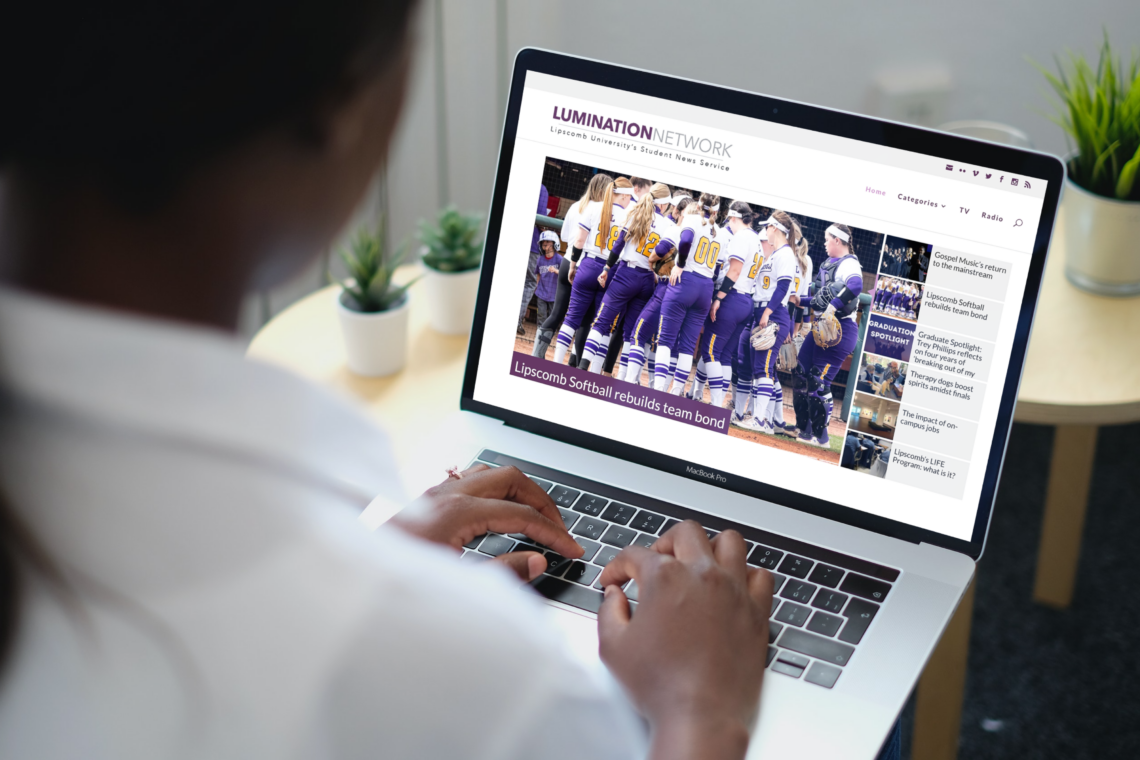 Bison defaced in the midst of anti-Asian hate crimes
Republished from Lumination Network, April 2, 2021.
Last Wednesday, March 24, Lipscomb's ACON (Asian Community) club painted the bison to say, "Protect Asian Lives," following the massacre of 8 women, 6 of whom were of Asian descent, in Atlanta spas on the 16 of March.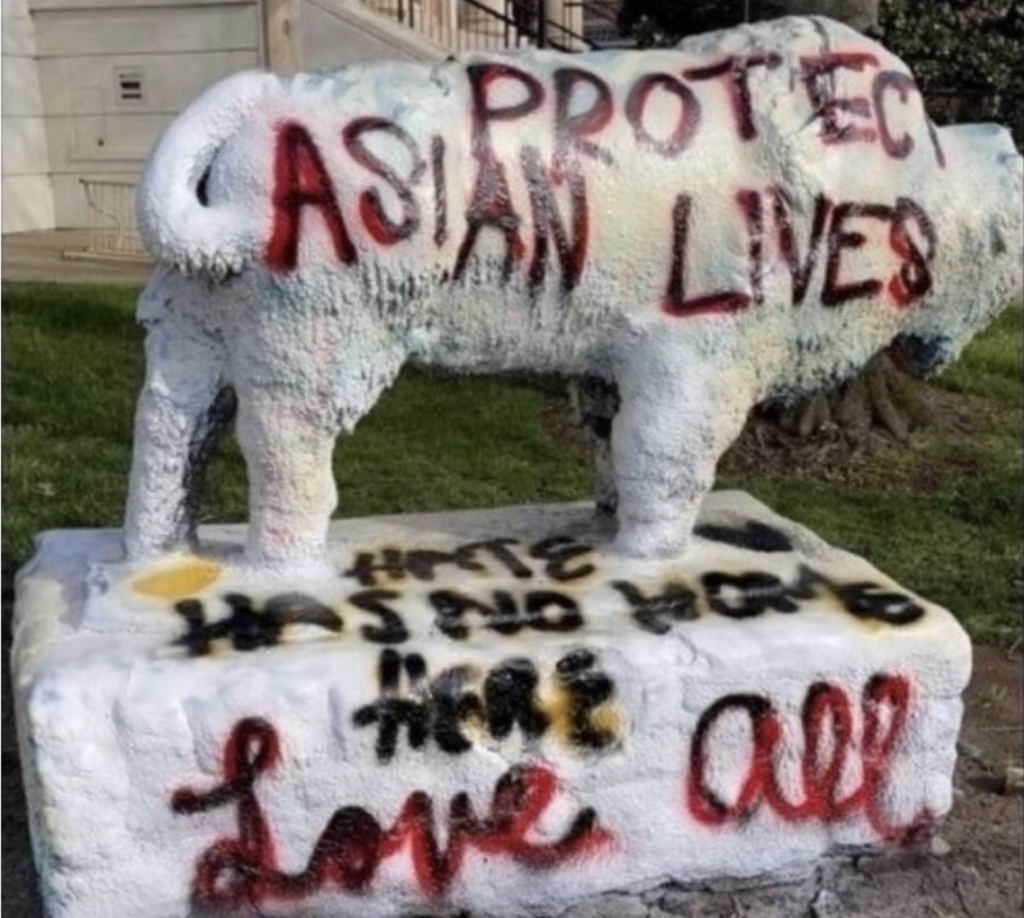 Sophomore Corporate Management student Cindy Hong is President of ACON and explained why they spray-painted those words: "With the recent massacre that happened in Atlanta, and nationwide there's been a lot of anti-Asian hate crimes, we just wanted to create awareness and show solidarity and respect to those who lost their lives and give a message to Lipscomb's student body that there should be zero tolerance to Asian hate. It was also to share a message to other Asian-Americans that we hear them and see them. We shared a picture of the painted bison on our ACON Instagram so that people would know we are a resource and would feel free to DM/come to us."
Wednesday night, though, the bison was painted over to say, "Cookout: This is all that matters."
Hong described how she felt when she found out the bison had been vandalized. "I was kind of shocked but not shocked at the same time because it was something I kind of saw coming but it is still very shocking in a way where I can't believe someone would do that. Of course I was mad, angered, very sad, I felt like I was being struck."
Many students on campus felt the same way. This is not the first time the bison has been defaced. In 2020, the bison was vandalized twice, first over an LGBTQ+ painting, then over a BLM painting.
Hong explained how the defacement made students feel. "It's frustrating to know this is going on in the place that I sleep, eat, and spend the majority of my time. No one should have to feel scared or like people are looking at you at a place you call home. I felt like I always had to walk with someone, and my friends have felt the same way," she said.
In response to what the vandals wrote, Hong said, "It seems like these people don't like us and are mad about protecting Asian lives. I want to say that there is no competition, no level of hierarchy we're trying to place ourselves in. This is all about bringing to light what's happening right now in America and around the world. People think anti-Asian hate started with COVID, and it has gotten worse since then, but racism has always been here. The way I look or talk, it's nothing new, so when they said 'Cookout is all that matters' it's like do our lives equate to fast food? I think it's disappointing to see people can't go behind skin color and see that we are all humans and we are one."
Now that it has been nearly a week since the incident, Hong reflected on the response Lipscomb's campus has had. "I made a statement on my social media and ACON did too, and being given feedback and support from family, staff, friends, and non-Lipscomb people, was very encouraging to see. It's also encouraging thinking about the fact that there are people like that but we also have to see the other side that there are people who support us. It's difficult to see the good and bad, but I'm glad our team saw the good, so we're very blessed and thankful for that. I want people to know that we are still one, we are still going to stand up against racism and for our community. This was an obstacle that God has placed, but it also teaches us new things like how much support our student body gave. It helped me see the light in this dark time right now for my community."
On March 26, The Office of Student Life, through the VP of Student Life Matt Paden, sent out a statement about the incident, "To our Asian American community we hear you, we see you, and you belong here." The email also said that the students who broke the bison 24-hour window policy will face Community Standards consequences.
Several students, however, were frustrated at the time it took for Lipscomb Administration to respond. There was even a petition made before the statement was released that called for "Public acknowledgment by Lipscomb University of racism and microaggressions on campus."
Erastos Evdoxiadis, Coordinator for the Office of Intercultural Development and Student Organizations, explained why the response took a couple of days. He said that it takes time to determine the intensity of the incident, what the message's purpose was, who put it down, and why. The administration has to investigate the incident, including looking at the history of the students involved. "You don't want to vilify your own students, which is why we don't say who did it because we have to be careful about their safety, too. Even if they've done a dumb thing, they're still a person, they're still students."
Evdoxiadis continued, "Things maybe need to be addressed quicker sometimes, but we have to make a decision of drawing criticism for waiting longer to have a better answer, or just come up with an answer and then say, 'Oops we're sorry,' and change it again. Students sometimes assume we're not doing anything even though we actually are, we just don't say anything until we have a final decision. It is even discussed after hours. It's a lot more involved than what people think at times. But maybe the hardest thing is to make that understood, especially on a large platform. It's just statements and reactions on a large scale, so timing is important. I understand people see wrongs and want justice immediately, but that's not always the best thing."
Hong hopes that there truly is action behind the administration's words. "People can make blank statements or apologies, but there's no action behind those words it feels. I want to see the next situation handled more quickly, not when people demand it but because they truly care about the community."
For now, Hong is grateful for the support ACON has received and encourages students to get connected. "We want ACON to be a resource for those who are mourning, curious, want a clear answer, or just someone to talk to because it isn't a light topic. We've already received the best support we've gotten which is reacting to social media or coming up to us or DMing us personally about how this has helped them or how it will help others. That's the best support we can get for now because we are a new club, so it's just the officers, and we haven't had events, so that's the best support."
She also encouraged students to have hard conversations. "I just want people to know that I want them to feel safe and like this is their second home. I stand with the community, and me and my team are working hard to give light to that statement and stand up against racism, and I think those who are silent throughout it all, we know it's a hard topic, but we want people to talk about it so that you can be more educated and aware, so I encourage people to ask those questions and reach out to those resources like ACON or articles or videos. It's important to be checking up on your AAPI (Asian American Pacific Islander) friends and asking them how they're doing and maybe even asking challenging questions to be educated and show support for the community that's affected right now."
by Schyler Jones