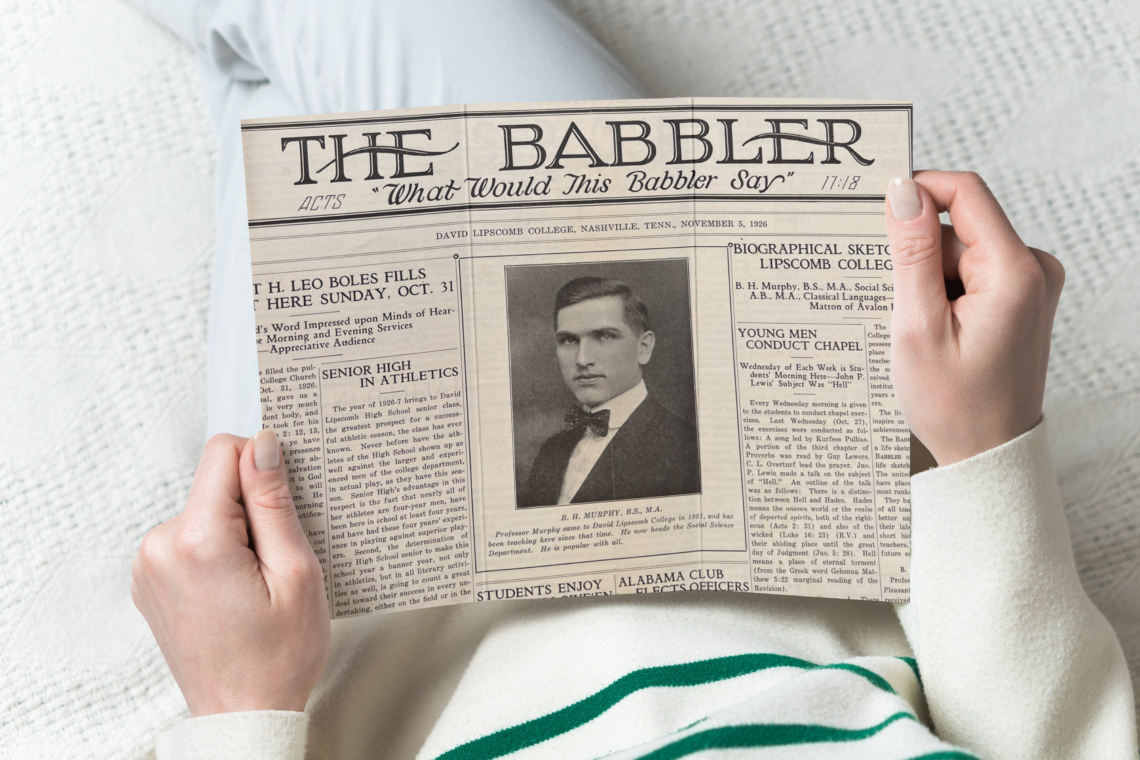 Lipscomb student reminisces Xmas when she was twelve
Republished from The Babbler, Vol. 32, No. 10, Dec. 5, 1952.
It all started at school in the Friday afternoon art class when you made wreaths for window decorations. Then those beautiful crystal snowflakes collecting in mounds on the window panes prophesied of more abundant snow to come. The cheerful smiling faces of everybody, the truckloads of evergreens you passed on the highway, and finally, the insert in the paper "just 16 more shopping days until Christmas," and you dared believe it was really here. Parts were handed out for the Christmas program, and this year you had a platform, the body made it out of logs. Candles threw a suffused mellow light on the snow banks, which glistened back with unminded diamonds. Somehow there weren't enough rooms to wrap presents in, someone was always walking in unexpectedly, but no one meant to peek.
The wonderment of the holiday shopping crowds make you forget to hunt for brother's present. The smells, the wonderfully warm, spicy smells began. Fruitcakes, cookies, puddings, where would they all go? The night of the program and all the mothers, fathers, aunts, and uncles came and smiled at mistakes, while tears dimmed their eyes with forgotten memories. Snatches of yuletide songs were hummed everywhere. Gailey decorated trees blossomed forth in every living room. Popcorn balls, divinity, fudge, peanut brittle, stripped candy canes abounded. But no one got sick. Then carolers–O, little town of Bethlehem how still we see thee lie; Hark! the herald angels sing glory to the newborn King–and you hopped into bed so full of love and happiness you were about to burst.
The smell of roasting turkey and dressing awoke you and you flew to the window–and there they were the great big snowflakes you ordered special. Down the stairs and out to the kitchen in no time. Breakfast went down in two and one-half swallows. When everyone was gathered the presents were handed out. You waited until all yours were laid beside you in a glorious multi-colored pile and then you open them!! Dinner was at three. Turkey, dressing, potatoes, squash, peas and carrots, cranberry sauce, minced meat pie, all you could eat of everything was the menu.
The tree lights were lit at six and everyone sat in the darkened living room. Friends and relatives kept dropping in and the old folks talked while you showed your cousins all your presents and hear about theirs. Finally, at ten you were too drowsy to stay up any longer. And when you went to bed that night there was "Glory to God in the highest, peace on earth good will to all men" in your heart.
By Donna Rae
Editorial Staff
Editor-in-Chief: Carolyn Branch
Associate Editor: Bob Sivley
Second Page Editor: Gerry Altizer
Sports Editor: James Davy
Feature Editor: Tom Trimble
Business Staff
Business Manager: Neil Duncan
Circulation Manager: Vernon Boyd
Faculty Advisor: Willard Collins
Press Club Sponsor: Morris P. Landiss