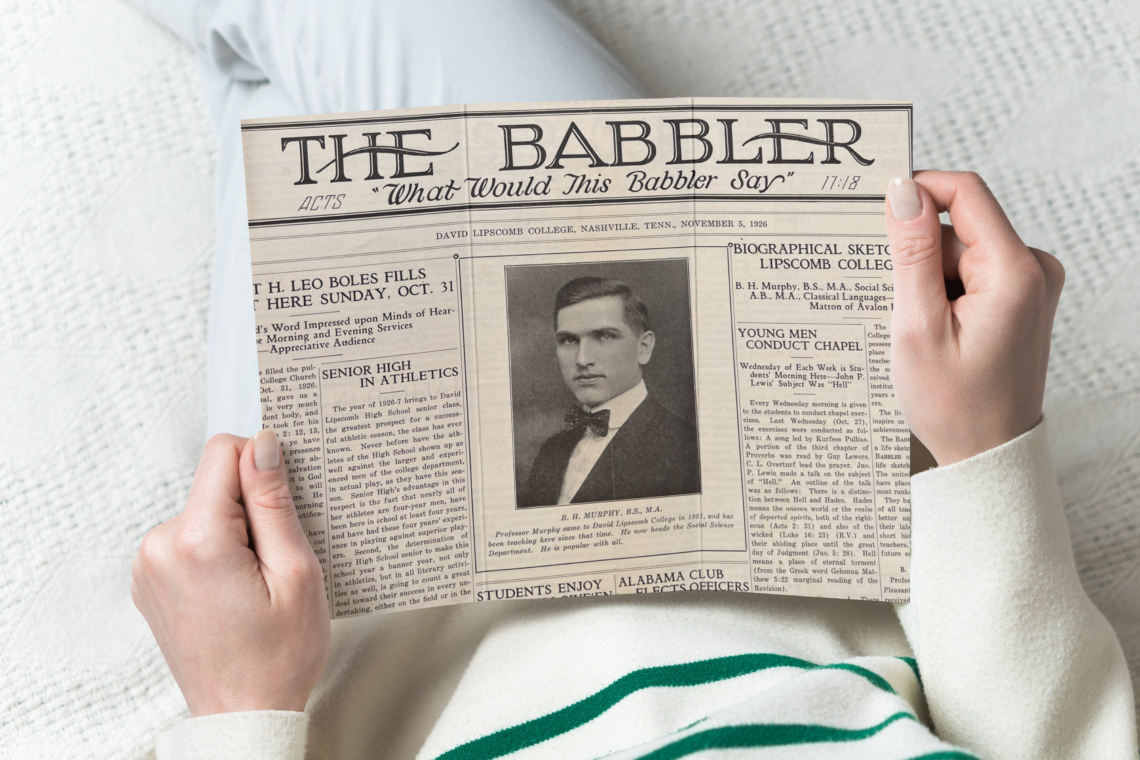 Babbler has history dating back to the 1920s
Republished from The Babbler, Vol. 66, No. 6, Jan. 20, 1987.
It's not magic–it's called work, which helps bring The Babbler to you. An inside look at the Babbler.
For over 60 years student life has been recorded in The Babbler, but now The Babbler will tell its own story.
In 1920, four Lipscomb literary society editors published a monthly journal called Havalind Acts. The journal contained short stories, poetry, jokes, and a few news items.
However, by 1923 enrollment increased and the administration decided to create a larger paper. The paper would be five times larger than Havaland Acts, and its name would represent DLC as being a Christian college.
In deciding on a name for the paper, President H. Leo Boles chose "babbler" from Acts 17:18 which states, "what would this babbler say?" Thus, on October 5, 1923, the first issue of the Babbler was born.
In order to exist, The Babbler was funded by subscriptions and advertisements, recalled alumnus Robert Neil, business manager in 1929-30.
"Lipscomb's four literary societies would run contests to see who could sell the most subscriptions. We would sell subscriptions in the city. I sold a lot of mine at the drugstore," said Neil.
However, during the depression years of 1933-34, inadequate funding ceased The Babbler's production. In 1934-35, production resumed experimentally under the direction of Dean Norman Parks.
"Dean Parks revived The Babbler. Ruth (Collins) became the editor and I was made the business manager," said, Chancellor Willard Collins.
By holding the positions of editor and business manager, the future Mrs. Collins and Chancellor Collins represented DLC at Tennessee Polytechnic Institute, where nine schools met to become charter members of the Tennessee College Press Association.
After The Babbler's renewal in 1935, Dean Parks formed a Press Club to help with production and to critique each Babbler. By sponsoring a basketball game, the club purchased a new printing press in 1936.
"Some students worked their way through school at the print shop, which was located in Elam's basement. The press was used for eight years before The Babbler was printed commercially, due to a change in faculty personnel," said Neil.
Since its renewal in 1935, The Babbler continues to serve as an informant of DLC and an instrument for aspiring journalists.
By Wendy Pruden, Babbler Features Writer