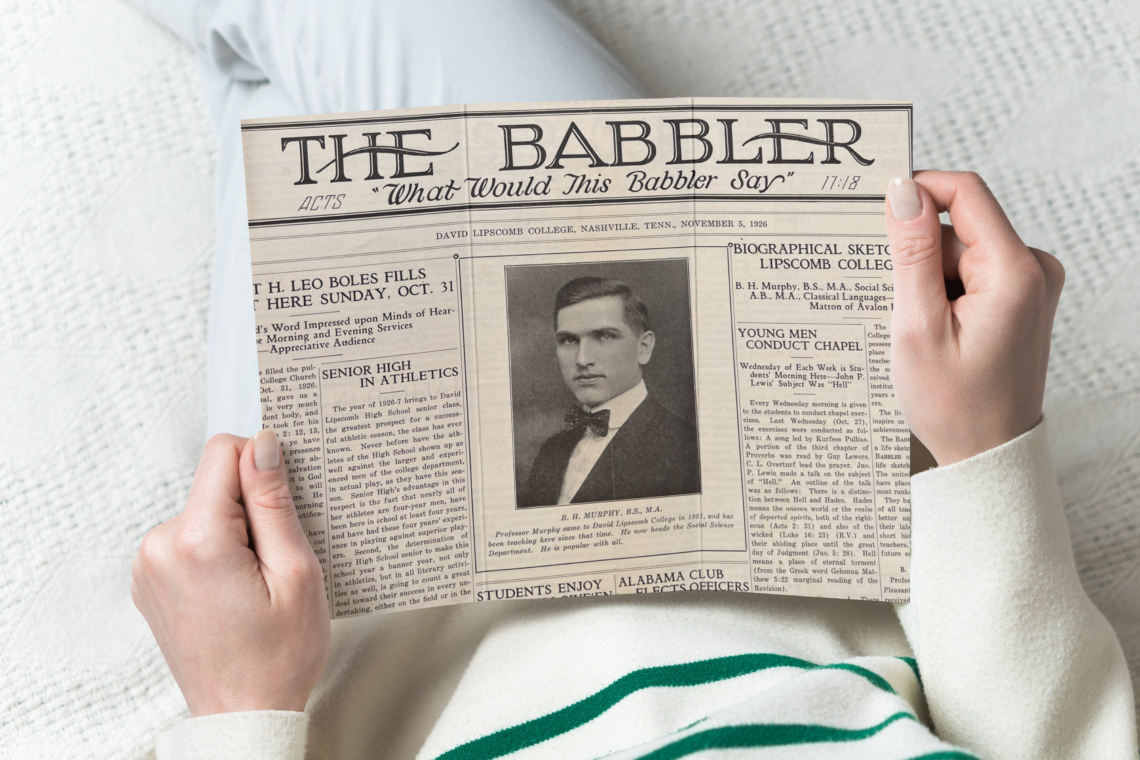 Bisons face tough competitors in Feb. 3rd homecoming game
Republished from The Babbler, Jan. 26, 1973.
The Bisons have plenty of competition in store for them Feb. 3 at Lipscomb's 26th homecoming as they tackle tough Transylvania University at 3 p.m.
Coach Mike Clark leads his team into what he hopes will be a revenge victory against the Pioneers of Lexington, Ky. Liscomb dropped the first contest on the road.
The Lipscomb-Belmont game, Nashville's traditional cross-town rivalry gave the Bisons a close and hard-won victory.
McQuiddy gym was near its full capacity when the Bisons edged the Belmont Rebels 66-60.
According to Clark it was the Bisons' "best whole game of the year." Assistant coach Charlie Pearman agreed that the Belmont game was by far Lipscomb's "best team effort for the season."
The Bisons, their ranks filled this year with young players and plagued by injuries, fought off a late first half charge by the Rebels and carried a four-point lead into the locker room.
The Rebels' momentum continued into the second half, until, as Pearman stated, the Bisons calmly overcame a six point deficit and came back to win the game.
Just as the contest was running neck and neck, and the crowd, with four minutes to go in the game, was screaming its approval, David Martin came up with a big rebound.
The Bisons went downcourt and scored the go-ahead basket and controlled the remainder of the game.
A fine offensive team effort and a "great defensive job" by DLC's guards to holding down a pair of high-scoring Rebels accounted for the Bisons' best game of the season.In contests played through Jan. 27, Calvin Bailey is leading the team with an average of 16.7 points and 15.3 rebounds a game.
Bailey is followed by Bobb Burton with an average of 10.8 points a game and 9.2 rebounds. Clyde Whitworth is not far behind with a scoring average of 10.6 a game. The team has hit only about 36 percent of its field goals and 68 percent of the free throws. Bailey has the high point total for one game with 31 points and has the most rebounds in a game with 22 against Belmont.
Hot shooting Bobby Ferrel should be back in action soon to perk up the Lipscomb attack. He has been out of the lineup with a lingering leg injury.
The Bisons so far this season have compiled a disappointing 3-11 record, but Clark points to the future.
Clarks says five of his freshman look extremely good this year, and already three of his sophomores are seeing quite a bit of varsity action.
by Doug Pinkston