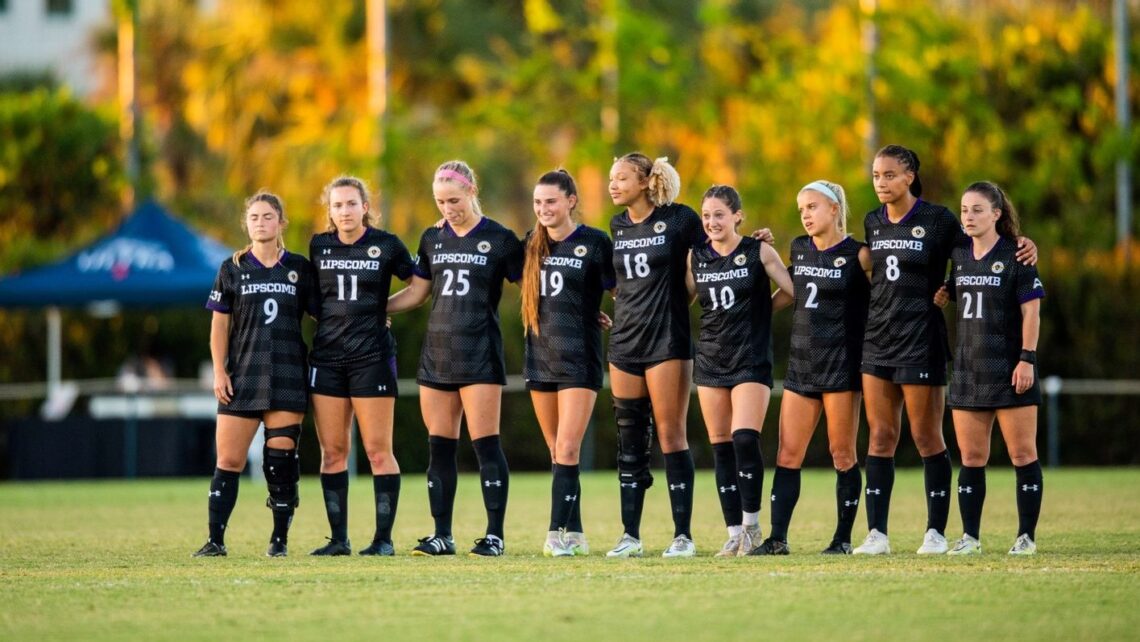 Women's soccer season recap: what to look for in 2023
The Lipscomb women's soccer team had their season come to a close after being upset in the quarterfinal of the ASUN Conference Tournament by the University of Central Arkansas last week.
It was neck-and-neck throughout the match and was decided by penalty kicks, where the Bisons bowed out surprisingly early. What exactly happened to the 3-seed Bisons this year to keep them short of their expectations?
Lipscomb opened their season up by having to play two power five programs which consisted of Texas and Mississippi State, which both resulted in losses. Despite the result, this helped the team grow by facing experienced and talented programs. 
They continued on the track of a tough non-conference schedule and started conference play with a record of 3-4-1. When they started the ASUN schedule, though, the story was different.
Lipscomb went on a tear and snatched six wins in a row in conference play. Their seventh game resulted in a 0-0 tie to Jacksonville, which was the first result not ending in a win for the Bisons in an ASUN contest.
After this game, Lipscomb went on to lose their first conference game at Florida Gulf Coast. They then finished the season strong by winning their last two conference games against Stetson and Jacksonville State. 
The race for the top of the conference was a tight one with Liberty, Lipscomb and Florida Gulf Coast all looking to snag the 1-seed in the tournament.
Liberty ended up grabbing that top spot after not losing a game within conference play. Florida Gulf Coast edged past Lipscomb for the second spot after defeating them in the regular season. Thus, Lipscomb fell to the third seed and was forced to travel to the host site of Florida Gulf Coast and make their way to Fort Myers, Florida.
Once securing the third seed, they were matched up against 6-seed Central Arkansas, who they defeated in the regular season 2-0. They looked to recreate the same result but were not able to do so.
Central Arkansas hopped out of the gates and struck fast. They scored the first goal of the afternoon after Taylor Lassiter blasted the ball in the back of the net just seven minutes into the game.
Roughly twenty five minutes later, senior and ASUN Player of the Year Kelli Beiler was able to grab a goal and even the score out at one. Once that goal was scored, it was a long game.
Both teams continued to fight through the second half without either side scoring a goal. Unable to finish in a tie, the match was forced to be played in overtime. Through both ten-minute halves of overtime, neither team was able to score yet again.
Despite 42 shots being taken by Lipscomb, the score remained tied at 1-1, which resulted in the dreadful, stressful decider of penalty kicks.
Sophomore goalkeeper CJ Graham was able to stop a few shots that gave Lipscomb an advantage to end it, but the Bisons came up short on penalty kicks where Central Arkansas was able to convert.
This was the end of the soccer season for Lipscomb after losing in the battle of penalty kicks 6-5. 
With the season over before many were ready for it to end, the resulting question will be whether or not Lipscomb can bounce back next year and what fans can expect in 2023.
The talent is there, without a doubt. Before the conference tournament started, the Atlantic Sun announced their conference accolades, and Lipscomb was represented well. Kelli Beiler was awarded the ASUN Player of the Year, as well as First Team All-Conference. 
Alongside Beiler, junior Shelby Craft, senior Logan McFadden, and sophomore Kale'a Perry were also named to the first team. For the Second Team All-Conference, Graham, sophomore Alivia Carapazza, and senior Emily Patti all represented the Bisons.
Senior Emanuela Schurch also grabbed honors by being named Third Team All-Conference. 
So out of those Bisons, who comes back? All but one. Every player with those accolades has the eligibility to return to Lipscomb if they chose to do so except for Patti.
Emily Patti is joined by Grace Oliver, Angela Steidl, Cami Rogers, Ashley Witucki and Tori Wheeler as the seniors who have just completed their last season. All of these players contributed time on the pitch this season, and will definitely be missed next season, but Lipscomb is still left with lots of talent.
The Bisons will return plenty of starters as well as major bench contributors for 2023. Leading scorer Kelli Beiler is left with one more year of eligibility if she chooses to take it.
Beiler notched 12 goals on the season, which was almost one third of the team's goals scored this year. 
On the defensive end, ASUN Preseason Goalkeeper of the Year CJ Graham just finished her sophomore campaign, and will look to give a few more seasons to the Bisons. Preseason Defensive Player of the Year Shelby Craft also has one more season in the Purple and Gold. 
Although the program is losing six talented players, the Bisons will hold on to plenty of talent if the current roster chooses to come back. The only unknown as of now is who is going to step into the vacant starting roles.
The first thing Lipscomb may do is take control of the transfer portal. Lipscomb has picked up many athletes from Power Five conferences who have played major roles for the program. Those names include Faith Adams, Shelby Craft, Ashley Witucki, Marcella Cash, Grace Oliver, Kelli Beiler, Tori Wheeler and Cami Rogers, a list head coach Kevin O'Brien may look to add to next season.
The second scenario Lipscomb may consider is bringing in a large freshman class. The Bisons only had one true freshman on the roster this year, Bailey Oetinger, who scored twice in her ten appearances. They may look to bring in more freshmen who can contribute early on in their career, just like Oetinger did in 2022.
Either way Lipscomb looks to add to their roster this off season, this is a team who has loads of talent. Kevin O'Brien will be looking to take his team back to the conference tournament where they won the championship in 2021.
Although the season did not end the way Lipscomb wanted it to, there seems to be a bright future ahead and there are many reasons to be excited about what they can accomplish in the 2023 season.
Photo courtesy of Lipscomb Athletics