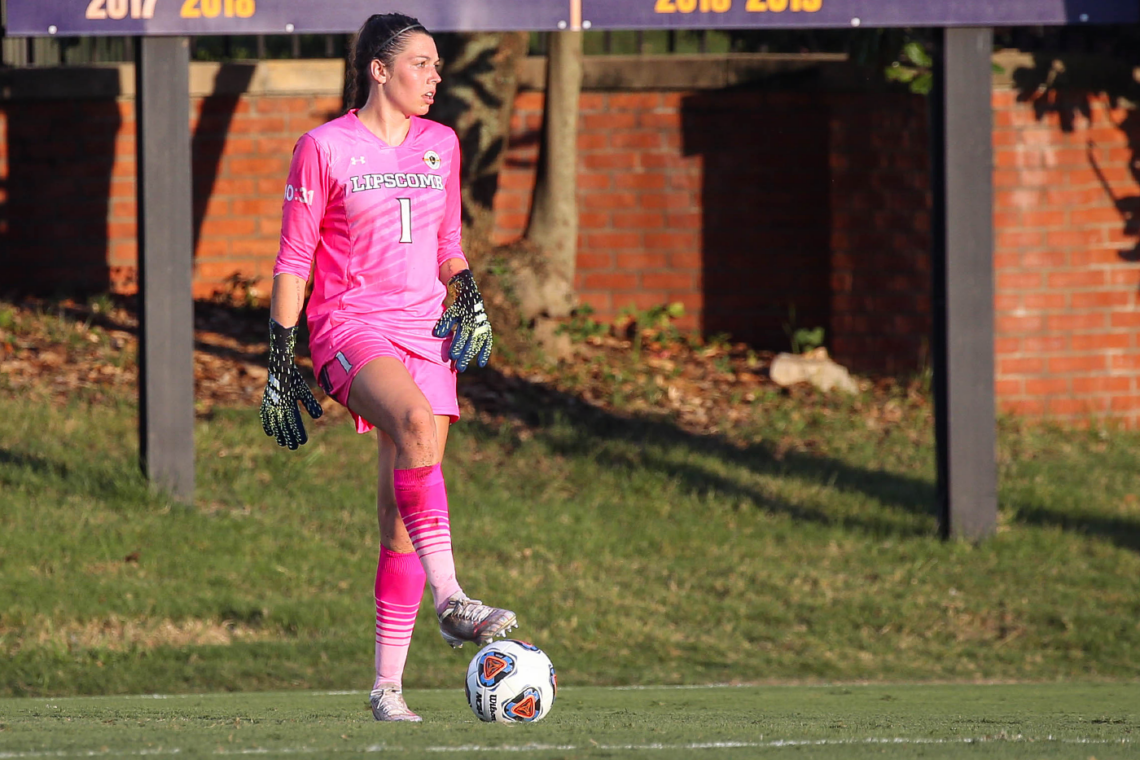 Graham reflects on family heritage, path to Lipscomb
An opposing team is pushing its way on the attack. They have beaten the defense, and the last thing that stands between them and a goal is Lipscomb's keen goalkeeper, CJ Graham.
More often than not, that ball won't find the back of the net.
The 5'8 redshirt sophomore has been a force all season long, and her story begins 15 minutes outside of Asheville in her hometown of Swannanoa, North Carolina.
Even in the earliest stages of her life, soccer was always present. Her parents were both collegiate players at Liberty University and instilled a love for the sport in her.
"We would constantly be in the backyard playing," Graham said. "My dad was teaching me goalkeeping skills, while my mom would teach me practice moves as a defender and striker."
The techniques Graham learned would soon serve her well on the pitch.
However, she was also blessed with the ability to do some unique things away from sports, which she attributes to her grandfather, Franklin Graham.
Franklin Graham is a famous evangelist and missionary who also serves as CEO of the Billy Graham Evangelistic Association (BEGA) and Samaritan's Purse, a Christian relief organization.
Franklin is the son of Billy Graham, a man widely considered to be the most influential Christian evangelist of the 20th century.
Through her grandfather, CJ got a chance to travel to various countries and expose herself to different cultures.
One that specifically touched her was a trip to Ecuador. While visiting the South American nation, she met an underprivileged child suffering from severe burns.
"He received ski mittens after crying for several years for something to help carry the pots," Graham said. "And when that was all he received, he was the happiest kid there."
Graham's development both in terms of soccer and life experience would benefit her as she progressed into high school.
Her school, Nesbitt Discovery Academy, was a STEM school that did not include athletics. That meant Graham had to get creative in order to continue her soccer career.
Fortuntely, she received a special opportunity to play for nearby Owen High School even though she didn't attend there.
"It was interesting because I wasn't connected with my local high school at all," Graham said. "I came from a private school background at a Christian school."
The transition, while rocky at times, allowed Graham to play the sport she loved. It also was a time when she saw legitimate success in the net, a position that she began playing in her teen years.
"I didn't become a goalkeeper until I was probably like 13 or 14 years old," Graham said. "I couldn't stand it."
Her disdain for the role quickly ended when Owen had a very successful run during her final two seasons. She was also 4x All-District and a 3x team captain with the Warhorses.
After graduating in 2019, she decided to come to Lipscomb over Cedarville University, a small NCAA Division II school in central Ohio.
In a move that she is now grateful she made, Graham decided to redshirt during her first year with the Bisons.
"Redshirting was honestly a great decision," Graham said. "There was a huge learning curve going from being 18 years old and playing 20 and 23-year-olds."
Through the tutelage of veterans in the program and the application of the repertoire of her favorite player, Alisson Becker, who currently plays for Liverpool.
Graham burst onto the scene in 2021. Her exceptional play, which included a trip to the NCAA Tournament, 13 shoutouts, and 81 saves for the year, helped her to receive the 2021 ASUN Conference Goalkeeper of the Year.
This season, the success has continued for Graham. She continues to win weekly All-ASUN honors and is a strong candidate for Goalkeeper of the Year again in 2022.
Even with all of the recognition, she knows nothing is possible without her teammates.
"A lot of these accolades are due to the fact my teammates are amazing," said Graham. "They keep pushing me to be better."
The push from her teammates is helpful, as the Bisons sit in third after their final ASUN contest of the regular season. Their most recent win was on October 21, a 5-0 thrashing of Jacksonville State, giving Graham her seventh clean sheet this season.
In addition to the win, the team has remained positive despite adversity striking early.
"Morale was a little low at first with injuries, but I think we found a way to play for each other," Graham said. "Play for all the girls who couldn't be out there for whatever the circumstance may be."
Lipscomb enters ASUN tournament play as the 3-seed, which means they will contest their quarterfinal and semifinal rounds at #2 Florida Gulf Coast. The event starts 3 p.m. Thursday when the Bisons match up with the Central Arkansas Sugar Bears in Fort Myers, Florida.
Graham understands she will be a catalyst for the team in one of its most crucial moments this season as the Bisons attempt to punch a bid to the NCAA tournament for the fourth time in five years.
Photo courtesy of Lipscomb Athletics