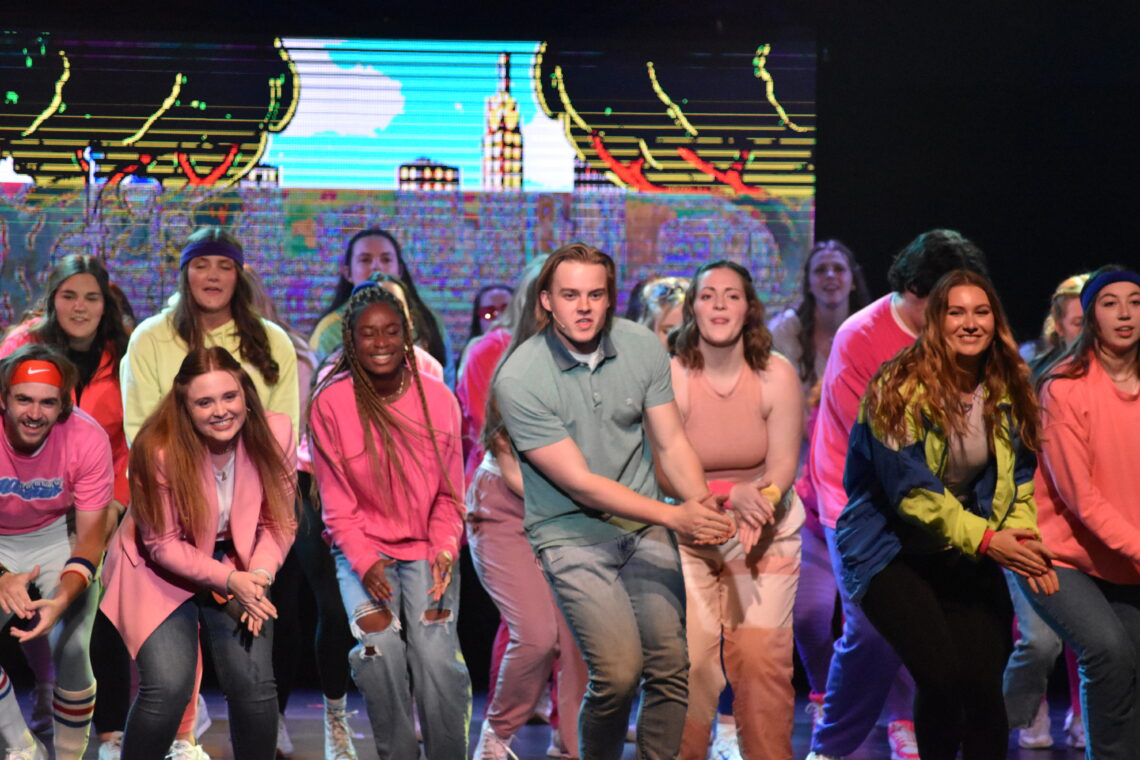 Singarama performances 'sparkle' on opening night of Diamond Anniversary
On what was a beautiful night for song and dance in Nashville, students, faculty, and other members of the Lipscomb community came together for the opening night of Lipscomb's annual "Singarama" event.
After months of commitment, preparation, and anticipation, students participating in the event were finally able to see all of their hard work come to fruition; performing in front of what was a packed crowd inside of Collins Alumni Auditorium.
Included in the massive audience was Lipscomb graduate (1965) Coba Craig, who came up with the idea for Singarama six decades ago while he was a student.
The theme of this year's event was diamonds. The theme represents Singarama's 60th anniversary, which is also known as the "Diamond Anniversary".
Hosts set the stage with high-energy performances and solos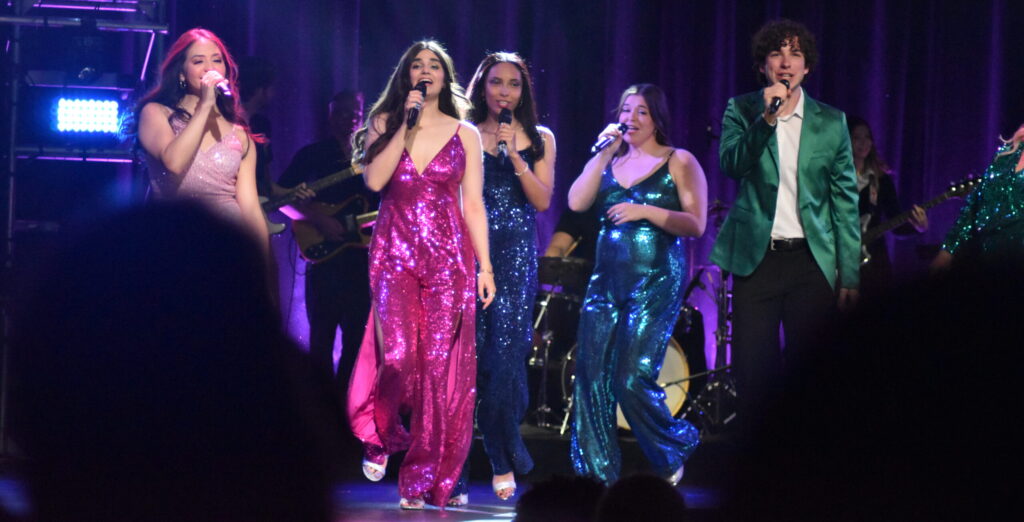 Things began with a performance from this year's Singarama hosts, seniors Shawna Mann, Kaylin Townsend, Kelle Cates, and Meridith Roberson, junior Reiley Moore, sophomore Josiah Smith, and freshman Logan Bennett.
The group sang two songs together to kick off the night; introducing themselves to the audience and setting the stage for the first show that was to follow.
Throughout the night, each of the seven hosts also got to do a solo performance, where each host would perform one song and were accompanied by the Singarama band, which was consisted of fellow students.
"No Pressure, No Diamonds"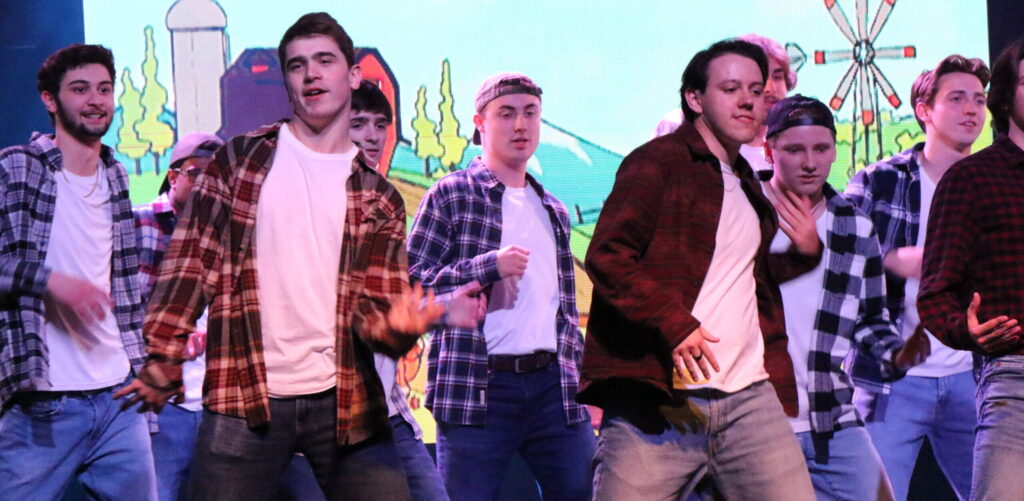 After the hosts' opening performance, we got see our first show of the night, "No Pressure, No Diamonds". It was co-directed by Mackenzie Meadows and Callie Horner while being performed by friends and members of the Theta Psi, Delta Omega, and Kappa Chi social clubs.
The story is about a young couple in New York City, Dallas and Ivy, who are accustomed to two completely different lifestyles. While Dallas misses his home on the ranch, Ivy is a big-city girl that is awaiting a marriage proposal from him. When the couple goes to Dallas' hometown to visit his Dad for his 60th birthday, the two face challenges along the way in what appears to be major test of the two's relationship.
Songs performed in the show include "Ain't No Mountain High Enough" by Diana Ross, "Uptown Girl" by Billy Joel, "Build Me Up Buttercup" by The Foundations, "P.Y.T. (Pretty Young Thing)" by Michael Jackson and others.
"Diamond in the Rough"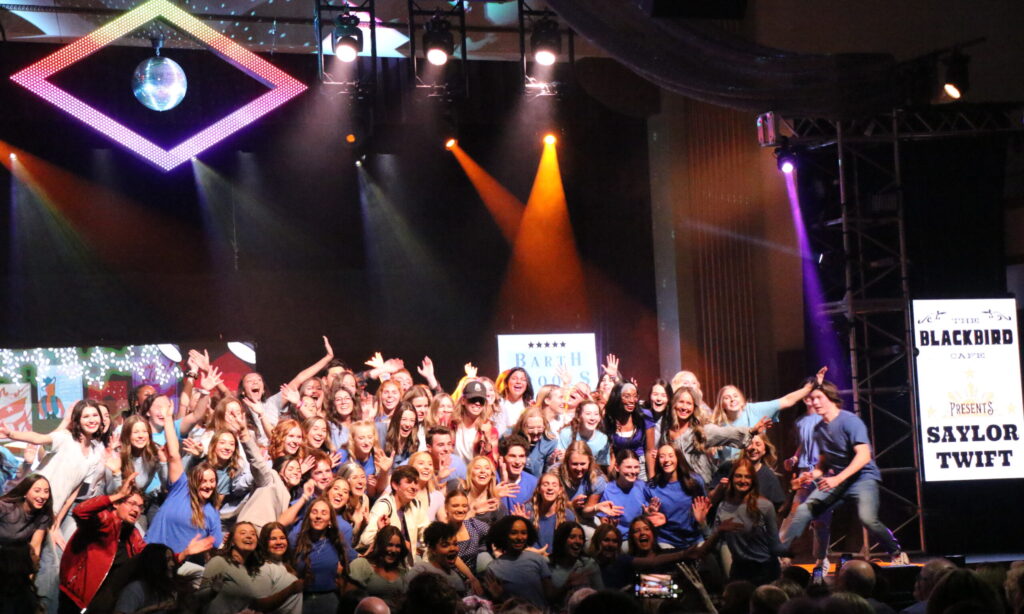 The second show of the night, "Diamond in the Rough", was co-directed by sisters Bella Peden and Lexi Peden, while being performed by friends and social club members of Sigma Alpha, Phi Sigma, Phi Nu, and Tau Phi.
Diamond in the Rough tells the story of an aspiring young songwriter, Al, an orphan who lives at home with his grandmother. The two are struggling to make ends meet, and Al hopes to turn his passion for music into a way to provide for he and his loving grandmother. During the pursuit of his dreams, Al meets a genie who agrees to give him three wishes, and along the way has to overcome multiple different obstacles to learn an important lesson about himself and life as a whole.
The performance featured songs such as "What A Man Gotta Do" by Jonas Brothers, "No Scrubs" by TLC, "A Whole New World" by Mena Massoud and Naomi Scott, "Jailhouse Rock" by Elvis Presley, and more.
A moment honoring the Covenant School
Before the event's intermission, a tribute took place to honor the victims and lives lost during the recent mass shooting at the Covenant School.
A moment of silence took place to honor the lives that were tragically lost. This was followed by a rendition of "Awesome God" by Michael W. Smith, which was performed by the Singarama hosts while being accompanied by piano.
"Shine Bright Like A Diamond"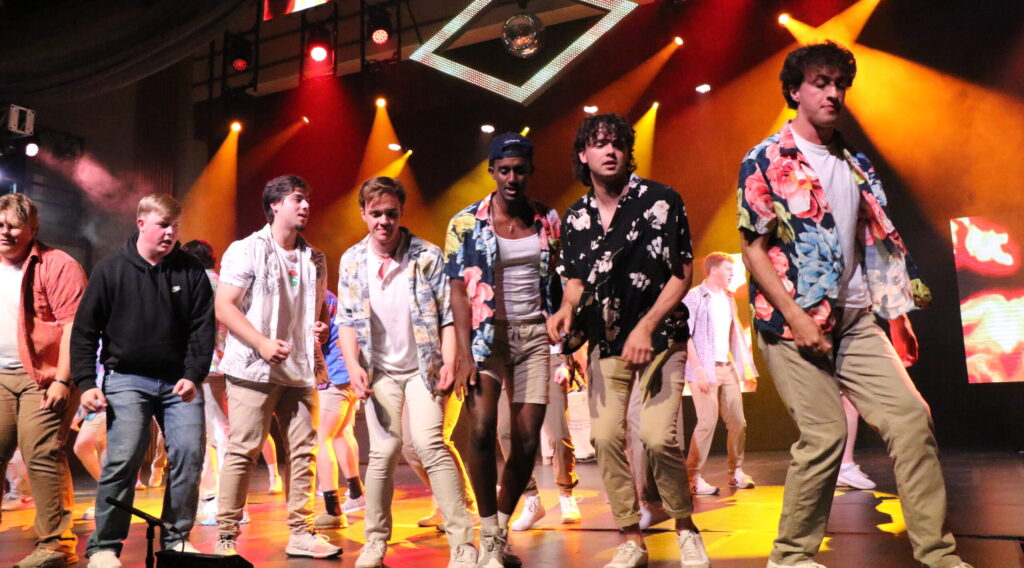 Co-directed by Jeffrey Martin and Gray Pullias, "Shine Bright Like A Diamond" capped off the three shows. The show was performed by friends, as well as members of the socials clubs Gamma Lambda, Sigma Iota Delta, and Pi Delta.
It tells the story of four friends. They work together at a bicycle shop and are all trying to find their places in life. After being fired for breaking out a musical number and messing up the shop, the four friends all move to New York City together to pursue their career goals. Three of the four already know the path that they want to follow, but the other is still trying to figure out his goals and dreams and goes through a series of trials while soul-searching in hopes of the answer.
The show featured songs such as "I Want to Ride My Bicycle" by Queen, a mash-up of "New York, New York" by Frank Sinatra and "Empire State Of Mind" by Jay-Z and Alicia Keys, "Great Balls of Fire" by Jerry Lee Lewis, "Strut" by The Cheetah Girls and others.
Opening night's student award winners
After all of the performances concluded, a pair of awards were handed to students who were participating in the event. Awards will be given out at the end of each event.
Willard Award (awarded for commitment): Callie Horner, Junior, "No Pressure, No Diamonds"
Coba Craig Award (awarded for Singarama spirit, the award was presented by Coba Craig who was in attendance): Drew Dragan, Senior, "No Pressure, No Diamonds"
The sweepstakes award will be awarded after the final performances on Saturday night. This award will go to the show with the most total points over the three-day event. The judges will grade each production based on the show's theme, vocals, choreography, visual elements, and entertainment.
If you missed opening night or want to see the show again, Singarama will be held three more times on Friday and Saturday in Collins Alumni Auditorium. Ticket information and start times for the events can be found online.