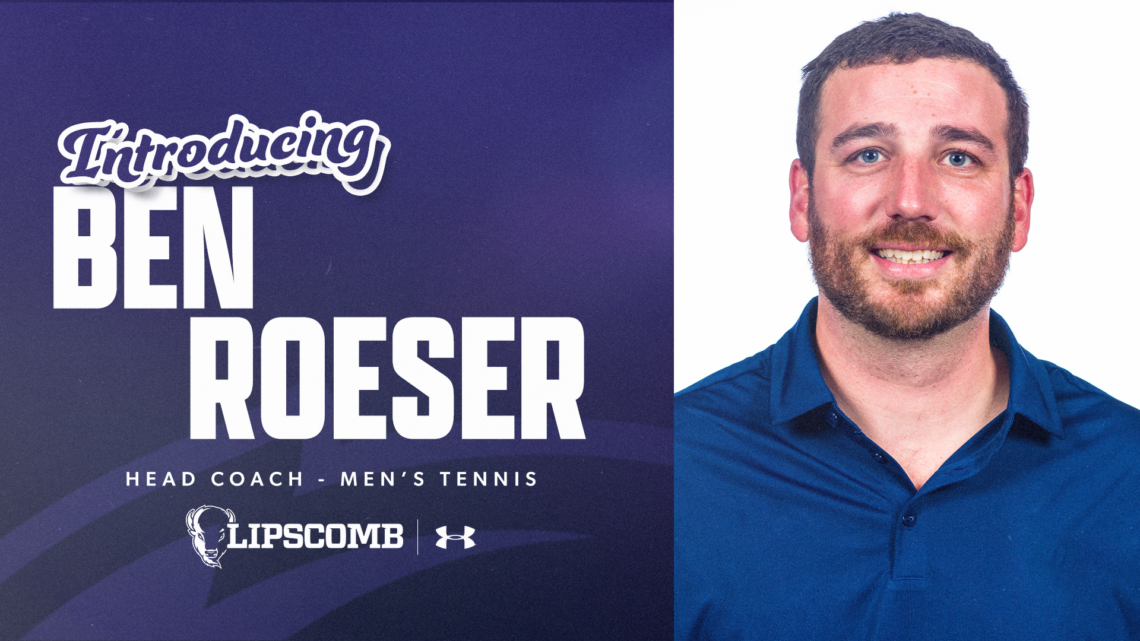 Roeser writing new story with tennis team
After a period of particularly high peaks and cavernous lows in the past five years, it's time for the Lipscomb men's tennis team to start anew.
Last year's 4-14 record included a 1-7 ASUN mark, and at the helm of an impending rebuild is first-year head coach Ben Roeser, whose hire was announced by Lipscomb Athletic Director Philip Hutcheson this summer.
While Roeser's arrival indicates an opportunity for Lipscomb to start anew, it's also a chance for Roeser himself to do the same.
The 32-year old will make his return to a head coaching role after the men's and women's tennis programs he led at Wright State were cut due to COVID-19 financial restrictions.
"I started with Wright State as a volunteer assistant, then went to the assistant coach and eventually the interim coach and the head coach," Roeser said, "so quite a journey there."
"We had COVID after my first year as the full-time head coach, and they decided they had to cut three programs," Roeser said. "Both the men's and women's tennis programs were cut, so it was tough, but it got me to different places and got me to a better place where I am now."
Roeser himself played for a nationally-ranked Division II program at Southern Indiana in Evansville, Indiana, a place from which he derives much of his coaching inspiration.
"[Being at Southern Indiana] gave me that experience of playing in an NCAA Tournament, and I had two different coaches there, so just learning from different statistics as well," Roeser said.
Now, after two years as an assistant at Atlantic Coast Conference schools Louisville and Georgia Tech, Roeser appears ready to make his return to full-time head coaching.
This time around, though, there will be one caveat; with longtime coach Jamie Aid heading up the women's program, Roeser will only be responsible for leading the men's team.
"Every program is different, and every athlete is different," Roeser said. "You have to coach everybody differently based on their personalities and styles. I think it's a lot better coaching just one team; you can give more energy and focus to the student-athletes, so that in itself is a lot better for the program.
"I enjoy coaching, I've bounced around from men and women and I think there are great things in both, but I think as far as just coaching one program, I think that's just a lot better for the student-athletes."
Not only does Roeser have more time to dedicate to his team, but he's also got fewer team members in general. After a shake-up in personnel over the summer, just five players remain from the 2021-22 men's tennis roster.
For a new head coach, that's an exciting prospect because of how much time and individual attention she/he can give those players.
"We added individuals, so I'm working with them more individually and then they come back for team practice," Roeser said. "They haven't been resistant to change… and I think they're already seeing gains from it."
Roeser has identified a few ways in particular to begin the process of molding the team around his expectations.
"It's just changing everything from the way we practice, the way we eat, the way we talk to each other, the way that we communicate. It's just trying to change everything altogether.
"One thing that comes with having five guys on the roster is that there's no place to hide. There's been a lot of communication in that, and that's helped a lot. There's certain steps that you have to go through, and obviously culturally is our first step, and I think we're starting to get that, knowing what it takes to compete at that level, and the ASUN is a very tough conference."
There's a certain patience required in a rebuilding year, and Roeser has the long-term mentality for the job.
"I think we're going to be a lot more prepared in March [when ASUN matches begin] than we are now, but we're just trying to take it one thing at a time. Since we have mostly older players, I think we're going to have two to three freshmen coming in in the spring and maybe a few grad students coming in next season."
Roeser didn't identify any one player who he expects to stand out, but did mention senior Maksim Bogdanovich as a player with "a lot of talent and upside".
"Everybody's got their own little journeys, but I think any one of them could pop up," Roeser said. "They all have opportunities to play and I think they realize that, and it's helping them stay focused."
It's not easy to take a one-win team that lost half its players and get instant success out of it, but immediate winning doesn't seem to be Roeser's biggest goal.
It's hard to blame him, either; in his second shot at a Division I head coaching gig, Roeser will spend as much energy and time as necessary to turn Lipscomb back into a winning program.
Photo courtesy of Lipscomb Athletics