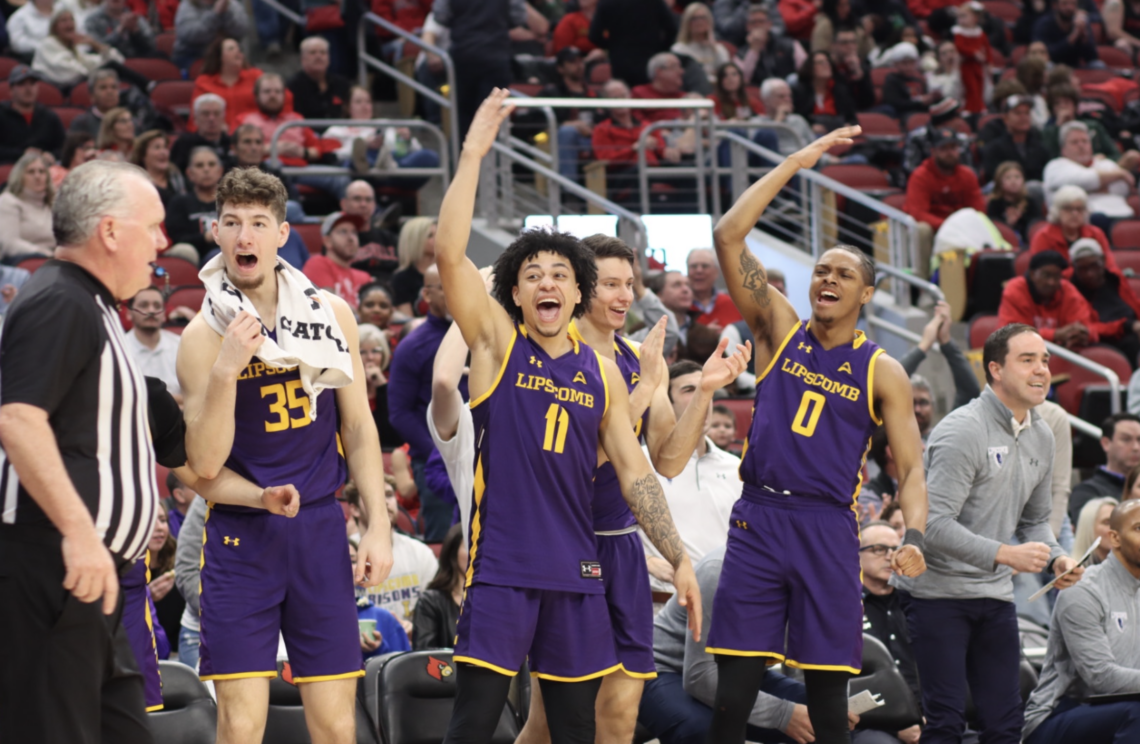 Men's basketball takes down Louisville on the road in fearless performance
For the first time in 1,364 days, Lipscomb's men's basketball team emerged from a contest against a Power 5 opponent with more than moral victories or positive signs; it left with a win. 
Head Coach Lennie Acuff secured the first victory over a Power 5 opponent of his career Tuesday night in Lipscomb's 75-67 win over Louisville at the KFC Yum! Center. 
"I'm real proud of our guys," Acuff said. "It's a great win for Lipscomb.
"It's exciting," the fourth-year coach added. "I've done it a long time, but I'd be less than honest if I said I wasn't excited."
Lipscomb's first basket was a sign of things to come; senior forward Ahsan Asadullah converted on a layup after using a patented spin move that Bisons fans have become more than familiar with throughout his tenure as the man in the middle.
The venue and opponent could have been intimidating, but Lipscomb's first basket felt like home for Acuff's team.
In the minutes following that basket, Lipscomb struggled to find its offensive rhythm but made up for it with high-level play on the defensive end.
That defensive intensity kept the Bisons' head above water before they got out to a 12-2 run to take a 16-9 lead behind five straight made field goals.
Louisville countered with a few buckets out of the timeout, but Lipscomb continued to show that it belongs as it extended its lead to eight behind 50% shooting from the field.
Lipscomb was rolling until a few late-half turnovers allowed Louisville to get out to a 6-0 run that cut the Bisons' lead to one.
Despite a 2:19 scoring drought to end the half and a 3-for-14 shooting performance from 3-point range, Lipscomb held on to a 33-32 lead heading into the break.
Sophomore forward Jacob Ognacevic led the Bisons with 11 first-half points; they accounted for a third of Lipscomb's points in the half.
In the opening sequence of the first half, sophomore guard Derrin Boyd made sure that the Bisons didn't fall behind. The Georgetown transfer led a 11-4 run with six points and a timely assist in transition.
Louisville struggled to produce any offense during their 3:18 scoring drought, but Lipscomb's lead still sat at just five.
Sophomore guard Trae Benham put some fire under Lipscomb with five straight points that extended its lead to nine with a little over 10 minutes to go.
Louisville chipped away at the lead with a few minutes remaining, but Emory transfer Matt Schner stopped the momentum with a turnaround jumper. The veteran forward's shot extended Lipscomb's lead to seven before the Cardinals matched it with two free throws.
Louisville seemed to have all the momentum in the world but went on a scoring drought that lasted over two minutes and sent the Cardinal faithful on a mass exodus toward the exits.
Junior guard Will Pruitt's free throws iced the game and sent some of the remaining Cardinal fans into a "We want Pitino" chant.
The clock struck zero as the Bisons cemented their seven-point victory behind 23 points from Boyd and 16 from Ognacevic.
Lipscomb's marksmanship impressed Louisville head coach Kenny Payne.
"Very well coached — they run their stuff great, very good offensive team," Payne said. "We knew coming in that if we allowed the game to be an offensive game we couldn't win.
"They put us on our heels," he said. "We never imposed our will; we were never the aggressor."
Lipscomb leaves the Yum! Center with a monumental victory
At this point last season, Lipscomb was in the midst of a six-game Division 1 losing streak.
This season it enters league play on a two-game win streak after its first win over a Power 5 opponent of Acuff's tenure.
This one feels different than the Bisons' win over Dayton from last season; there's something to build on here.
The win may say more about Louisville than Lipscomb, but it certainly feels like it gives the Bisons plenty of confidence as they enter conference play.
Four Quick Takes:
1) No matter the venue, no matter the team, Lipscomb has been fearless.
For an ASUN school that hadn't defeated a Power 5 school since March of 2019, Acuff's team has certainly looked fearless in its three road games against Power 5 opponents.
Despite the size disadvantages, the opposing crowd sizes or difference in recruiting rankings, Lipscomb has looked like it belonged.
The Bisons were one possession away from beating Notre Dame on its home floor, led Michigan with two minutes remaining in Ann Arbor and quickly got out to a lead in their monumental win against Louisville.
"Give them credit, they're a good team," Payne said. "I watched the way they played Michigan, I watched the way they played Notre Dame and I knew it would be hard for us."
Even in overwhelming situations, Lipscomb's guards haven't lacked confidence; they've attacked and haven't looked dissimilar to their Power 5 opposition.
Despite a significant size and athleticism disadvantage, Lipscomb's starting frontcourt outscored Louisville's 22-16 throughout the night.
"I thought we had a strong chin," Acuff said of the Bisons' fight throughout the night.
2) Lipscomb rebounded well, but turnovers remain an issue.
Louisville hasn't played anywhere near its standard through 12 games, but three things about Payne's team are up to par: its size, athleticism and length.
The Cardinals' starting lineup consists of three players standing 6-foot-8 or taller; each of them weighs over 220 pounds as well. That is a level of size that Lipscomb hadn't seen yet this season. 
With that kind of physical disadvantage, the expectation was that Acuff's team would be overwhelmed. That wasn't the case on the glass in Tuesday night's contest, though.
The Bisons outrebounded Louisville 23-13 in the first half; six of those 23 rebounds came on the offensive glass.
The first-half performance that the Bisons put together on the glass was a microcosm of their gritty outing.
"I think we did really good with their athleticism," Boyd said. "We made sure to keep them off the glass."
What allowed Louisville to storm back, though, was the turnover battle.
The Cardinals went on a 6-0 run to end the first half behind a few quick transition buckets that resulted from Lipscomb turnovers.
Lipscomb's 14-turnover outing at the KFC Yum! Center was a sign of progress but a reminder that there is still work to be done in that aspect.
In the end, the Bisons outrebounded Louisville by 14 but lost the turnover battle.
Lipscomb's fight showed in its seven-point win, but one of its main flaws was still on display.
3) Tuesday night was a sign of immense progress in Lipscomb's program.
At this time last season, Lipscomb was in the midst of a six-game losing streak against Division 1 opponents.
Questions arose all around the program, and the answers were cloudy at best.
Just a year later, Acuff and his team have those answers and possess an 8-5 record along with a Power 5 win on their résumé as they enter conference play.
Rather than aiming just to finish above .500 in conference play and to keep things respectable in conference play, Lipscomb now has a different goal, one that seemed unattainable a year ago.
"Anything short of an ASUN championship is gonna be a disappointment," junior guard Tommy Murr said before the season.
The Bisons have high expectations and have plenty of belief after their impressive non-conference showing.
4) It feels like Derrin Boyd was made for this.
After Boyd knocked down a first-half 3, it was clear that this would be a big night for the Princeton, Kentucky, native.
"I'm from two hours from here, so a lot of people from my town were here," Boyd said on Tuesday night. "It was just a special thing for everybody to be here. I guess you could say I had more confidence because of that."  
The Georgetown College transfer held three fingers up toward the crowd as he jogged down the floor and oozed confidence in the process. 
That motion didn't just signify what it looked like on the surface. It was also a sign of belief.
"It was just going out there and playing free," Boyd said. "I feel like against Michigan and Notre Dame I played a little stagnant, a little in myself, and didn't let myself really play. I wasn't confident and today I went out there and let it all out."
The sophomore forward's quickness and ability to create his own shot were apparent early in the season but hadn't shown up against Lipscomb's best opponents…until Tuesday night.
Boyd chipped in just six and nine points, respectively, in Lipscomb's losses at Michigan and Notre Dame but erupted for a team-high 23 points in Lipscomb's win over Louisville.
"I'm just happy for Derrin Boyd tonight," Acuff said. "To come back home and play like that, that's something he'll remember that the rest of his life."
The way the sophomore guard performed was a key part of Lipscomb's win but has implications beyond Tuesday night.
Boyd isn't just a part of Lipscomb's future through March; he is also a core piece of their operation for years to come. Seeing a performance of this magnitude from him is certainly significant.
The win moves the Bisons to 8-5 as they look ahead to Monday night's contest against Stetson. That game will be broadcast on The Bison, Lipscomb's on-campus radio station.