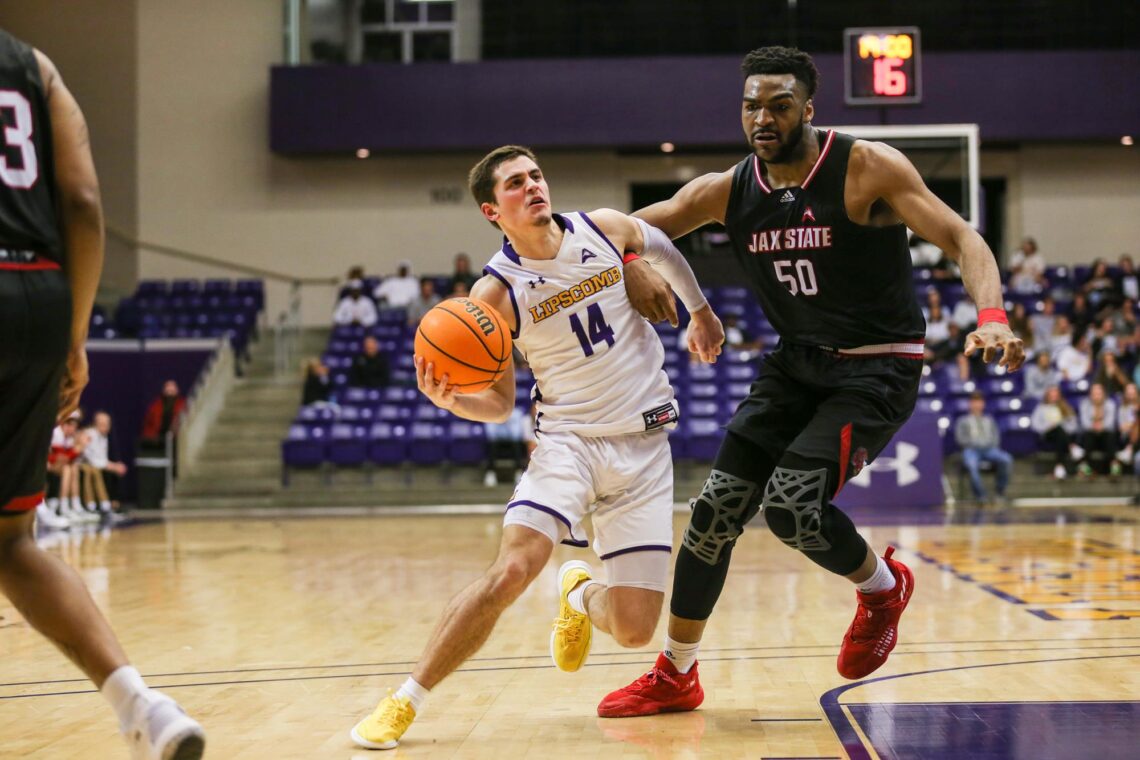 Murr makes new legacy after high school stardom
Tommy Murr routinely walks through Lipscomb's campus as just another normal guy, in and out of Bennett Campus center without being stopped for a picture or an autograph.
He walks into the practice facility where he's just another one of the guys. Life wasn't always that simple for the Alabama native, though.
From day one, basketball was a "huge pillar" of the Murr family.
"Growing up it was like every single day there was college basketball on the TV," Murr said. "We had a really really great bond over that."
Murr's dad Steve was his high school coach and played collegiate basketball at the University of Tennessee Temple.
In addition to his dad, Murr's older sister, Emilee, played college basketball for Blue Mountain College and his younger sister, Lindsey, is committed there to play basketball as well.
Basketball is obviously important to each member of the Murr family, but there is one thing that takes precedence.
"It's certainly not more celebrated than our faith," Murr said. Throughout his unique story, Murr's faith is evident and cannot be ignored.
As early as 7th grade, it was clear that the young guard's journey was going to be drastically different than the average basketball player his age.
Murr was thrown into the spotlight as a varsity starter during his 7th grade season. The future Bison averaged 13.8 points per game despite being the youngest player on the floor by far and "physically not even close" to his competition, who were as much as six years older than him.
Murr's believes his early introduction to high level basketball helped him to develop into what he has become today.
"That was a really cool experience and for me that was huge because at that time, I was kind of just like stay in the corner and shoot," Murr said. "As I've gotten older and I grew into my body, I was able to use what I had to learn about how to get creative with scoring and how to find teammates.
When i grew into my body I kinda already attained a lot of those skills I was already able to use," Murr said. "I was able to use a lot of what I learned from being that small at that age when I got older."
Towards the end of his junior season, Overtime, one of basketball's most prominent media companies, caught wind of the standout guard and the video game-like numbers he was producing. Not long after, they were in the building to see Murr for themselves.
The Athens, Alabama native certainly did not disappoint them.
"I think I had 50 some points," Murr said.
From there the media storm was well under way.
Just minutes after the game, Murr's big performance was all over social media, along with a new nickname, "The White Mamba."
That night, Murr quickly went from a normal high schooler to one of Overime's most marketable stars. Camera crews followed Murr for his entire senior year, droves of fans showed up to every game, overrated chants and double teams were common, and his highlights often drew in hundreds of thousands of views.
It was official: overnight, Tommy Murr was one of high school basketball's biggest stars.
And yet, Murr had more in mind than his individual stardom. "I started to see that I could really impact younger dudes," Murr said.
For the son of a high school basketball coach, the potential impact he could make was easy to see. "After games there would be lines, which was really cool that younger kids wanted stuff signed and that they wanted pictures with me because growing up I was watching my dad's high school players that he was coaching, those were my heroes."
"It hit me that i could really be what those guys were for me," Murr said. "I kinda took on a more serious tone about how I'm impacting the kids that are watching me."
The noteriety was a bit of a double edged sword, though.
The ability to lay low and live out the normal high school experience wasn't much of an option for 18-year old Tommy Murr. Life outside of school was "a little different" by his own admission.
"There were kids the same age as me whispering and looking around like they were seeing someone crazy."
The downside of the fame also showed up on the floor for the high scoring guard, "There were times in high school where it was kind of clear that the opposing coach was more focused on not allowing me to score and have a good game than actually winning the game."
Murr admits that because of his long list of accolades, there was a target on his back.
"There still probably is now," Murr said.
Rather than responding to that attention with negativity, Murr took a different route, one that he had taken since day one. "My dad always taught me just to take the trash talk and not respond and to let your play do your talking."
The class of 2020 high school graduate finished his senior season with an average of just over 44 points per game, 5000 total points throughout his high school career, and the 2nd-most career points total in high school basketball history.
"It was a cool experience, I learned a lot from it," Murr said.
Murr's high school career went about as well as he could've hoped, but his transition to the college level wasn't as ideal.
As a freshman at Lipscomb, the talented guard averaged just 3.5 points per game in just 8.4 minutes per contest.
Like many of his classmates, the 2020-21 basketball season was anything but normal for Murr.
The 6'1 guard had to return home to Alabama in the middle of the season to quarantine and attributes some of his struggles to COVID-19 setbacks.
The lack of a summer session that was induced by the virus also made the transition on the floor more difficult than it was for the average freshman. Murr admits that he "didn't know the offense well enough to be able to contribute" during his freshman season.
Now a junior, Murr summed up his freshman season with candor.
"There wasn't a lot of room for me to dig my feet in and grow my roots here."
Despite his early struggles, Murr looks back on that time with a clearer perspective.
"Because of that adversity that I faced, I find it so much more sweet now when I'm able to find success. I think God allowed that to happen intentionally and I think I was able to grow from it."
Murr made a bit of a statistical leap during his sophomore season, going from 3.5 to 6.2 points per contest. The guard's sophomore season was highlighted by a 19-point performance against Dayton, which proved to be Lipscomb's strongest victory across their sporadic season.
Entering the 2022-23 season, Murr is certainly looking to make another jump, one that starts on the defensive end and in the weight room.
"I knew I needed to improve defensively, so i did a lot of footspeed/lateral quickness type stuff. Mostly it was like getting bigger, healthy weight while staying in shape and then shooting a lot, a lot of shots, a lot of makes every day."
The individual aspect of Murr's development is certainly important to him, but the Lipscomb guard was more eager to talk about his team.
"I'm really excited about our team, I think we have a lot of potential," Murr said.
Head coach Lennie Acuff's team clearly wants to turn that potential into results as well.
"I think anything short of an ASUN Championship is gonna be a disappointment. We got a lot of guys that this is their last year; we got a lot of young guys, we got a lot of guys who have transferred here, and I think everyone is really invested in this team," Murr said.
Murr and his teammates believe that the investment they're making now should result in them dancing when March comes around.
"I think we've got all the right pieces, we want to make the tournament and if we don't it's gonna be disappointing."
Regardless of the results of the games, the rising junior will work to soak all the experience he can in before it's too late.
"I really just try to start enjoying it because I know time is ticking."
When it's all said and done, though, Murr has a clear picture of who he is and what he wants to be remembered for around the program.
"I knew from an early age that my identity is as a believer…it has nothing to do with how many games I win, or how many shots I make or how many followers I can attain. It's steadfast in what I can do for other people."