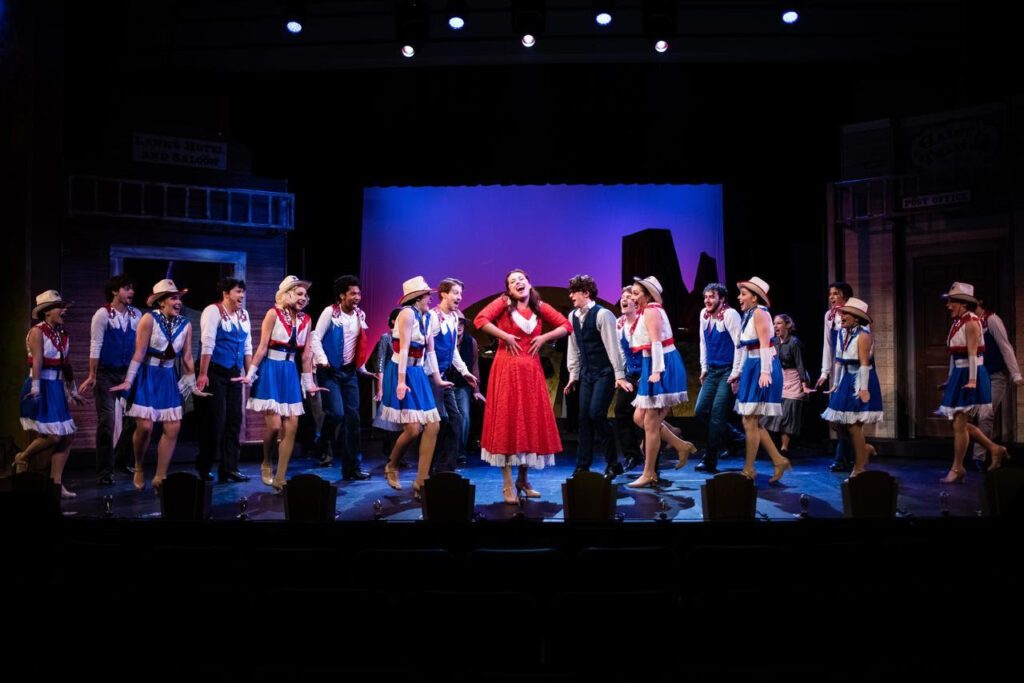 Lipscomb Department of Theater Presents: Crazy For You
A timeless spectacle brought to life on the Collins Alumni Auditorium stage
With musical theater being made popular by the mainstream media in recent years, the audience has been expanded to a younger generation. Musical movies, cast albums, and live performances all being played on different streaming services have made musical theater much more accessible. Because of this newfound appreciation for musicals, this will be an opportunity for Lipscomb's Department of Theater to introduce the younger generation to a more traditional example of musical theater.
Lipscomb's Department of Theater, LDOT, introduces the classic musical, Crazy For You, to the stage this fall. Crazy For You, is a golden-age style musical with the perfect mix of comedy and romance. Music and lyrics were written by George and Ira Gershwin, the book by Ken Ludwig, and the co-conception by Ken Ludwig and Mike Ockrent, inspired by Guy Bolton and
John McGowan's Girl Crazy. It will premiere on November 4 at 7:30 pm in the Collins Alumni
Auditorium and run for two weekends. November 5th, 11th, and 12th also at 7:30 pm, and November 6th and 13th at 2:30 pm. Since the show is running for two weekends, it gives audiences a multitude of viewing options. LDOT has invited an esteemed guest director, Abe Reybold, to collaborate on this project.
LDOT only produces one musical per school year. So, this being one of the only opportunities for the community to witness the musical talents of the department means that bringing in Reybold as a guest director for the musical is a significant indicator that the department is pushing for more professional exposure. According to his LinkedIn, "His early career was performance focused and he acted in plays, musicals, and concerts on Broadway and national tours and in regional and stock theaters across the country."
The Story
The George Shinn College of Entertainment and the Arts has been sending out emails advertising the production. "A zany, boy-meets-girl romantic comedy, Crazy For You® tells the story of young New York banker Bobby Child, who is sent to Deadrock, Nevada, to foreclose on a rundown theater where he falls for spunky Polly Baker, the theatre owner's daughter. But Polly takes an instant dislike to the city slicker. Hence, Bobby vows – through cunning, razzmatazz, and a hilarious case of mistaken identity – to win Polly's heart and save the theater," says the email.
Crazy For You contains some of George and Ira Gershwin's most popular hits, featuring songs such as " I Got Rhythm", "Nice Work If You Can Get It", and "Embraceable You". According to choreographer Kari Smith, this show has numerous dance numbers ranging from tap to jazz, making it one of the most dance-heavy musicals performed at the school. With such a variety of dance, Crazy For You is sure to captivate any audience.
The Process
Since the department is in the midst of becoming accredited by NAST, the National Association of Schools of Theater, the Lipscomb Department of Theater faculty and staff are putting their talents to use in this production to make sure it is up to the accreditation standards.
With the number of members of the program surmounting to almost one hundred, the department is the largest it has ever been. Because of this the chair of the department, Beki Baker, now feels it is time to take on their most elaborate production yet.
Choreographer Kari Smith and Music Director Christopher Bailey have been in constant collaboration to get the show taught to the performers in the mere eight-week rehearsal process. Set Designer Andy Bleiler and Technical Director Chelsea Flowers, have been hard at work creating the world audiences expect to see on stage. From New York City to the tiny western town of Deadrock, Nevada, this production has a variety of locations. Costume Designer June Kingsbury has collaborated with students to create elaborate costumes for the large ensemble.
How To Attend
Discount codes for Lipscomb faculty, staff, and students were also listed in the text. Standard tickets are typically $20; however, Lipscomb students are able to use the code LUCRAZY4U for $5 tickets, and Lipscomb faculty and staff can use code LUFACSTAFF for $15.