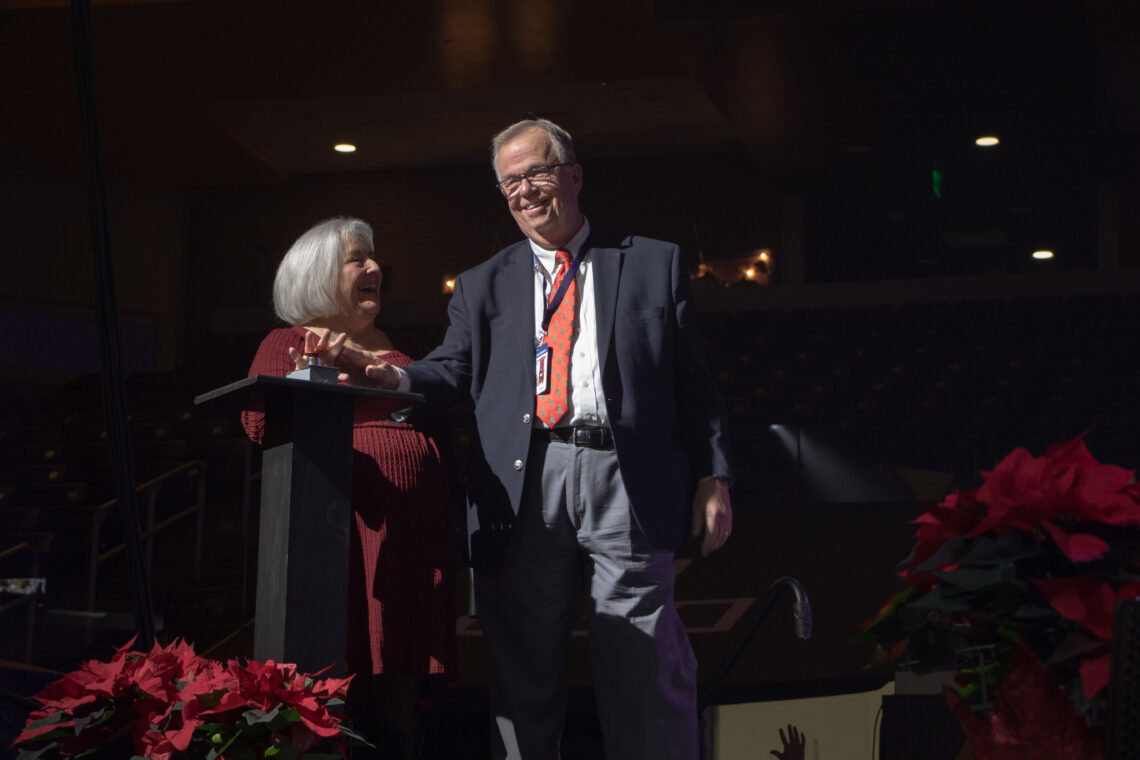 Walt Leaver looks back at inception, evolution of Lighting of the Green
Walt Leaver recently announced he would be retiring from his position as Lipscomb's vice president of university relations, a role he has held since 1997.
Leaver has been a cornerstone of many Lipscomb events, but chief among them is the annual Lighting of the Green. He was heavily responsible for the creation of the Christmastime event in 2005 and has been involved in every one since. In an interview with Herd Media after this year's event, he walked down memory lane, talking about past Lightings, the event's inception and his favorite memories.
We had a desire to plan some kind of a thank-you event for the Lipscomb family and kind of get people in the Christmas spirit, and so we thought about having an old neighborhood tree lighting.

Walt Leaver
"We thought of something like in the Hallmark movies, where all the people count down and light the tree, with the crowds milling around," Walt Leaver said, "But we said, 'Well, we'd like to have some entertainment [too].' We envisioned something where people would serve hot chocolate and cookies, welcome the neighborhood, welcome the Lipscomb family. And so we did it."
The first Lighting of the Green was on the Monday after Thanksgiving in 2005. The entertainment featured a Grammy Award-winning singer with a special Lipscomb connection.
"We set up a stage out in front of the Burton Health Sciences Center, facing Belmont Boulevard. And so that whole quad, all that grassy area was available to have people stand or put their chairs down there and listen," Leaver said. "Amy Grant was the only one [to sing that year] besides the choruses. And the Burton Health Sciences Center — it's named for A. M. Burton, who's Amy Grant's great-grandfather. So she was proud to be on a stage in front of the building that was named for her great-grandfather. It was the first time that she'd ever performed on this campus."
Grant was a natural choice because of her repertoire as well; she has written a number of Christmas songs, including "Tennessee Christmas" and "Breath of Heaven (Mary's Song)."
Grant came back in 2006…and hasn't missed a year since.
"We've never paid her a dime," Leaver said. "She's come as a gift to Lipscomb. It costs us to do the lights and the staging, but we don't charge people to come, and Amy doesn't charge us for her time….She's [also] been very involved in planning it. She loves it."
As the event evolved, its location changed as well.
"For year No. 3, we had to find another location because they were renovating Burton to turn it into a pharmacy school," Leaver explained. "Every part of the building was under renovation, including Alumni Auditorium. And they put the building on geothermal, which [requires burying] the pipes underground, to provide the heating and air conditioning for Burton. And they did that in the quad field, so we realized that we were going to get to Christmas and not have any place to do [the Lighting].
"We thought we would find another location for one year, and then we would move back. We thought about it, and we came over to the bell tower…moved over there, and tried that. [None of us were] sure if it would work or not. Well, Amy liked it so much better because you have kind of a closed-in area with those buildings all around, and…the music kind of stays there [in the alley] and she really likes [that] area. So we never even thought about moving back."
Lighting of the Green has been in front of Allen Belltower ever since…except for a few years when rain, cold and even a tornado watch forced the show into Allen Arena. And Grant remains key in recruiting the talent.
"Amy is the one who usually decides who she wants to invite, and she'll ask her friends to come. And we haven't paid a single artist. We didn't pay Michael W. Smith, we didn't pay CeCe Winans. They come as a gift to Amy, and she gives it as a gift to us."

Walt Leaver
Other artists through the years have included Vince Gill (whom Grant married in 2000), Steven Curtis Chapman, Ben Rector, Danny Gokey, the Fisk Jubilee Singers, Ashley Cleveland, Cody Fry, Mandisa, the Arcadian Wild, Matt Maher and Brenda Lee…who, of course, sang her classic "Rockin' Around the Christmas Tree."
Leaver smiled when recalling the recruitment of Grant for the first show.
"We were thinking, 'Well, we've got student groups, and we could let the student groups sing whatever,'" he said. "And somebody said, 'Well, it'd be great if we could get a star, somebody that really would be well known and could draw a crowd.' And [Amy Grant] is probably one of the most well-known Christmas song singers. She's kind of the queen of Christmas. And I have had the privilege of knowing her and her family for many years. So we asked her, just kind of hoping that she'd say, 'Oh, I'd love to do that.' And she said yes. We really couldn't believe it. But she said yes, and she came and sang. And her mom and dad were alive then, and they came, and it was just special. It was so special."
Leaver said Lipscomb was not sure if Grant would come back the second year. But the university asked again, and she said yes again.
"Every year we would worry that, 'Oh man, suppose she can't do it,'" Leaver said. "But finally, about five years into it, her manager said that Amy had told him to put it on her calendar from now on. Because she loves it. So we were, and are, very fortunate. And we're very thankful."
In 2011, Grant and husband Vince Gill launched "Christmas at the Ryman," held at the Ryman Auditorium in downtown Nashville. Leaver says Lipscomb fretted that the event might mean the end of its yuletide tradition.
"When they first started that, we thought that we were probably going to have to stop the Lighting of the Green, her being at the Ryman — that people wouldn't want to go to the Ryman because they could just come here and hear her for free, [which] would compete," Leaver said. "But Amy said, 'No, we're going to do this, too.' And she has never, ever stopped doing it. This year, she drove all the way here from South Carolina in a day to do it for us."
Leaver said his favorite thing about Lighting of the Green is how much it has blessed the Lipscomb community.
"I love seeing everybody," he said. "I love the exposure that it gives our student groups, from the middle school all the way up through the Gospel Choir. It exposes our students to thousands of people, which I think is great. And it allows us to see neighbors. They don't know much about Lipscomb, but they come to this, and they enjoy being here. It helps us create a good relationship with the neighborhood, which is what we're trying to do.
"It also helps to showcase things that really make people say, hey, [they're] doing some good things over there," he said. "It gives us an ability to provide a fun night for people, and I think that now it's kind of a tradition for a lot of people. They come every year to the Lighting of the Green; they don't want to miss it."
Leaver shared some favorite moments from the past that he wants to bring back this year.
"We used to have people dressed up like characters from Dickens' A Christmas Carol, handing out free cookies and hot chocolate," he said. "We did that for years but had to stop that at COVID. The ones that dressed up were members of our theater department. At one point in time for a couple years we had a storefront that was set up behind Johnson Hall. It looked like a city, a kind of street scene. And where you were walking on the sidewalk you would see the windows, and they would hand out the cookies and hot chocolate through the windows."
Social clubs would also decorate Christmas trees, which were judged…and then delivered to families that couldn't afford them. "That was always fun," Leaver said. "That was a good memory for me."
Continuing Lighting of the Green traditions are free pictures with Santa and Mrs. Claus as well as the Merry Marketplace, where vendors sell crafts and other wares.
So will Leaver keep attending Lighting of the Green after his retirement?
"Oh, yes!" he said. "I wouldn't miss it. It'll be a highlight of the year. I love Lipscomb, and I love the people here. Always will. It'll be a highlight."