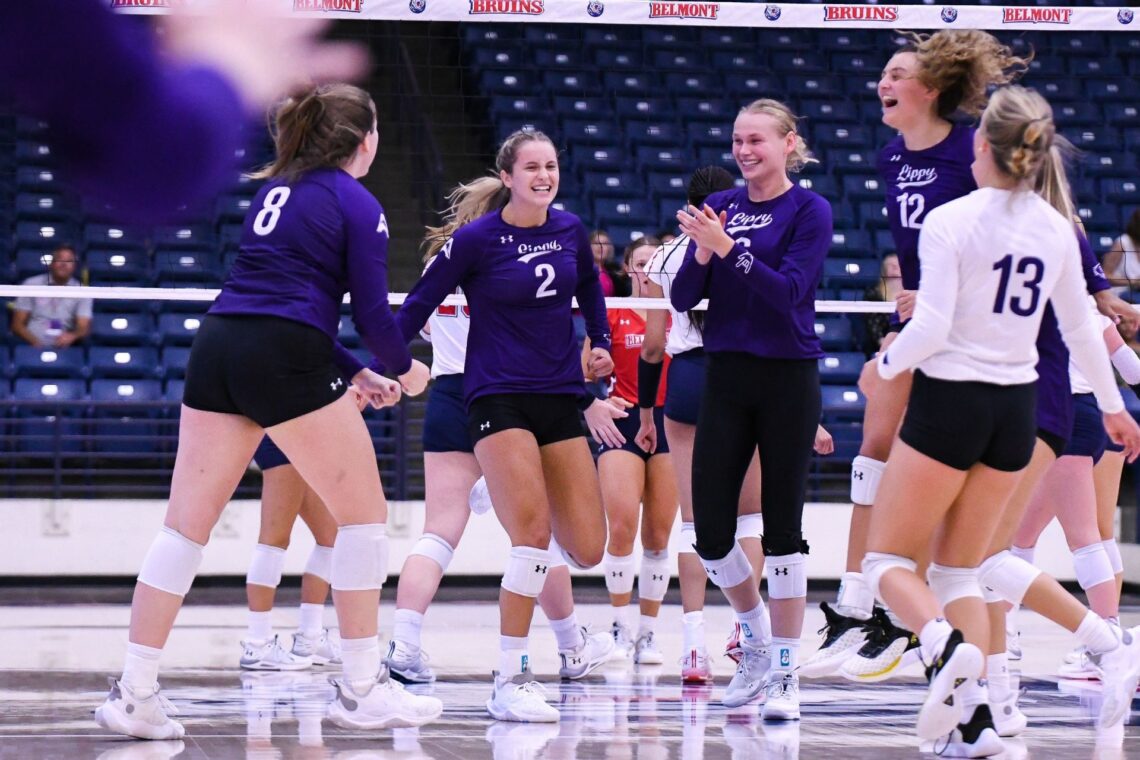 Bass battles for both sides of the boulevard
It's not very often an athlete is able to partake in both sides of a rivalry, but for Kailee Bass, the story is different.
Bass, a fifth-year senior middle blocker on Lipscomb's volleyball team, has had the experience of getting to play for both sides of the geographically closest rivalry in all of college sports, with roughly two miles separating the campuses.
Flipping her blue and red colors for a purple and gold jersey was never in Bass' intentions. In fact, it was a long process for her to become a Bruin in the first place.
"I actually went to nine different schools before I liked a school," Bass said. "I could not find a school I liked at all, until I went to Belmont. It hit these four pillars of academics, school, location and faith building."
After landing in Nashville at the school up the boulevard, her time there was long-lived. Bass spent four years at Belmont, appeareing in 223 total sets and recording 167 kills, 165 block assists and 27 solo blocks.
Bass, who recorded her best season statistically during her senior year in 2021, felt the need to make that her last as a Bruin. Once deciding to make the transition to a new program, she was looking to keep her options open. Unless, that is, when it came to Lipscomb.
"I actually did not want to come here at all at first," Bass said. "I remember they weren't on my list. I made a list of thirty schools for my fifth year and [saying that] if no one has a spot I'm not going to play."
The transfer process would not be as simple as Bass originally thought after not being offered a spot by some of her top choices, which included Saint Louis and Boise State. In fact, Bass struggled to run into a program that had an open spot for her in their program.
After giving it some thought and consulting with a few friends and some members of the volleyball team at Lipscomb, she decided to reach out to head coach Brandon Rosenthal.
Soon after, Bass decided to make an appearance on campus to tour the school and see what it had to offer.
"I came here on my way to Atlanta over [Christmas] break to talk to the coaches and get a feel of things, and I really liked them and the culture. The culture for volleyball here is so insanely cool and I realized I wanted to be a part of that."
After the visit to Lipscomb, she realized she found her new home, not only because she felt it was right on her own understanding, but felt God lead her here as well.
"It was interesting because I didn't want anything to do with [Lipscomb], but once I called the coaches, came here to visit, I knew the Lord was calling me here. Then, every other door closed so fast… I thought, I've been praying over this, how can I not go here."
Once Bass arrived on campus for her final season, the one match she had understandably circled on the calendar was her return to Belmont, a homecoming at Curb Event Center in her final Battle of the Boulevard.
"For volleyball, [at Belmont] it is not much of a rivalry. Here, playing at Lipscomb's volleyball program, it is very much a rivalry. Brandon [Rosenthal] was very upfront about that. He has been here for twenty years, so he's seen the progression from Belmont consistently beating Lipscomb, to Lipscomb winning some, and now Lipscomb has started taking over."
Because Lipscomb takes this rivalry much more to heart, the reunion game for Bass could not be sweeter. Lipscomb was able to walk into Curb and come out with a 3-1 victory.
In that game, Bass was able to record four blocks, two kills and a dig. Bass also emphasized that she was glad to be able to play in her old home one last time.
Now decked out in the purple and gold every time she steps onto the court, she would not want it any other way.
"The culture is insane here, it is so cool. The way the girls love to play, they just love to be here. Everything is always super intentional and everything has a purpose, it is so much different than I have ever been used to.
"It's just built so differently here, and that is what I wanted for my last year is to fully embrace that."
Bass has been an important factor for the Bisons this season. She has appeared in 53 sets, grabbing 42 kills and 45 blocks, which is fourth on the team.
Bass will play in her final conference tournament this coming Thursday, November 17th at 4 p.m. Central time.
That game will be played in Allen Arena as the 4-seed Bisons take on the 5-seed Sugar Bears of Central Arkansas. Live coverage of the quarterfinal matchup of the ASUN Tournament can be found on The Bison.
Photo courtesy of Lipscomb Athletics