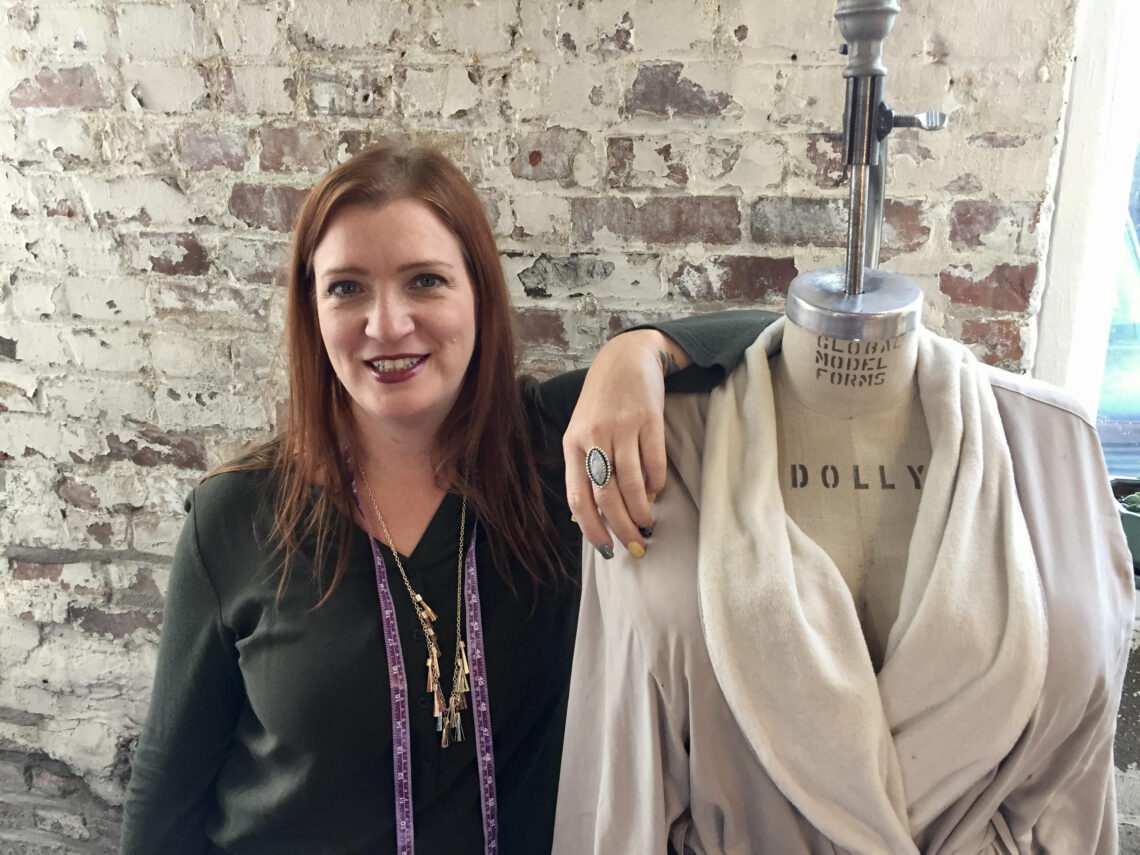 More than what it 'seams': How Iisha Lemming's journey and working with Dolly Parton led her to Lipscomb
When you enter Iisha Lemming's office in the CEA at the McFarland Science Center, a framed photo of legendary musician, businesswoman, and philanthropist Dolly Parton immediately captures your attention.
For Lemming, this image is more than a tribute to an American icon. It's a memento from her fifteen years working alongside Parton and a reminder of a cherished friendship.
Before joining Lipscomb as an adjunct professor and artist-in-residence for the Fashion and Design department, Lemming served as Dolly Parton's pattern maker, or draper. Her journey into fashion was influenced by the women of her family.
"My great-grandmother sewed. My mother and several of her sisters did too. I grew up immersed in it," Lemming said. "I often joke that I've lived my mother's dream of being a seamstress."
However, Lemming's dive into the fashion world was gradual.
"I resisted it initially," Lemming admitted. "I wanted to create my own designs rather than following patterns. But my interest only grew with time."
Lemming pursued an art major at Harding University. Post-graduation, she secured a position at Sewanee (The University of the South), managing its costume shop.
"I collaborated with the outgoing shop manager and the incoming costume design professor, Jennifer Matthews. Their mentorship deepened my passion for the analytical aspects of pattern-making."
Her love for patterns solidified into a career during her years at Sewanee.
Post-Sewanee, Lemming completed her MFA in costume production at the University of North Carolina. Her career journey led her to the Shakespeare Theatre in New Jersey, a professional costume shop in New York, and back to Sewanee as Jennifer Matthews' sabbatical replacement.
Lemming's move to Nashville proved pivotal. Within half a year, she connected with Steve Summers, Dolly Parton's designer. "I was fairly new to what this world is," she said. "from the beginning, [we] have sort of spoken the same language."
Lemming's move to Nashville proved pivotal. Within six months, she connected with Steve Summers, Dolly Parton's designer.
"I was fairly new to what this world is,…but from the beginning, [we] sort of spoke the same language," she said.
According to Lemming, the rest was history.
Steve "would come up with the idea…pick the fabric, even the color," she said. "[H]e would bring it to me, and I would get to translate that into the actual 3D thing that she would then wear."
She says that because of this, she is often referred to as a "technical expert".
"I'm there to make sure it lays right on her body as she moves through space and does everything she might need to do on stage."
Lemming describes the experience as both exciting and beautiful.
She now finds herself at Lipscomb University, where she's utilizing her love for patterns and her experiences in the fashion world to influence a new generation of artists.
"For me this is my medium as an artist…" Lemming explained. "And maybe it's part of my new purpose to share with others the passion I have for it."
"Dolly Parton and the Makers: My Life in Rhinestones," opens to the public on Oct. 31 in Beaman Library. Tickets are available online.