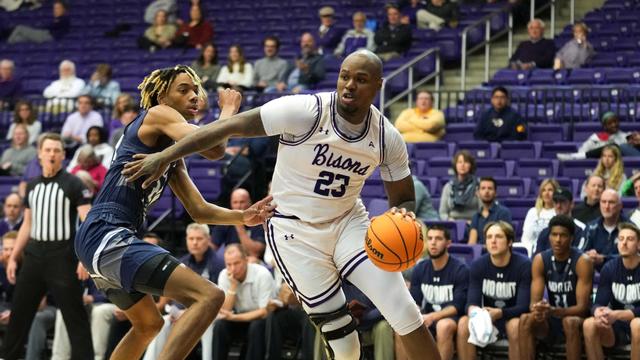 Men's basketball picked 8th pre-season–why they're right and why they're wrong
The 2021-22 campaign for Lipscomb men's basketball was one most Bisons fans would sooner forget than remember.
With the 2022-23 slate starting in early November, though, another season of basketball with which to wash the taste of last year's disappointment is right around the corner for the 2019 National Invitational Tournament runners-up.
It may come as a shock to the system for fans of the Purple and Gold, then, to see the Bisons land in a disappointing 6th and 8th position in the ASUN Conference Coaches' and Media Polls, respectively.
The rankings, announced by the league office earlier this week, represent what would be a season of stagnation rather than a return to recent dominance. What's yet to be seen is how true those rankings will turn out to be come March.
This season's situation is one which lends itself to two very different expectations for the upcoming basketball season. There's an argument to be made for the validity of the low ranking, but it's also reasonable to expect Lipscomb to finish in the top three and challenge for another ASUN title.
First, here's why Lipscomb will be exactly as disappointing as the coaches and media seem to think they will.
Why they're right
They haven't added much to an underachieving team from last year.
A Bisons team that went 6-10 in the conference a season ago didn't really get all that much better on paper. Shooting guard AJ McGinnis brings three years of eligibility as a transfer from Cincinnati, but the Huntsville, Alabama-born guard hardly saw the floor for the Bearcats in 2021-22.
Joining McGinnis are a pair of Division II transfers, a Division III graduate transfer, and three freshman who likely won't see much playing time. That's not exactly a typical recipe for success.
The reality is that not many of Lipscomb's newcomers have high-quality pedigrees, whether they be transfers from smaller schools who will need to adapt to a higher level of play or true freshmen who will need to do the same.
They lost a pair of significant starters to graduation.
One of the biggest (literally and metaphorically) pieces to the little success Lipscomb did have last year was power forward Parker Hazen, who picked up 8.8 points and 5.4 rebounds a contest in his graduate season with the Bisons.
The Purple and Gold also lost their primary outside shooter in guard Greg Jones, who averaged nine points a night and made 60 threes on the year, 15 more than any other Bison.
Without these two, what was an off year could have been a catastrophic one, and the Bisons will have to see improvement from their newcomers or their depth pieces if that fate is to be avoided this time around.
Last year's defense was truly awful.
There's no way around it–Lipscomb played dreadful defense in head coach Lennie Acuff's third season. The Bisons were dead last in the league in defensive scoring last year. They gave up 80 or more points ten times during the season, including four occasions in ASUN play. Three-point defense was especially vacant, allowing over 100 more three-point shots than they took and conceding 10 made three-pointers on average per contest.
Even with all this in mind, there's reason to hope. Here's why the Bisons are poised to prove doubters very wrong.
Why they're wrong
2021-22 was more of a fluke than a permanent downturn.
Losing conference records aren't going to be the norm for the Bisons, and a return to recent success should be soon in coming. Before last year, Lipscomb had a streak of eight years without a losing conference record, and it's likely that another streak will start in 2022.
We've only seen the beginning of what Trae Benham is capable of.
One of the surprise storylines of last season was the meteoric rise of true freshman Trae Benham through the ranks to become a key piece of Coach Acuff's starting five by the time the ASUN Tournament rolled around.
In Lipscomb's final game of the season at Liberty, the North Carolina native went step for step with fellow guard Darius McGhee, with each star ball-handler picking up over 20 points in the contest. Lipscomb would go on to lose by five, but Benham single-handedly kept the Bisons in that playoff matchup.
Now a sophomore, Benham's had a whole summer to keep improving on both sides of the ball, so there's no telling what his ceiling is come conference time in 2023.
Ever-present Ahsan is still manning the middle.
Now in his sixth and final year with the program, Atlanta-born Ahsan Asadullah is the lone holdout from former coach Casey Alexander's 2018 team that won the ASUN Conference and made it to the NCAA Tournament, the only year men's basketball has ever accomplished that feat.
Asadullah's experience and unique ability to run the offense from the center position always makes Lipscomb dangerous on offense, and his size in the paint defensively is a welcome sight as well. The unanimous preseason All-ASUN selection led the Bisons in a host of statistical categories a season ago, including points, steals, and blocks.
The big man padded his free-throw percentage two offseasons ago, adding an important component to his offensive portfolio last season. Asadullah even knocked down nine of 28 three-point attempts, forcing defenders to pick him up at the three-point line. Asadullah is a once-in-a-generation talent and frame at a mid-major program, and Lipscomb can take advantage of his qualities for one more season.
It's hard to truly know how accurate the ASUN Coaches' and Media Polls will be, but there's reason both to believe them and to overlook them.
Either way, though, basketball isn't played on paper. The Bisons will have the opportunity and the responsibility to create their own destiny for 2022-23 on the court.
Lipscomb starts their season November 9 with a long trip north to face the South Dakota Coyotes. That game will be broadcast live on The Bison, Lipscomb's on-campus radio station.
Photo courtesy of Lipscomb Athletics