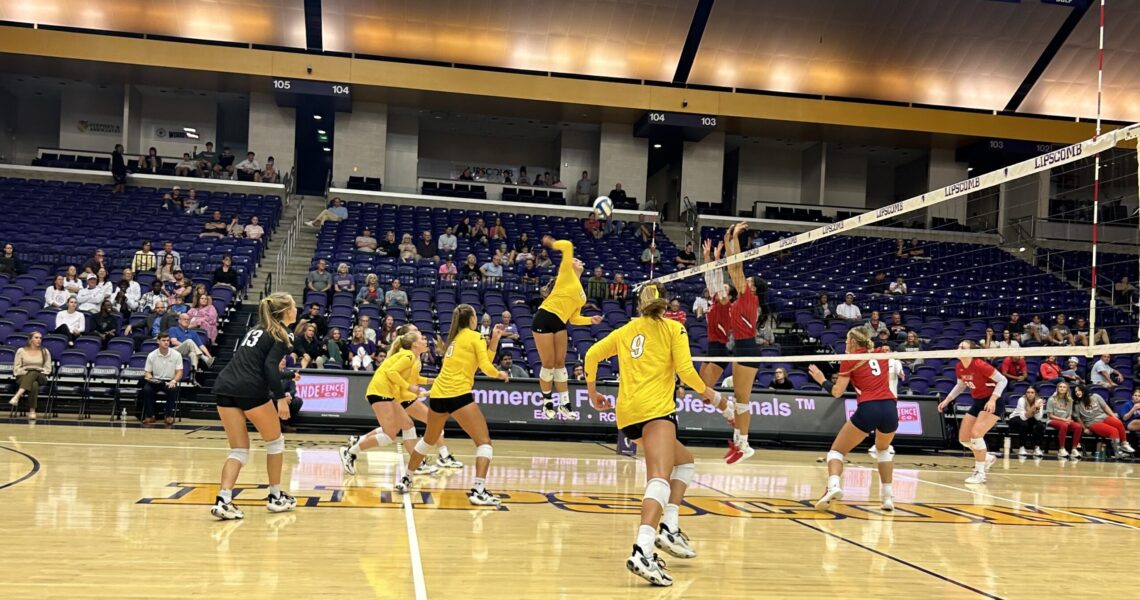 Lipscomb volleyball wins Battle of the Boulevard on emotional night
For the tenth straight time, the Lipscomb Bisons volleyball got the better of Belmont with a 3-0 sweep of the Bruins.
Tuesday night at Allen Arena was much bigger than the Battle of the Boulevard, however. It was a night to remember Michael Currin, a fun-loving person who was a good friend of senior defensive specialist Delaney Smith.
Currin, who passed away on September 21, 2020, at the age of 19, was honored during the pregame ceremonies last night.
Before the first serve, a moving video about his life came on. It talked about how his father had died of a heart attack in the years before his death and how he lived by a final phrase his dad told him, "keep going."
From that moment on, he would live life to the fullest and always treat people with respect and kindness.
Following the tribute, the team also recognized Smith for reaching 1,000 digs in her career, where she received a game ball from Michael's mother.
Immediately as the match began, the Bisons would jump out to a quick start.
It was sophomore outside hitter Courtney Jones beginning the game with a kill to give the team an early lead. Smith would add to the scoring with a service ace on her first attempt in the department.
The set would be neck and neck for a while before Lipscomb would take the final three points, capped off by a kill by sophomore right side hitter Addi Pelham to end it at 25-20.
The second set was never in doubt for the Bisons, as the Bruins made numerous mistakes. The product of those errors and strong play from Lipscomb was a statement 25-13 victory.
But It was the third set where Lipscomb had to just keep going.
Within the set, they trailed Belmont multiple times, with one of those moments being a 23-22 deficit to the Bruins.
Head Coach Brandon Rosenthal called a timeout at that moment which proved effective.
The Bisons would capture the final three points, with the match being solidified on a block by Jones and senior middle blocker Meg Mersman that sent Allen Arena into an uproar.
Not only had Lipscomb claimed a victory in the Battle of the Boulevard, but they embodied the phrase that served as a life motto for Currin.