Lipscomb Academy addresses 'never appropriate' Trent Dilfer sideline actions
Lipscomb Academy has addressed the controversy sparked by head football coach Trent Dilfer's actions Friday night during a game against Independence High School.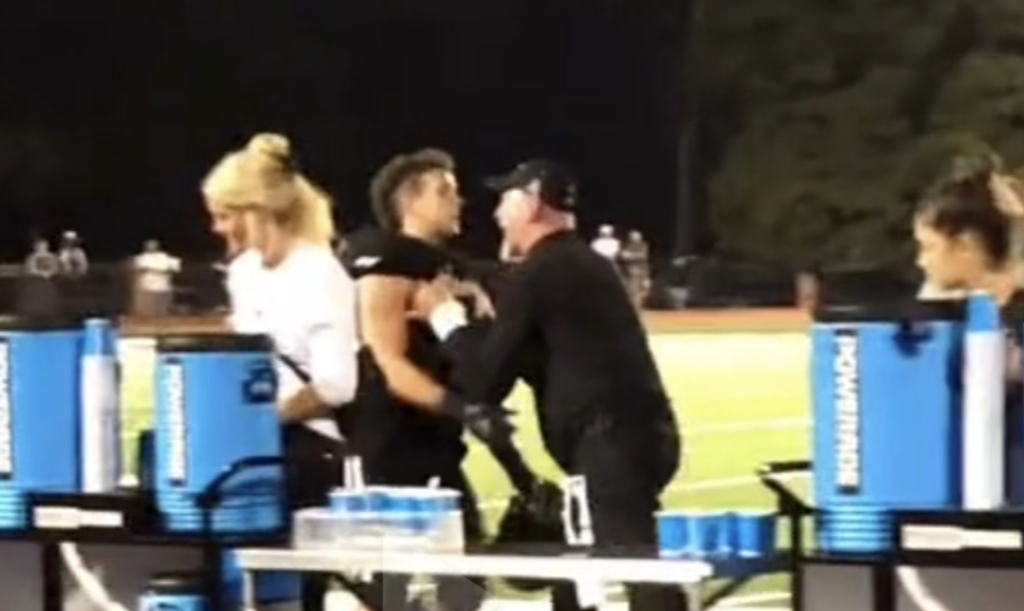 A viral video surfaced after the game on Friday night that has amassed over 11.4 million views on TikTok, a popular video sharing service.
The video shows head coach and former Super Bowl-winning NFL quarterback Dilfer grabbing and pushing his starting tight end, Beau Dawson. During the altercation, Dawson throws his helmet, which causes Dilfer to verbally reprimand him as well.
BroBible, an account featuring sports highlights and lifestyle videos for athletes, posted the video that took off over the weekend, and social media users across all platforms have come to the defense of both player and coach.
Dawson, a senior, is the son of Phil Dawson, another NFL veteran who played as a kicker for 20 years. The Mustangs' special-teams coordinator, Phil is a longtime friend of Dilfer dating back to their professional days.
In an email to the Lipscomb Academy community obtained by Lumination Network, Head of School Brad Schultz and Associate Head of School for Athletics Michelle York stated that it is "never appropriate for a Lipscomb employee to have a physical response with a student while frustrated or angry" and that they "are confident a similar event will not happen in the future."
The email reads in full:
"Many of you by now are probably aware of an unfortunate incident between our head football coach, Trent Dilfer, and one of his players at this past Friday's game.
"Coach Dilfer apologized to the player, issued a comprehensive public statement on social media, and discussed the matter privately with the rest of the team and leadership of the academy. Following a productive conversation today with Coach Dilfer, we feel confident he understands the magnitude of the situation and is taking ownership and responsibility for his actions. In the meeting, Coach Dilfer expressed his deep regret that one of our students [Beau Dawson] has been unfairly portrayed as the culprit in this situation.
"One specific aspect that was stressed during our conversation was that it is never appropriate for a Lipscomb Academy employee to have a physical response with a student while frustrated or angry regardless of intent, and a repeat offense cannot occur. Based on Coach Dilfer's positive relationships and connectivity with the student body and broader Lipscomb community, we are confident a similar event will not happen in the future.
"We appreciate the straightforward manner in which all parties have handled this situation, but believe it is important to make clear that Lipscomb Academy expects the highest standard of conduct at all times from all who represent it."
The statement comes in the wake of a firestorm of responses on a variety of platforms to the video originally shared across TikTok. In particular, responses from users on Twitter to the incident have been wide-ranging, as the debate over Dilfer's actions have created a larger dialogue around parenting styles and how children should and should not be disciplined.
Twitter users on both sides of the argument did not mince words. Many, like Brandon Thompson (@BCThompson77), posted about similar experiences they went through as players and took no issue with Dilfer's response.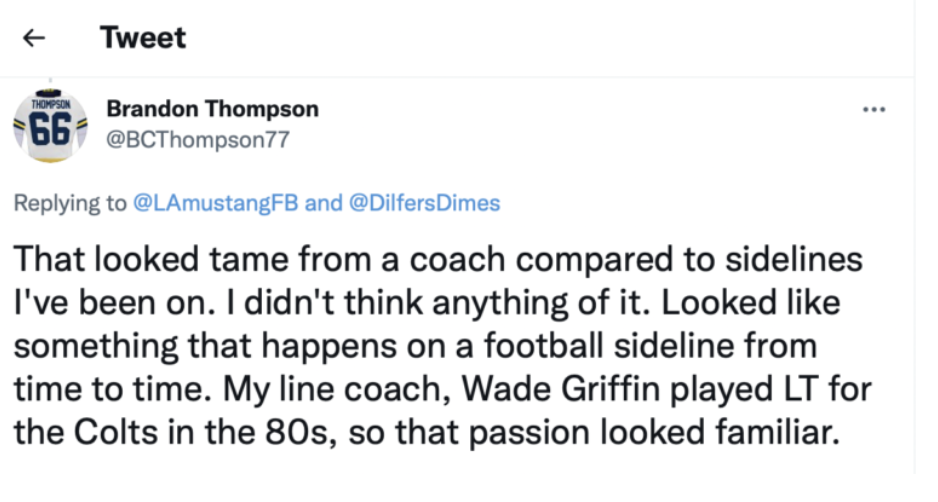 NoleGr8ness (@NGr8ness) was one of many to espouse the opposing viewpoint and did so in no uncertain terms, calling the school's integrity into question following the football team's apology on the LA Mustangs Football Twitter account.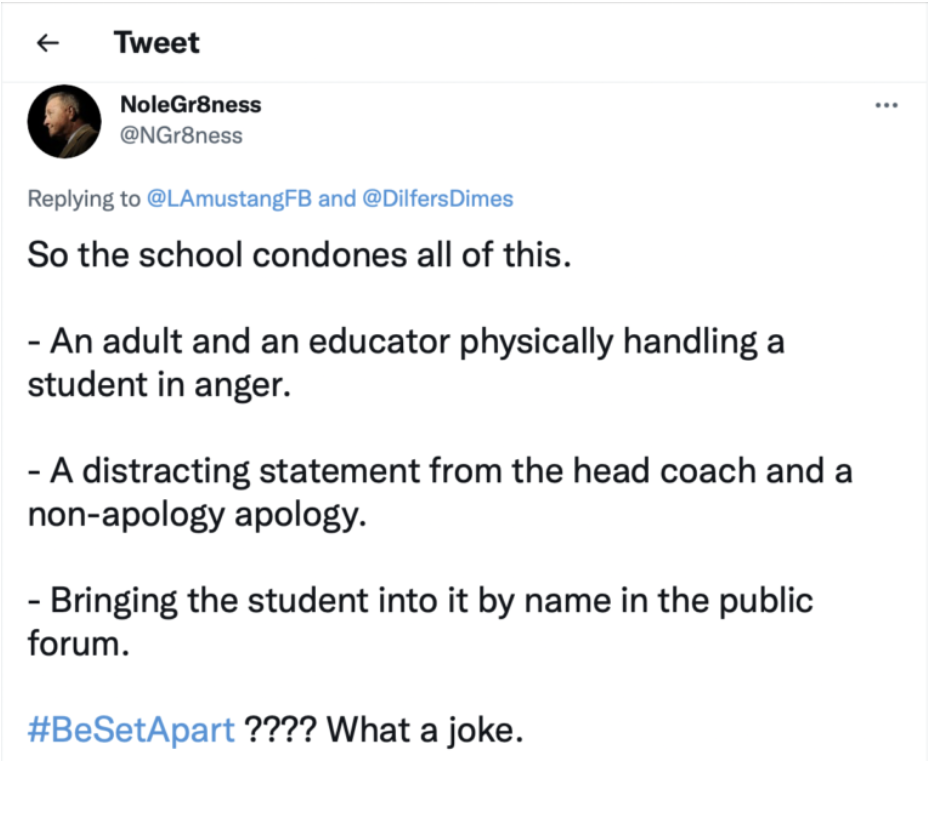 Dilfer issued a response and apology on social media Friday evening.
"I take full responsibility as the head coach… for not deescalating an emotional situation with [Beau Dawson]," Dilfer stated. "During a moment of frustration and in an attempt to get our team to play with more discipline, I unfairly singled Beau out.
"Somehow Beau Dawson has been portrayed publicly as the culprit in this situation, when in reality, I should have been a better leader and shown greater wisdom and discernment in how I handled the incident. Overall, I could not be more proud of Beau and the rest of the team for how they handle the emotional nature of each game they compete in."
Meanwhile, the team is ranked among the top in Tennessee and nationally. As of the most recent ranking on Aug. 24, the Mustangs were ranked second in the state by MaxPreps among all high school football programs and are widely considered to be just outside the top 100 nationally.
Their upcoming game against Goodpasture Christian on Friday has been canceled due to a COVID-19 outbreak within the Goodpasture camp.
By: Danny Kotula
Republished from Lumination Network, Aug 31, 2021.