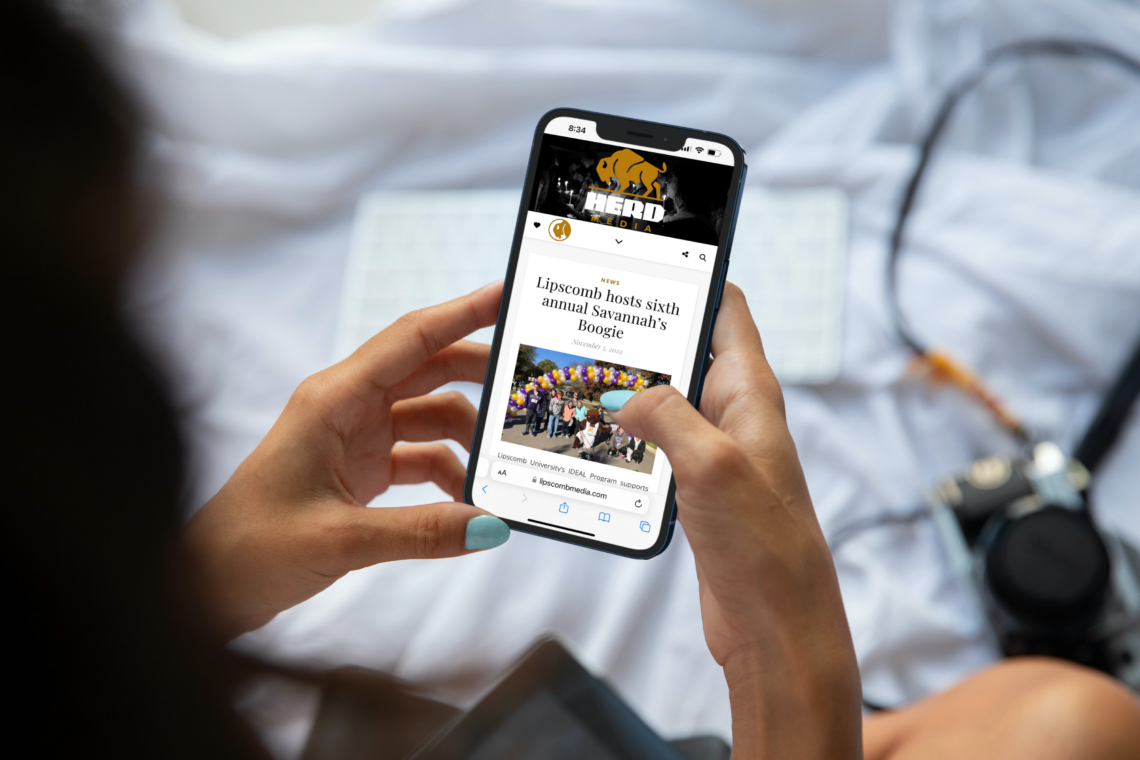 We are Herd Media.
As our predecessors in Lipscomb student media have done on multiple occasions since our beginning in 1923, we usher in a new name, identity, and direction for our content nearly a century later in 2022.
Lumination Network has officially become Herd Media, Lipscomb's student media outlet and the flagship offering of the Department of Communication and Journalism.
Lumination Network, the previous moniker for Lipscomb's student media source, saw a transition from a printed, physical newspaper to all-online news content.
Rather than casting Lumination aside and starting anew, Herd Media stands to build on and continue the online journalism base that Lumination established.
Specifically, Herd Media will focus on creating vibrant, multi-platform content in a variety of mediums, following the trend of digital media in its most modern age while also boldly innovating creative storytelling methods still to be developed.
Before 1923, the first iteration of Lipscomb student media was a magazine known as the Havalind Acts. That year, student media leaders saw it fit to change the publication's name to The Babbler, a name that stuck until the 21st century when Lumination was developed to take its place.
That 1923 editors panel created a document immortalizing their decision and outlining the hopes they carried for the future student media outlet they were creating.
As we transition once again to Herd Media and look forward to the potential of student media under this new name and direction, the 2022 editors of Herd Media would like to honor the tradition and precedent established in 1923 by creating our own set of hopes and ambitions for what Herd Media can become long after we leave Lipscomb University.
First, Herd Media's overarching mantra is to tell stories with FAITH, an acronym representing the following core pillars of our involvement as student media leaders. We will seek to create content that is Fair, Accurate, Interesting, Thorough, and Human.
In continuation with these guiding principles, we desire the following for the future of Herd Media:
To prove and improve quality in each contributor's storytelling abilities.
To maintain a standard of professionalism and excellence unmatched by similar media sources and unhindered by our status as student media.
To protect our independence as an outlet, with an active yet autonomous relationship with Lipscomb University.
To create a deliberately-fostered environment which breeds excellence.
To cover our university's news holistically and represent every interest and need of Lipscomb's student body.
To highlight inclusivity and welcome contributors of various majors, academic standings, and backgrounds.
To actively seek to represent those who feel unrepresented on our campus, especially social identities that exist on the margins of Lipscomb's student culture.
In the words of former university president E.H. Ijams, "We hope to see the Babbler and its contemporaries keep to the sure roads of progress, and set for themselves the goal of largest service and inspiration. To this end we encourage them 'to prove all things and hold fast that which is good.'"
Herd Media will work to its fullest capacity to keep to the sure roads of progress both individually and collectively.
It is our pride and joy as the editors of Herd Media to watch and help lead the birth of a new chapter of Lipscomb's rich student media history.