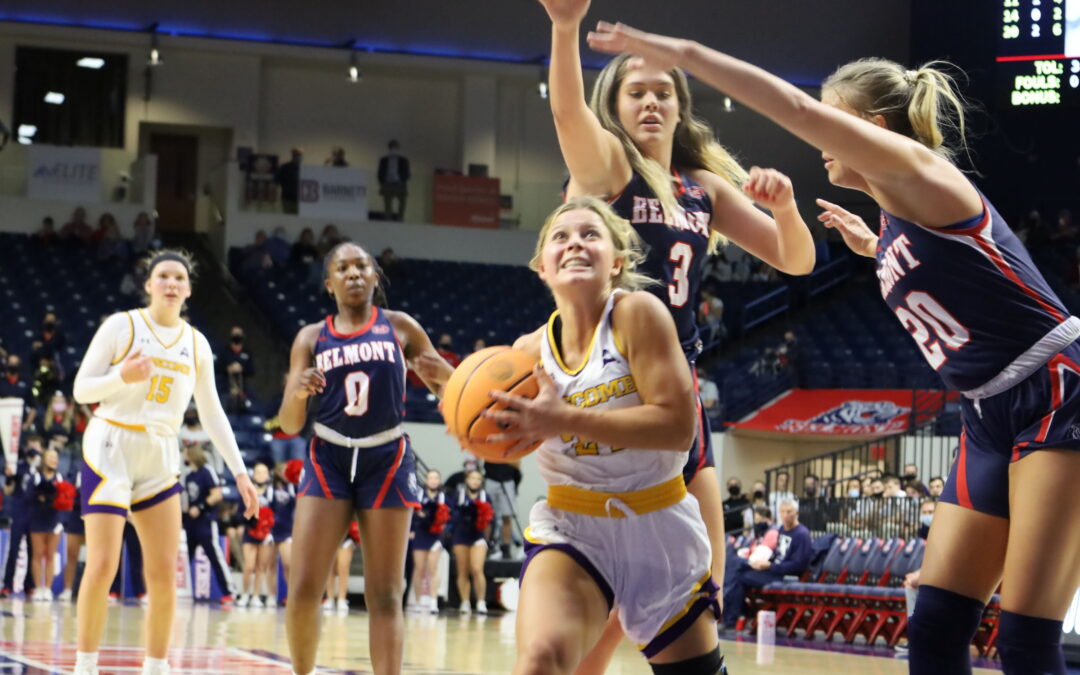 Women's basketball falls just short in Battle of the Boulevard
The Lipscomb women's basketball team lost a heartbreaking 67-62 decision to the Belmont Bruins in the Battle of the Boulevard Thursday evening at Curb Event Center in Nashville, Tennessee.
With the loss, Lipscomb drops to 2-4, with all four of their losses coming away from home.
This occasion was a much closer battle than the Bisons' previous three losses, coming after Lipscomb led 30-23 at halftime.
"We've had some games where I think we've done a little bit of overthinking and a little bit of doubting," third-year head coach Lauren Sumski said. "We worked really hard to execute our game plan, and this is the first time I've looked and thought this was our team," Sumski said.
The Bisons played with a level of intensity and efficiency that hadn't been seen much before today's high-pressure environment at Belmont. The Bruins came in as one of the most highly-touted mid-major programs in the country, coming off the back of an NCAA Tournament 2nd Round appearance last year.
Despite their prowess and a home-court advantage, though, the Bruins were second-best in the first half. Despite 16 points from sophomore guard Tuti Jones, Belmont struggled to make shots, and a balanced Lipscomb attack gave them issues.
Down the stretch, though, it was foul trouble that would hamper the Bisons' chances at the away win. Lipscomb took a 49-48 lead into the fourth quarter, but with four players at four fouls apiece, including three forwards, the Bisons were ill-equipped to deal with Belmont down low.
The Bruins went on a 6-0 run midway through the final frame to take a 58-54 advantage, one they would never relinquish in the end.
Senior center Dorie Harrison was the first to foul out, doing so after putting in 22 minutes and scoring 10 points to go with 4 rebounds. Quickly after, guard/forward Blythe Pearson fouled out as well in the game's final minute. The seconds she spent on the bench were the only ones in which Pearson did not play; the Overland Park, Kansas-born wing picked up three points and a game-leading 15 rebounds in 40 minutes of play.
Leading the Bisons in scoring was Belmont transfer Maddie Cook, who scored 20 points in her return to Curb Event Center after leaving Berry Hill last season. Cook went 10-12 from the field and pulled down three rebounds coming off the bench. The 20-point outing is also Cook's career-high, including her time with Belmont.
Senior shooting guard Casey Collier contributed offensively for the Bisons with 14 points, and freshman point guard Jordan Peete added 11 on top of an excellent defensive performance against Belmont star Jones.
Lipscomb faces off against Middle Tennessee at 1:30 pm Sunday at Allen Arena, hoping to grab their 13th consecutive home win. That match will be broadcast live on The Bison, Lipscomb's on-campus radio station.
Gallery by Kathryn Farris