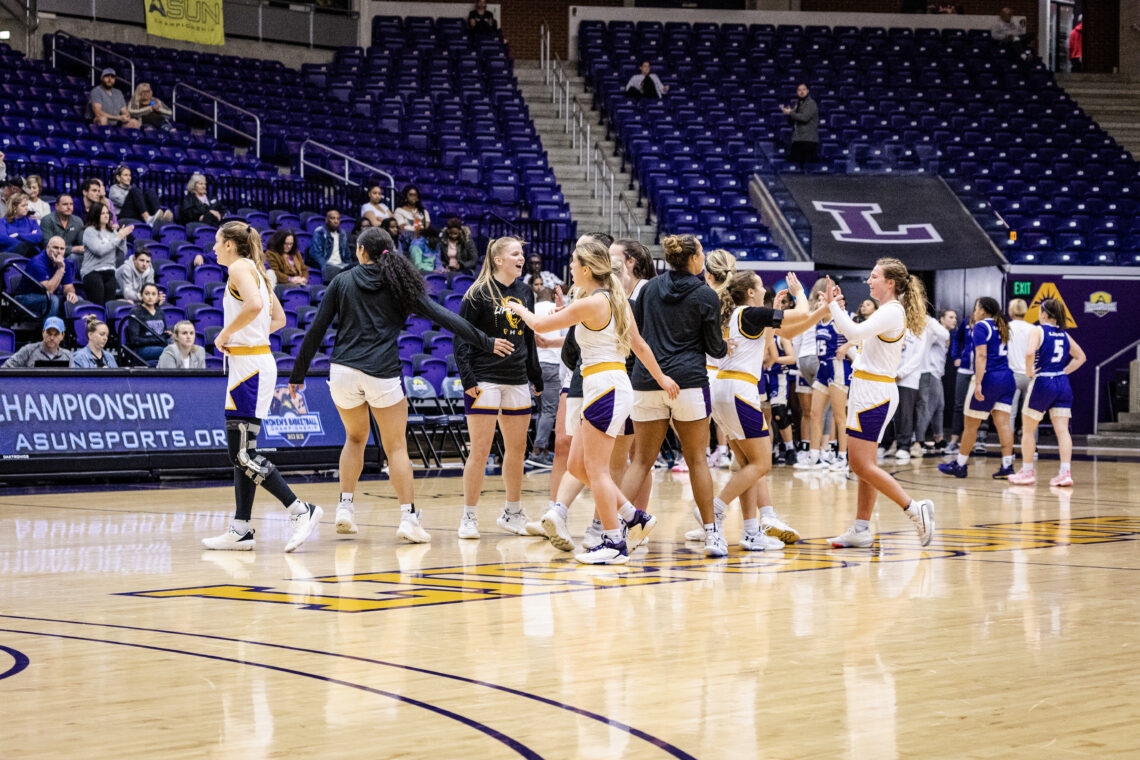 A look back at the special 2022-2023 Lipscomb Women's Basketball Team
Devastatingly, the Lipscomb women's basketball team fell to Liberty 84-56 last Wednesday in the ASUN semifinals, officially concluding their season.
Although it was a loss by a wide margin, the result is not how we should remember this team. The way we should is a team that reached the 20-win threshold and went high above expectations.
As we reflect on this special Lipscomb team, let's examine this past season and three things to prepare for next year.
Looking back at early November, no one had much faith in the Bisons.
They had finished the past season with a 10-20 record while losing three starters: Jordan Peete, Maddie Cook, and Casey Collier.
Despite the crushing losses, they would return the experienced, dynamic guard duo of Blythe Pearson and Jalyn Holcomb, along with Bella Vinson, Diana Saleh, and Baylee Jones, who rounded out the returners.
The 10-win season last year and roster changes led to Lipscomb being positioned 11th in the ASUN coaches and media polls. However, no one could have predicted the impact of the newcomers on the team.
The team would go to the transfer portal and find an under-appreciated Power Five post player in Aleah Sorrentino (Ole Miss) and a tenacious guard with strong finishing ability in Claira McGowan (Murray St).
The transfers, paired with a freshmen class that included Ainhoa Cea, Molly Heard, Kamil Collier, and Taylor Bowen, would set the Bisons up for an exciting season.
Beginning the season in Forth Worth, Texas, Lipscomb suffered a narrow loss to a TCU team from the competitive Big 12 Conference. The team would then drop an emotional three-overtime game to the Northern Kentucky Norse that saw them have to go four-on-five in the late stages after nearly everyone fouled out.
The roller coaster season would continue, with Bisons picking up two home victories against Wilberforce and Mississippi Valley St before going 1-1 in the Bank of Hawaii Thanksgiving tournament in Honolulu, Hawaii.
Returning to Tennessee after a trip across the Pacific, Lipscomb got a statement 84-66 win over Western Kentucky in Bowling Green and would pick up another win against Oakwood to extend their win streak to three games.
The team then would hit a treacherous stretch that saw them lose to fellow Nashville rivals Tennessee St, Belmont, and Vanderbilt. However, the team would pick up a bounce-back win against Tennessee Wesleyan at home to bring their record to 6-6, heading into conference play.
What came next for this team was something no one envisioned.
Immediately after ASUN play began, The Bisons would start with three straight wins, leaving many within the conference feeling incredulous about the team.
From there, they would drop one at home against Kennesaw State before going on another win streak, featuring four consecutive wins.
The team would again follow the same pattern, losing a tough one at home to Liberty, before producing another win streak of four games.
Closing the book on the regular season, the Bisons would lose a difficult one to a nationally ranked Florida Gulf Coast team, ending conference play with a 19-11 overall record and 13-5 in the ASUN.
The remarkable season would lead to them receiving a home matchup against North Alabama, with the Bisons earning the fourth seed in the tournament.
Lipscomb would win against the Lions in front of the home crowd and fall to Liberty at Liberty Arena in the next round, concluding a historic season.
Coach Lauren Sumski resurrected a program that had endured many seasons, and you can only believe the sky is the limit for this program.
With another season in the Books, here are three things to prepare for the 2023-24 Lipscomb Basketball season that will be here in no time.
Fountain of Youth
Throughout this season, two younger players: Molly Heard and Bella Vinson, stepped up for the Bisons. Their reward for their efforts was Vinson receiving All-Conference First Team and Heard getting All-Freshman team. We've seen them both step up, and Kamil Collier, Taylor Bowen, and Ainhoa Cea will likely see improvement next season with a whole off-season to improve.
Pearson and Holcomb likely to return
Two players on the Bisons team that experience the good, bad, and ugly across four seasons are Blythe Pearson and Jalyn Holcomb. They began their Lipscomb careers in 2019-20, and each of them probably returns with the extra year of eligibility due to Covid. Pearson confirmed on Instagram that she would return, with Holcomb likely to follow suit.
Sorrentino continues to develop
Emerging as an exciting player for the Bisons all season, Aleah Sorrentino was a force to be reckoned with in the paint. After battling adversity that featured ACL injuries and being underutilized at Ole Miss, she stepped on the court with something to prove. Sorrentino finished the season averaging 12.6 points per game and 8.4 rebounds, netting multiple Newcomer of the Week awards. If her finishing inside improves and the mid-range and outside shots improve, she could garner ASUN recognition.
With that, an exciting season comes to a close. The next team has a chance to go even further than this team. However, credit has to be given to Coach Sumski and her staff for the colossal improvement that occurred this year.