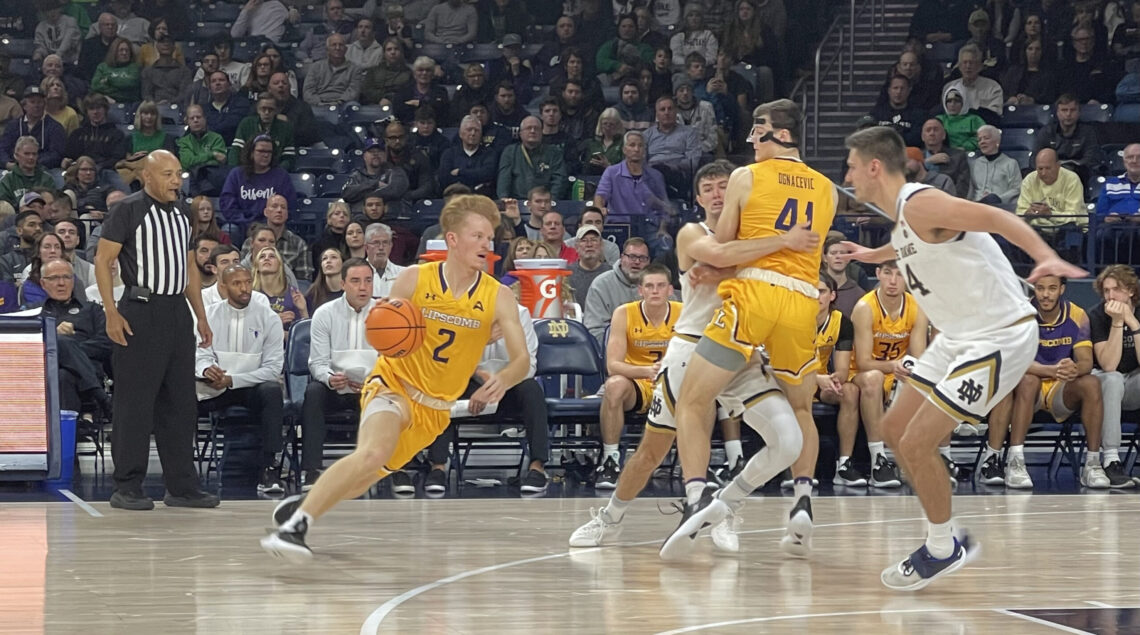 Lipscomb falls in Friday night thriller
SOUTH BEND, Indiana – Following an emotional, hard-fought 77-75 win on Monday night against Belmont in the Battle of the Boulevard at Allen Arena, the Lipscomb Bisons fell 66-65 to their ACC foe, the Notre Dame Fighting Irish at Purcell Pavilion in South Bend, Indiana.
From the get-go, the team got off to a hot start, building off the momentum of Monday. The Bisons got out to a 7-3 lead in the first few minutes of the first half, fueled by five early points from sophomore shooting guard Trae Benham.
However, the Irish would fight back, making the rest of the first half a defensive struggle, and getting some help from an experienced veteran.
Fifth-year senior Dane Goodwin was the main catalyst for the opponent, leading them in the first half with 15 points on 3-5 shooting from behind the arc.
His contributions and good collective defense from the Irish limited the Bisons to 10-28 shooting from the field and caused Lipscomb to enter the tunnel with a six-point deficit, trailing 29-23 at the break.
In the second half, Lipscomb drastically improved their level of play on both sides of the ball. Shooting a sizzling 19-26 from the field, and forcing turnovers on the defensive side, the Bisons pushed the Irish to their limit.
Ultimately, the arduous effort was halted by a go-ahead three-pointer by Goodwin, which secured the 66-65 win for Notre Dame.
"We're all going to keep our head high and get better," sophomore power forward Jacob Ognacevic said. "We're going to show we belong on this stage."
In the losing effort, Benham and Ognacevic each scored 19 apiece. The Fighting Irish saw strong performances from Goodwin and forward Nate Laszewski, who scored 24 and 16 points, respectively.
The Bisons return to the floor Monday night when they play DIII opponent Covenant College at 7 p.m. at Allen Arena.