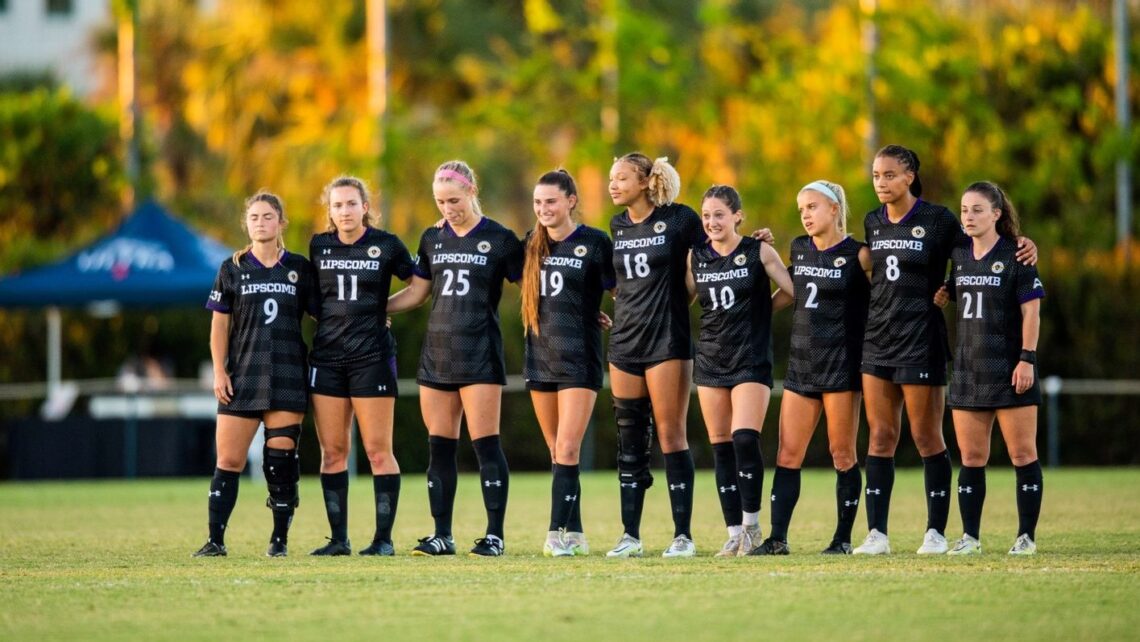 Women's soccer's slow start (and why we shouldn't be worried yet)
What do you get when you take an experienced, conference-winning squad, subtract no starting players, add two marquee transfers, and throw in three players who missed most of last season for injury?
Just as many losses as wins, as of right now.
Lipscomb fans might look at the 1-3 record their women's soccer team put together in the first four matches of 2022 and feel that something doesn't add up.
Even after two wins and ten goals in the past week to bump them up to 3-3, there seems to be concern for the way things have gone, at least on paper. That said, there's plenty of reason to look ahead with excitement and expectation.
To be fair, the worry seems reasonable; even in the midst of a tough schedule, all three of Lipscomb's losses thus far were disappointments.
The first contest of the year came on August 18 against national powerhouse Texas, which boasts multiple top-5 recruits from the 2019 high school class. While Lipscomb was up against top-class opposition, they didn't rise to the occasion, losing 5-0 in one of the worst scorelines in recent memory for the program.
Three days later, the Bisons picked up a big win in their home opener against in-state rival Tennessee Tech. A 4-0 result was fully deserved on an evening where Lipscomb looked like their old selves from a season ago.
The defending ASUN Champions took another knock the next week, though, falling to Mississippi State 2-0 in Starkville. While the Bulldogs represented another Power 5 opponent on the schedule, Lipscomb has previously found success against State, leading the all-time series 3-2 going into this year's match after beating the Bulldogs in 2021.
With another chance to level their record against an easier opponent at home, the most worrying moment of the still-young season came along: a 1-0 loss to dismal Idaho State.
The Bengals came across the country from Pocatello and brought just 12 goals with them from last year. For context, Lipscomb put 41 past their opponents last season.
On the afternoon, though, Idaho State found a way to beat the Bisons. Lipscomb conceced an early own goal via veteran midfielder Kelli Beiler and sputtered through the remaining 80 minutes of play, struggling to finish off chances in the 18-yard box in an eventual 1-0 loss.
Their most recent match brought a much more promising result, an 8-0 win at home last Friday. That said, it came against Alabama State, who wasn't up for it all night and is one of the weaker opponents Lipscomb will face all year.
On the bright side, there is reason to believe things will fully turn around sooner rather than later.
First, this squad boasts one of the best leaders in collegiate soccer in head coach Kevin O'Brien. Coach OB, as he's affectionately known, is in the midst of his 11th season in Green Hills and knows how to win matches.
Furthermore, he's more than aware that the product on the pitch needs to improve. After the Mississippi State match, O'Brien was quick to note that his side "were slow to start," and admitted that Texas was the much better team during the season opener.
Beyond that, the good moments have been very good. While the positives at this stage in the season should probably make up a better list in terms of quantity, they're not lacking at all for quality; the Bisons outscored their opponents 12-0 in their two wins thus far.
Lipscomb has also had the misfortune of going down early in all three of the matches they've lost; all three losses started with their opponents scoring first, and doing so in the first 15 minutes of the match.
"We're shooting ourselves in the foot when we spot someone a goal and then we make it a competitive game," O'Brien said.
"When it's all said and done, we've still gotta be better, but there's some things we do really well and I love it. I love the team, I love the girls, I love the attitude, [but] we've just got to correct some things to improve. When you boil it all down, we're the only team in the ASUN that's played two [Power Five opponents]. They expose you and it's hard to lose, but in the end, it's going to be beneficial."
Smack in the middle of a difficult non-conference slate having already traversed both hills and valleys, the Lipscomb women's soccer team will be nothing if not battle-tested when ASUN play rolls around later this month.
And when you add mental fortitude to a mix like Lipscomb's roster has, that's perhaps the best formula out there for eventual success.
Worry not, fellow Bisons–this team will have many more wins than losses on their record in due time.