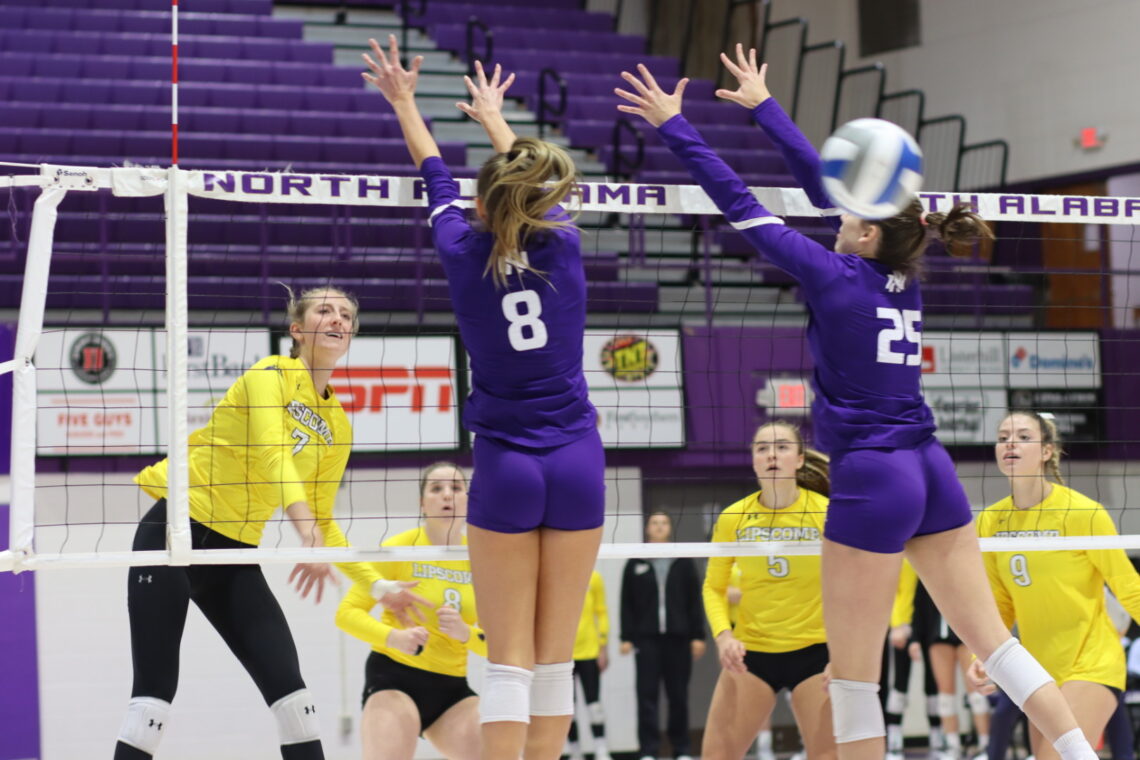 Volleyball victorious in finale
FLORENCE, Alabama – The Lipscomb volleyball team outdid North Alabama Sunday 3-0 at Flowers Hall in the final match of the 2022 regular season.
With the win and results elsewhere, the Bisons clinched the fourth seed in next weekend's eight-team ASUN Conference Tournament.
Freshman setter Sophia Hodepohl paced the Bisons with 41 assists, adding three kills, five digs, and three blocks.
The Mason, Ohio native has been the lone setter on Lipscomb's roster since a season-ending injury to senior setter Ashleigh Albert.
"It's been a lot of work," Hudepohl said. "I miss [Ashleigh Albert] and I'm so sad she's hurt right now, but being the only setter in the gym right now, I'm getting a lot of reps."
"I honestly love it because I get to work with my hitters and develop that one-on-one relationship with them," Hudepohl said.
Thanks in part to that relationship, Hudepohl supplied four different hitters with ten or more kills on the outing.
A close first set was marked by Lipscomb errors, negating a strong offensive start for the Bisons and leading to a narrow 15-14 advantage for the visitors at the first media break.
From there, the Bisons limited their attack errors and pushed the lead to 23-18 on two straight service aces in from junior libero Delaney Smith.
Two more Bisons points in quick succession handed Lipscomb the set 25-18, with four players picking up four kills apiece.
The second set belonged to junior hitter Caroline Stogner, who picked up four more kills and two aces before the mid-set break in set two.
Lipscomb kept rolling after the media timeout en route to a 25-17 victory, leading them to a 2-0 lead in sets over the Lions.
North Alabama responded with fight and determination, but it would ultimately be the final set of the year for a UNA team which did not qualify for the conference tournament.
Sophomore hitter Addi Pelham was electric on the right side of the net for Lipscomb, dominating the third set to finish off the day with a match-leading 15 kills.
Thanks to Pelham's offensive efforts, Lipscomb ran out to another large lead in the middle of the third, using a 5-0 run to take a 18-10 advantage in the deciding frame.
A brief reprieve only gave way to another 4-0 stretch for the Bisons, pushing the lead to 22-11. The Purple and Gold finished the job with a kill from senior outside hitter Logan Gish, her tenth of the afternoon.
Lipscomb returns to Allen Arena Thursday for the quarterfinals of the ASUN Tournament. The semifinals and final will be held at Allen Arena Friday and Saturday, respectively.
Every match of the tournament will be streamed live on The Bison, Lipscomb's on-campus radio station.
Photo by Parker O'Neal