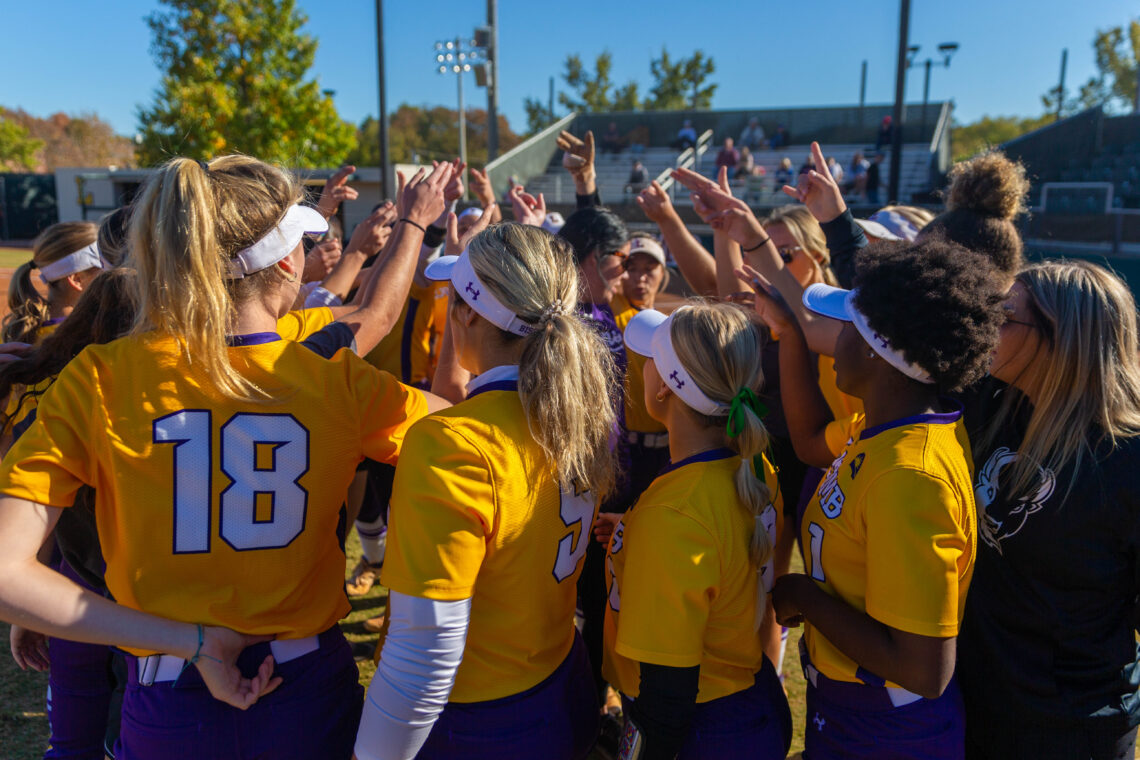 Softball season bound to begin with a bang
The moment until the Lipscomb Bisons Softball girls hit their first game balls is growing ever closer. Less than four hours remain until the team plays its first game.
The softball schedule is busy, starting off with the Florida State Tournament in Tallahassee, Florida. That tournament is followed with the FGCU Invitational in Fort Myers, Florida. After that, the girls go to Athens, Georgia for the Georgia Tournament. Then they finally return to Nashville for their first game, against Providence, that will kick off the Purple/Gold Challenge. That challenge lasts four games, and then they'll play in the Lady Bison Classic, followed by their conference games.
Herd Media was able to interview some of the team, getting their insights on the team chemistry and the upcoming season. Herd Media was also able to hear one of the freshmen's thoughts on joining a college team, and one of the upperclassmen's opinions on the new additions to the roster.
Senior Infielder Elise Shewmaker said she was super excited for this upcoming season. They had added five freshmen and two transfers to the roster this year, she said, but despite that the team had meshed really well. "We've had a great mix. We've had a lot of team bonding experiences — we hang out every day, I feel like we've connected really well on and off the field. So I feel like this year, we do have really good team chemistry, and that's really going to help us when we start playing in two weeks."
"We hang out before and after practice, we go out to dinner, almost every night. We have people, girls that live off campus, and we're over at their apartments all the time playing card games and everything. So I really feel like this team is super close." Shewmaker, who's seen the change in the team over the past four years, smiled as she spoke of this year's build.
On the flip side of the coin from senior Shewmaker is freshman Pitcher Macey Ogle, who talked of experiencing the whole new dynamic of college ball.
"It's definitely been challenging in ways. I've played for the same travel team for like, three, four years, I've been with the same girls. But this group of girls were very welcoming, whenever I joined they showed me the way they do things, and I just felt like I fit right in. They all just made all five of us freshmen just feel like we had been a part of the team for years."
College ball was different from high school ball, Ogle said. But not necessarily in a bad way. "It's the feel of like practicing every single day and going to school with your teammates. That's all the same in high school, but the competition and the level of play, the intensity of practice, it's [totally different]. I've never practiced this intensely before. So the softball we play is completely different. But the way we act and go to school together, it's kind of similar to high school, just a little more mature version of it."
"We're not really coached down to the mechanics as much as we were in travel ball or high school, we're, at this level, you're kind of expected to know how to play — the rules of the game and stuff. So the intensity and pace of practice is much higher. The volume of practice is a lot more too. In travel ball, we would practice like once a month. So I would say it's a lot tougher. It took some adjusting in the beginning, for sure. But now when we don't have practice I'm lost. I don't know what to do. Like yesterday, we only had a little 20 minute bullpen and I sat and everyone's like, what do I do?" Ogle couldn't help laughing.
Ogle was really fond of the team this year, she said. "Everyone's personality kind of drives together. We all get along really well. We have fun together on the field. We're constantly talking and communicating. There's not a single person on the team that is like that stands out or like we all just fit in really well. Together. We play well together. So that's really great."
Interestingly, both Shewmaker and Ogle are coming back this season from injuries. Shewmaker had laughed, calling her injury "a long word that I can't even pronounce to you."
Ogle, also recovering from an injury, expressed how excited she was to compete again. "I hadn't been on the field playing in [a while]. So for me, I personally just can't wait to get back on the field. I'm counting down the days," she said.
Shewmaker shared Ogle's wish — and excitement — to get back on the field this season. "[Because I was injured] I didn't get to play in any fall games. So I'm just super excited to be back on the field with the girls. To see all the hard work that we put in be able to put into play. So I'm just excited to be back on the field with everybody because it's been a long time coming."
Both girls well represent the fantastic skill set of the Bisons' softball team.
Shewmaker is one of only three girls on the team who played all 52 games last season, and she started in 51 of them. Yet she was incredibly modest about it, saying that she'd rather not play if need be, because she wanted the best girls to be out on the field. Despite being a fantastic player, Shewmaker did not brag about her skills, instead talking highly of others on the team.
Ogle had a fantastic high school career, and came into college ball with several awards already under her belt. However, despite saying she would love to win an ASUN award for pitcher of the week or "something like that," she was more excited to build memories with her teammates. "I can't wait for the time on the bus, sitting in the hotel, or at meals with your teammates," she said. "Like those memories you keep forever, even if you remember not so much from on the field."
With an exciting and busy season coming up, and such a close-knit and well-balanced team, it's clear that this softball season is going to be one to watch.
"We are excited that opening day is here," said Head Coach Kristin Ryman in an email to Herd Media. "There's such a build up to our season, but the reality is that the journey is just starting. We will be challenged right off the bat this weekend at FSU, but we are prepared. We've worked hard & are ready to get going. Ultimately, these early tournament weekends are made to prepare us for conference play that will begin in March. The experience & challenge of this early part of the season is going to help us mature as we prep for ASUN play. 
"We really like what we've done in preparation for this year. This team is going to grow in some way every game. We have some young players who are going to be impacts, & we have older girls who can lead the way. We really like the depth of this team & feel that we will play a lot of girls. Lineups could change frequently, but that's a credit to our girls pushing each other & getting better. We will have to rely on timely hitting & great defense, but we believe in the strengths of this team & expect to play to those strengths. 
"This team is fun to coach! We're really looking forward to getting started."