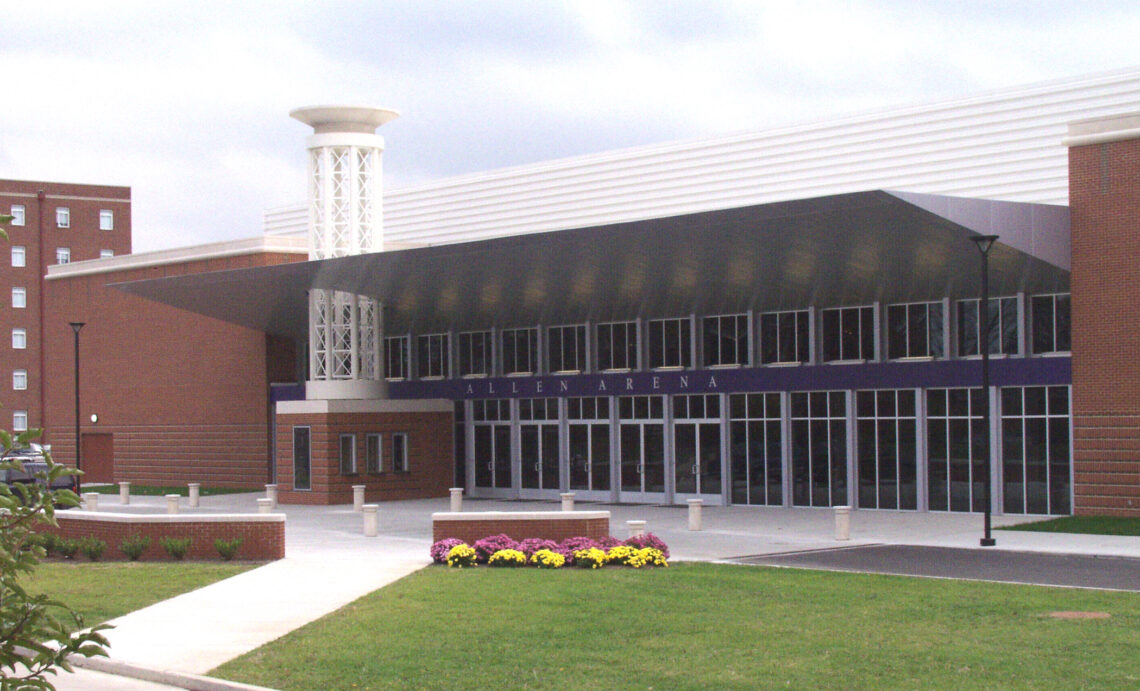 Over two decades later, a look back at how Allen Arena came to be
Ever heard of the phrase "If these walls could talk"? It's an expression that references the history of a certain place and the things that have many things that have happened there.
Well, if the walls could talk in Allen Arena, they would certainly have a lot of things to say and plenty of stories to tell.
Since first opening its doors in 2001, it's seen everything from musical performances, chapel services, award shows, buzzer-beaters, and court stormings. The home of the Bisons has been the setting for many moments and memories that have been etched into Lipscomb history forever.
But how did Allen Arena come to be? Why is it here and what happened to make the idea come to fruition?
How it all started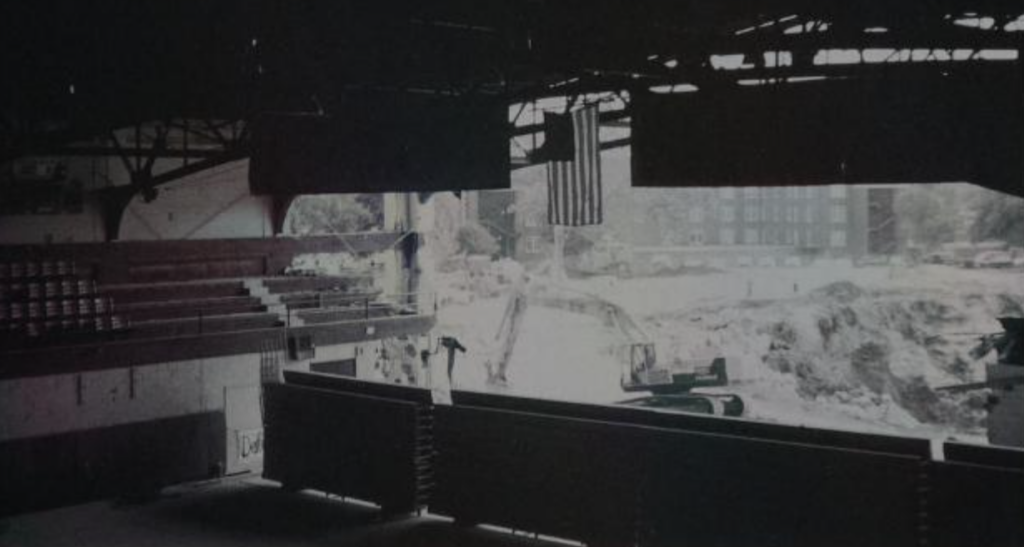 In 1997, Lipscomb began to explore to possibility of moving from the NAIA (National Association of Intercollegiate Athletics) level to the NCAA Division I level for all of its athletics programs.
The arena was needed to further Lipscomb's opportunity to advance into NCAA Division I status, and it was a big factor in Lipscomb's acceptance into the organization. The school would begin to make this transition in 1999, playing a partial NAIA and NCAA schedule before becoming an NCAA-Independent in 2000.
McQuiddy Gymnasium, which had been Lipscomb's arena since 1949, was demolished along with Yearwood Hall (a women's dormitory) to create space for a new multi-purpose arena and a parking garage.
Lipscomb played its official last game in McQuiddy Gym on March 7th, 2000, a game in which the men's basketball team won its final conference championship at the NAIA level. The gym is still present on Lipscomb's campus on a smaller scale. The now-renovated McQuiddy Gym is directly connected inside Allen Arena and with the Student Activities Center. It is often used for intramural sporting events and as a practice/workout area for multiple of Lipscomb's athletic programs.
Lipscomb's NCAA transition came during a time of growth and expansion for the school
With this transition in athletics came multiple other changes on Lipscomb's campus for student life.
Attached to the newly built arena was a 480-space parking garage that is attached to the building. This provided a space for students to park, which was something that students at the time cited as an issue on campus. The space is also often used as event parking for the arena.
The new arena and parking area weren't the only projects were working on at the time. Though the school lost one of its dorms in Yearwood Hall, which had just been built in the 1980s, it did make up for it in other places.
Along with these changes came a new Arena Theatre (which is now known as Shamblin Theatre) and the expansion of both the Student Center and High Rise dormitory. Additionally, the student center saw the addition of multiple dining options on campus.
The arena's construction and why it is called "Allen Arena"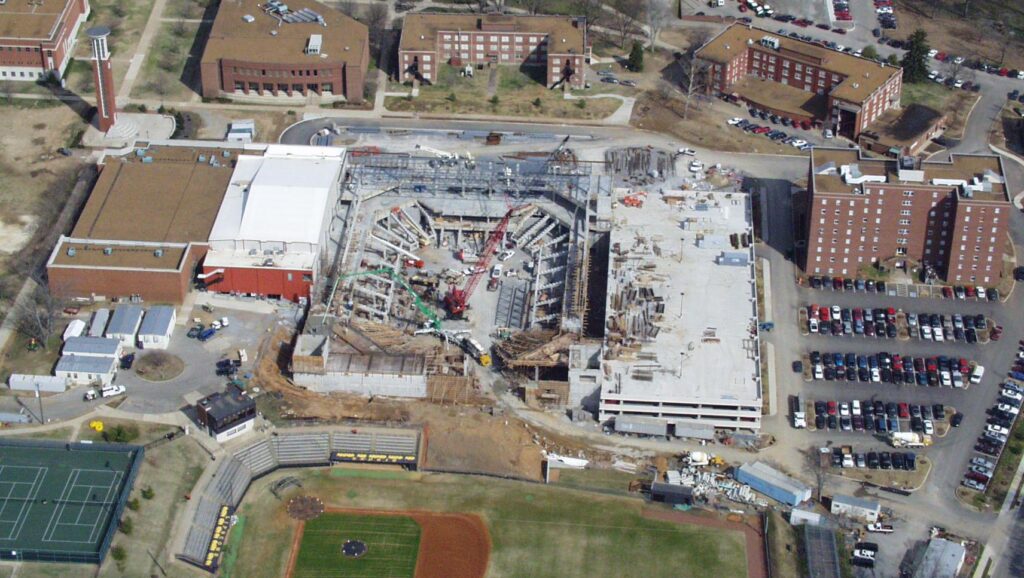 The university wasted no time with construction, beginning during the Summer of 2000. The project in building the arena cost around $16.5 million, equating to roughly $28.9 million today. The arena was set to seat over 5,000 people at the time of construction and currently holds a capacity similar to that number.
If you're like me there is one thing that you take away from that sentence. Building an arena isn't cheap, and as matter of fact, it's quite expensive. However, Lipscomb was fortunate enough to receive a major donation from alumni (1968) and board of trustees member James C. Allen.
Allen, who is a businessman and has remained a staple in the Lipscomb community since his time as a student, helped fund the project as a benefactor.
The school then decided to name the building "Allen Arena", in honor of Allen and his wife Linda.
Creating a new history for the next generations of Lipscomb students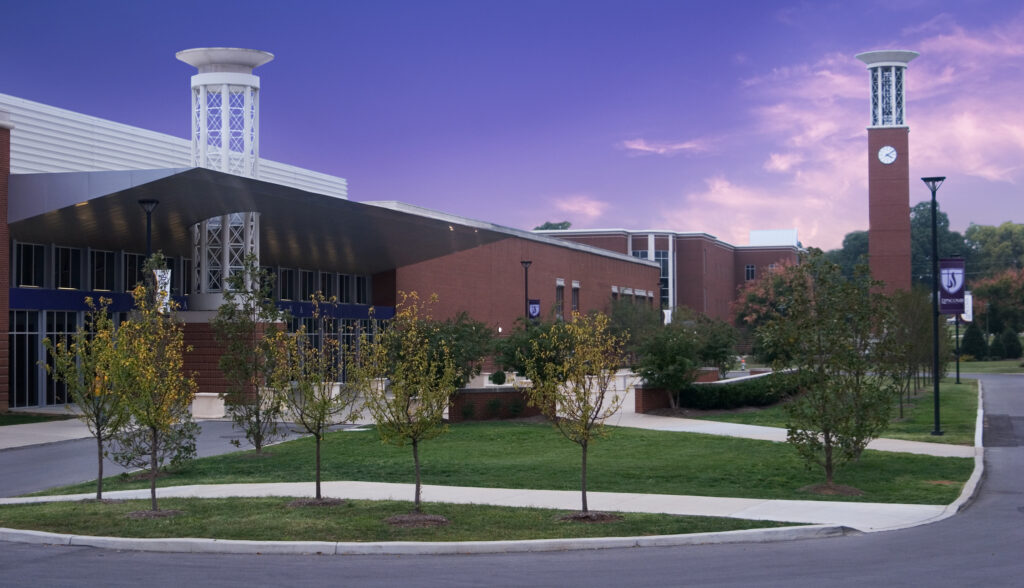 The project was officially completed in the Fall of 2001, and the arena opened its doors to the public for the first time on October 28th, 2001. The first event held inside the building was the "In His Hands" worship service. The service saw thousands of students, staff, and community members in attendance to be a part of the building's first event.
Since then, Allen Arena has hosted big-name acts such as Sinbad and Jay Leno. It's hosted nationally-televised awards shows in the form of the GMA Dove Awards, a professional sports team in the ABA's (American Basketball Association) Nashville Rhythm, ASUN Tournament, and championship games in basketball and volleyball.
Fast-forward to today and Allen Arena is still as busy as ever. What started as a way to help Lipscomb get into the NCAA, has turned into something that has created amazing moments and memories for students, staff, players, and fans.
If you talk to alumni from the 1950s-1990s, many of them may probably tell you how special McQuiddy Gymnasium was to them during their time at Lipscomb. They'll mention the history and the atmosphere, and how the building just had a certain mystique around it.
For the new generation of Lipscomb students, Allen Arena has become one of those places in their experience at Lipscomb. It's become the known and beloved home of the Lipscomb Bisons.