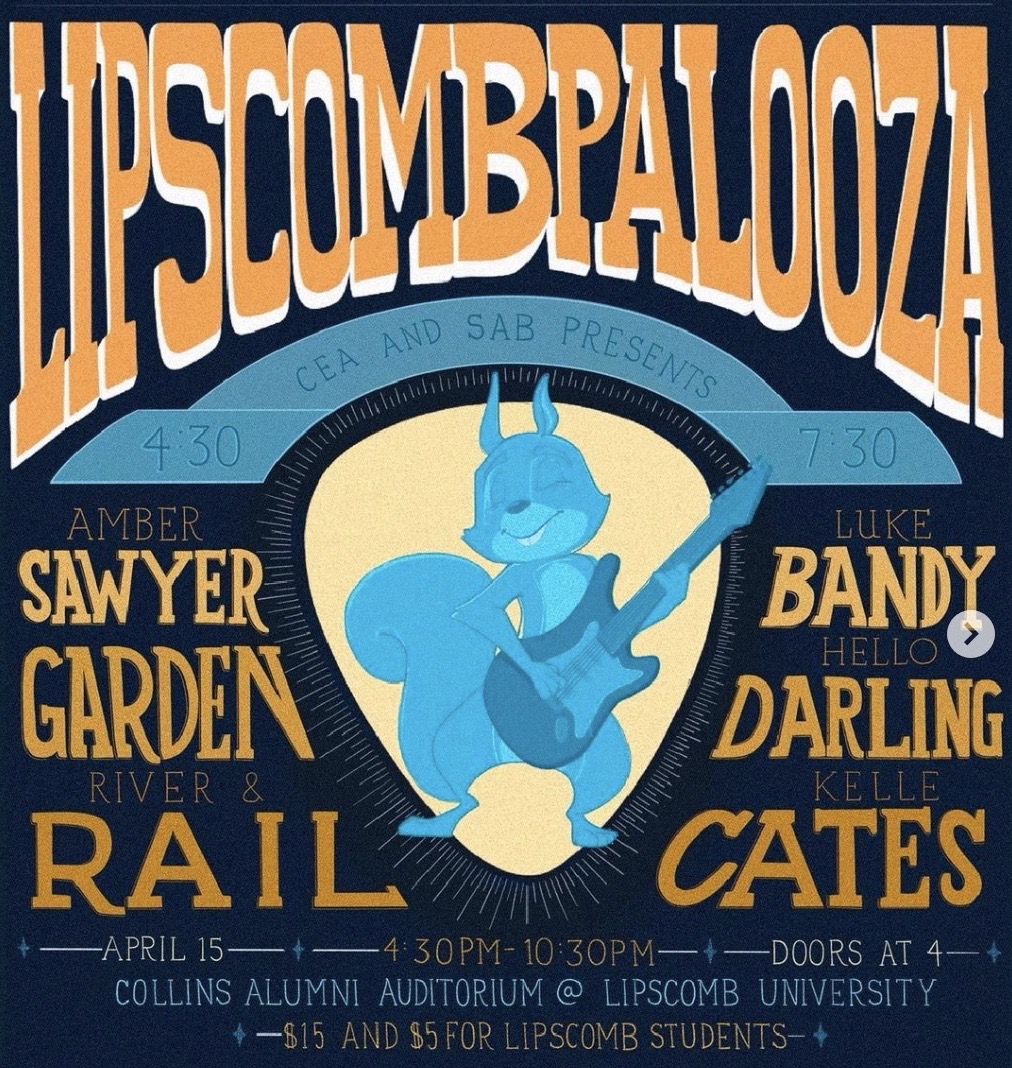 Lipscomb-Palooza – Lipscomb's first on-campus music festival
Lipscomb Palooza is the first on-campus music festival at Lipscomb, featuring the artists, River and Rail, Amber Sawyer, Luke Bandy, Hello Darling, Kelle Cates, and Garden.
Lipscomb Palooza came from the brains of Luke Bandy and Amber Sawyer. The purpose of this festival is to intertwine the music community with the general population here at Lipscomb.
Since the pandemic, there hasn't been much enthusiasm for on-campus events from students, especially in the entertainment department.
At the peak of the pandemic, Luke Bandy was a freshman at Lipscomb in 2020. He said there wasn't much of a music scene here on campus and it only continued to simmer down over his time here at Lipscomb.
"There has to be something that we can do," Bandy says, "people do shows at The Well but the general body of students on campus aren't aware of the music program and the artists we have."
Bandy says he hopes that this music festival does just that.
"[I want to] get it to where [students] are really involved like [they are involved] in Singarama and sports here on campus. We [want to] make those things equal," Bandy says he saw it done at A Beautiful Day last year with the Brick and the Bluff, and is hoping to see the same student turnout for this event too."
Along with getting students more interested in the music scene on campus, Bandy also wants to help give th beginner artists a platform.
"We want to give the artists that come through Lipscomb a platform while they are here," says Bandy, "it is very hard to develop that as an independent artist and musician and we want to cultivate that kinda environment where students are interested and involved in these processes and hopefully create some small fan bases."
Amber Sawyer also says she is excited to see it all come together, and have all students, not just music majors, be excited about the festival.
"Watching it all come together and all the artists cooperating and showing that their music matters," Sawyer says, "[the artists are] wanting to show that we create music outside of school stuff."
While other students might not be exposed to what our music department and students has to offer both Sawyer and Bandy brag on the department, saying the community is not what they were expecting when coming into Lipscomb.
"I love watching everyone create different things I feel like no one is really the same," Sawyer states, "and it makes me get less in my head about comparison and competition and more about supporting my fellow peers and artists for what they are doing."
The uplifting and encouraging community makes the process of trial and error and experimenting with different songs and different styles a lot easier and a safe place, especially when music can cover such vulnerable emotions.
While Lipscomb is growing but still small compared to the music school up the road, Bandy looks at it as a good thing.
"The Lipscomb school of music is getting bigger but it's still small enough to where we all really know each other and collaborate well together." Bandy says.
"At other schools it might be easier to get lost in the vast amount, at Belmont there are a lot of people, at MTSU there are a lot of people, and so I thought Lipscomb would be a great place to develop connections and artistic relationships and grow in my musical capacity."
One of the bands performing at the festival, River and Rail, but personally known as Alex and Grace Fincher, talk highly about the music community in Nashville, especially at Lipscomb.
"When we came to Nashville and were surrounded by the Lipscomb and music community," Grace said, "it's crazy how being inspired by the music around you and the artists take away that competition and that feeling of threat and more exchange of inspiration and longing to keep doing it."
The goal of the music festival is to combine the music community with students from different departments here on campus. Wanting to gather support and enthusiasm for the artists here on campus, giving them encouragement for success outside of it just being a hobby.
On April 15th in Collins Auditorium, join students for a time to engage and listen to great music and support our Lipscomb musicians! Below is a hype-up video for the event that was released at the end of March.