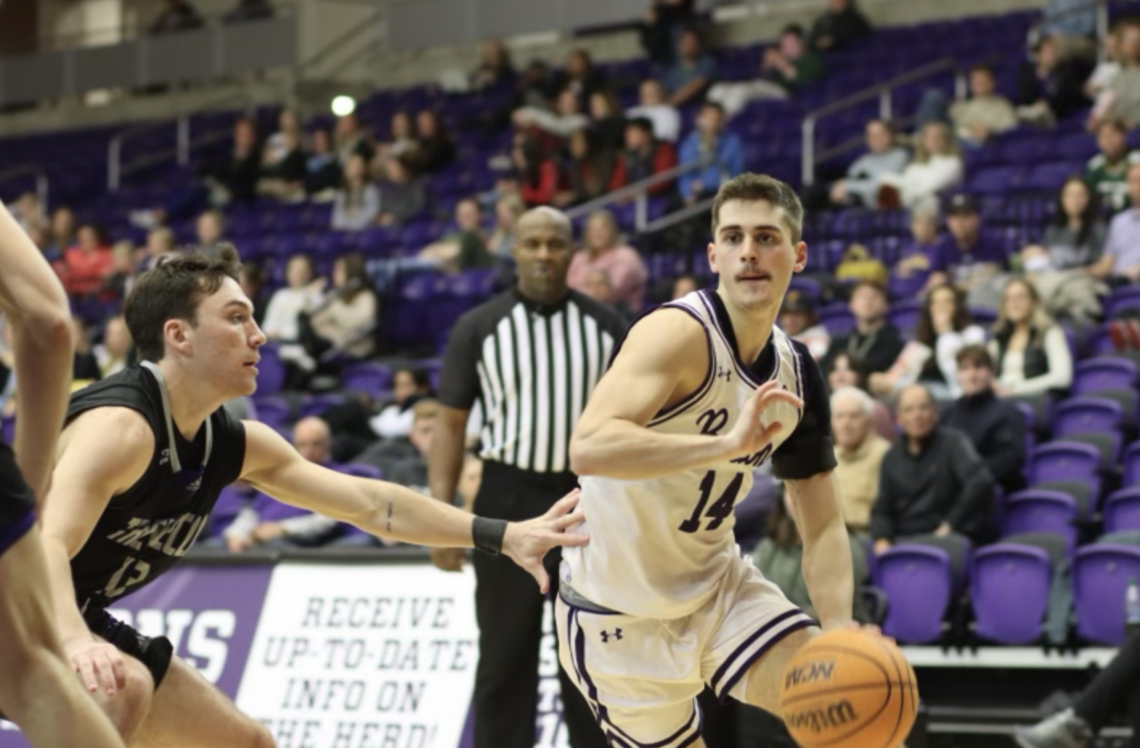 Frontcourt shows out, men's basketball blows out Trevecca
The Lipscomb men's basketball team beat in-city opponent Trevecca Nazarene 87-49 at Allen Arena, making quick work of the NCAA Division II Trojans.
Lennie Acuff has been no stranger to scheduling non-conference games against local opponents, and that trend continued in Monday evening's contest. 
Trevecca is located just 5.4 miles from Allen Arena and is the former home of Bisons forward Hank Hutcheson. 
Hutcheson played 12 minutes and scored two points in Lipscomb's 87-49 victory at Allen Arena. 
The win moves the Bisons' record to 6-2 in total and 5-0 on their home floor.
Lipscomb was led by a season-high 24 points from Jacob Ognacevic. Ahsan Asadullah and Grant Asman also chipped in 16 and 14 respectively.
Trevecca got out to a blazing start that included makes on three of their first four attempts from 3-point range, but the Bisons and Trojans remained tied at 11 heading into the first media timeout of Monday evening.
Just a few minutes later, the Bisons pulled away behind an 19-0 run that occurred during a 8:45 Trevecca scoring drought.
Lipscomb forced six turnovers during that drought, helping the Bisons go into the break with a 33-22 lead. 
From there, Acuff's team was determined to throw the knockout punch and didn't look back.
Lipscomb outscored Trevecca 54-27 in the second half and shot 52.5% from the field during the 20-minute period.
The second half was punctuated by Hutcheson's season debut and an impressive half by redshirt freshman forward Grant Asman. 
Lipscomb's 87-49 win marked their second largest margin of victory on the season.
Five quick takes:
Lipscomb wins in Pruitt-less outing
Sophomore guard and Mt. Juliet native Will Pruitt has been Lipscomb's heart and soul throughout the season.
The 6-foot-3 shooting guard is the Bisons' second-leading scorer and leading rebounder throughout the early portion of the season and provided plenty of value on the defensive end as well. 
The Bisons missed Pruitt tonight due to an injury, giving Acuff an opportunity to give his other guards extended playing time. 
Acuff turned to junior guard Tommy Murr to start Monday evening's contest in Pruitt's absence and gave sophomore point guard Quincy Clark 20 minutes, as well. 
Lipscomb shot 49.3% from the field along with a mere 24.1% from 3-point range in Monday night's contest and allowed the Trojans to get plenty of open looks on the perimeter, but the Bisons continued their impressive start to the 2022-23 season with a 38-point win. 
The way that Lipscomb forced turnovers and rebounded was encouraging
On Monday night, Lipscomb thrived in two areas that they hadn't throughout the early part of the season.
Trevecca's frontcourt isn't short on height, but the Bisons still outrebounded the Trojans 41-31. Lipscomb also grabbed 13 boards on the offensive glass as opposed to Trevecca's four. 
The Bisons had been outrebounded by double digits in their previous two games but won the battle on the glass by a margin of 10.
Lipscomb has done a better job throughout the season of winning the turnover battle, but impressed once again by winning that battle by a margin of 21-7. 
The Bisons scored 26 points off of turnovers.
To be a threat in conference play, Lipscomb will need to consistently win the battle on the glass and in the turnover column.
The Bisons showed signs that they can do that against Trevecca. 
Ognacevic continues to produce
Heading into the 2022-23 season, Asadullah got all of the attention…and for good reason.
The fifth-year senior was coming off of his third season in which he was elected to the All-ASUN first team in a campaign where he averaged an impressive 15.2 points per game. 
While Asadullah received his well-earned praise, Ognacevic lurked in the shadows.
Ognacevic was expected to be a contributor but didn't start a game until Monday night's contest.
The 6-foot-7 forward thrived in his role off the bench and continued his prolific play in his first start of the season. 
The sophomore forward came into Lipscomb's contest with Trevecca averaging 18.4 points per game while shooting 64% from the field and grabbing 3.9 rebounds per game.
Ognacevic continued his pace in Monday night's contest with a season-high 24 points that came on 64.3% shooting from the field. The sophomore forward also grabbed three rebounds.
The threat that the Valparaiso transfer posed was summed up by the double teams and help Trevecca directed at him.
Ognacevic's impact this season has surpassed what many thought he could provide, and tonight was a microcosm of that.  
Grant Asman shows out
Asman's high ceiling has always been obvious, but the redshirt freshman hadn't had his breakout game yet.  
That breakout came on Monday night.
Asman was relatively quiet early on in Lipscomb's matchup with Trevecca, but exploded in the second half with four makes from 3-point range and 14 total points.
All 14 of those points came in the second half for the Wisconsin native.
"There's feeling it and there's Grant Asman in the last four minutes," The Bison color commentator Brandon Bigsby said of Asman's hot shooting stretch. 
The 6-foot-10 forward also showed his defensive value by staying in front of Trevecca's quick guards on switches and blocking two shots. 
Asman will see tougher opponents in a few weeks, but certainly has plenty to build on after a performance in which he was cheered off the Allen Arena floor.
Tonight's game should be taken with a grain of salt
It's always a good night when Acuff is able to empty his bench in a blowout win, but when playing a Division II opponent everything has to be taken for what it's worth. 
Trevecca entered Monday night's contest with a record of 1-6 and hadn't played a team the caliber of Lipscomb.
Monday night's game also won't count on Lipscomb's NET ranking or NCAA tournament resume.
That being said, Lipscomb's frontcourt and young players showed plenty of encouraging signs in their lopsided win.
Acuff's team has to like what they did on Monday night, but also needs to put it in perspective. 
Lipscomb will travel to Huntsville, Alabama to face Alabama A&M Friday at 7 p.m.
That game will be broadcast live on The Bison, Lipscomb's on-campus radio station.
Photo by Parker O'Neal