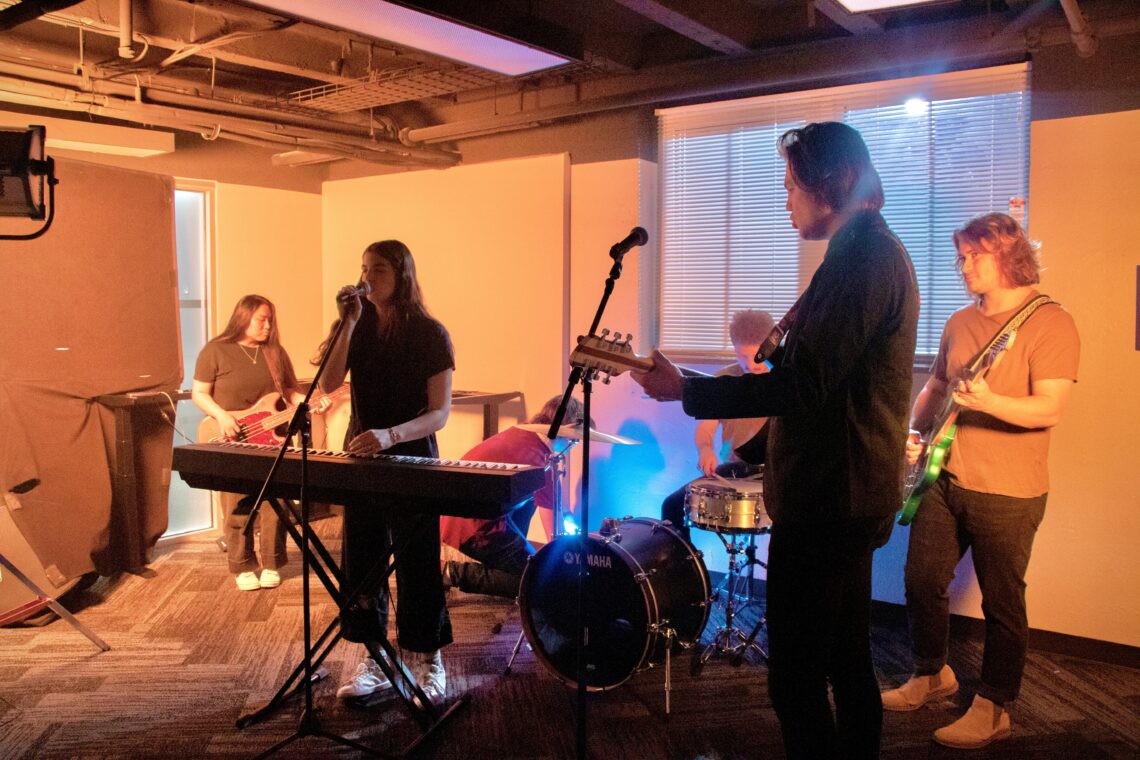 Behind the curtain with Hello Darling — a band with origins as Lipscomb freshmen
You never know what might come out of Lipscomb's music ensemble classes.
The Nashville-based alternative folk band Hello Darling just happens to be one of those things.
The band was born when a group of five musically talented people wound up thrown together in an ensemble as freshmen and discovered they all shared a passion for good music.
Hello Darling comprises juniors Patrick Armould and Grace Russell, who share lead vocals; junior Amber Sawyer on bass; senior Riley O'Donnell on drums; and senior Noah Haggard on lead guitar. They come from different parts of the country and have different majors, musical tastes and backgrounds, but they found common ground through Hello Darling.
"We met in the fall of 2020, and by the summer of 2021 we were [already] writing songs for what was to be the first Hello Darling record," Armould said. "We came from musical backgrounds that were really similar but also super different in a way… that was gonna bring all the good sides out of all the music that we grew up with."
Russell acknowledged the differences in backgrounds.
"I really grew up very much into the pop ballad era," Russell said. "Like, I loved Christina Perri and that whole vein; that was kinda like my first inspiration and loves in music. Then I remember the first Head and the Heart record — just absolutely changed my world and I [realized], that is what I want to do. [There have been] moments like that in music for me, and I wanted to be able [to do that, too.] Those moments have definitely helped shape the kind of music that we do."
Armould said he loved indie rock when he was in high school and still loves it.
"I was very much called to get into music from the indie folk background," he said. "And so that's a huge part of what I love to bring into our music."
When asked about the band's unique name, Armould and Russell both laughed.
"We really love the word 'darling,'" Armould said with a grin and a shrug. "We wanted to pick something strong, and we wanted something darling. And I always had this thought in my head that if you could hear David Letterman saying it, introducing a band on the Late Night show, then it would be a good band name. And so I was sitting outside of this vinyl store that I was working at at the time…and I was locked out."
Russell laughed as Armould continued his story.
"I texted Grace band-name ideas, and I think 'Hello Darling' was one of them," he said. "It's kind of random, but at the same time we've actually kind of grown to love it. It's funny because band names are both easy and not easy to come up with."
"I think most people try to have this like epic story of how they came up with their band name, or they try to make it something that's incredibly meaningful to them," Russell said. "And I just remember with us — we love the name, but it wasn't quite like that. Our debut EP was about to come out, and we were like, 'We don't have a name.'
"And so we were like, 'OK, we've really just got to find something,'" she said. "Once he suggested ['Hello Darling'], I was like, 'All right, that's it. We're running with it.'"
Of course, nothing is perfect, so naturally there are bound to be struggles within groups of friends as well as bands. But both Armould and Russell said that the good has easily outweighed the bad…so much so that it's hard to remember a lot of the bad.
Russell couldn't help laughing about it a little.
"There's a lot of moments when you're like, 'OK, if you look at this situation on paper, it sounds miserable.' Like, we use almost a church passenger van when we go on the road, and we're all shoved in there together. We have all of our gear packed to the ceiling for these long drives. We're all in one hotel room. There's five of us…three of which are grown men," Armould said with a snort, making Russell laugh. "All these funny situations that we find ourselves in that could be bad on paper, but they've turned into some of the most fun times because I think we've done a good job at picking the right people to share those moments with."
So what are the joys of being in a band? Neither hesitated with their answer.
"Best friends," Armould said.
Russell elaborated, noting that not only do they make the best memories together, but she also feels at home with her bandmates.
"I just feel like I've found my people, you know?" Russell said. "I think everyone would agree, but it's just…whenever we're together, it's just complete comfortability and true companionship. To me, it's deeper than friendship."
"We're all out there fighting for one thing, and we're doing it as best friends and this family that we've built," Armould added. "So we're very lucky."
The group is working on recording a new album and will be taking to the road a lot more this year. This coming Saturday, the band will perform at the Lipscombpalooza in Collins-Alumni Auditorium alongside other Lipscomb music students and bands.
Both Armould and Russell are excited for the day to arrive, especially with Russell having been a member of the board that created the event.
"We're a part of a lineup of the most talented people that we know. It's gonna be amazing to just have an entire day to watch some of our best friends play," Armould said. "I think I'm also most excited about the fact that Lipscomb is doing it. And I think that this is something in our community that will become traditional, hopefully. Lipscomb is such a great place with so many talented people, and it's just really cool to see it all come to fruition."
"Everyone's been working really hard and is really passionate about this project and this event," Russell added, "and I think the greatest joy is just going be to see everyone get to do their thing that day."
The doors to Collins-Alumni Auditorium will open at 4:30 p.m. this Saturday. Hello Darling will take the stage at 8:30 p.m. Tickets are $5 for Lipscomb students, although 350 free student tickets will be available Friday in the Bennett Campus Center. Tickets to the public are being sold for $15.