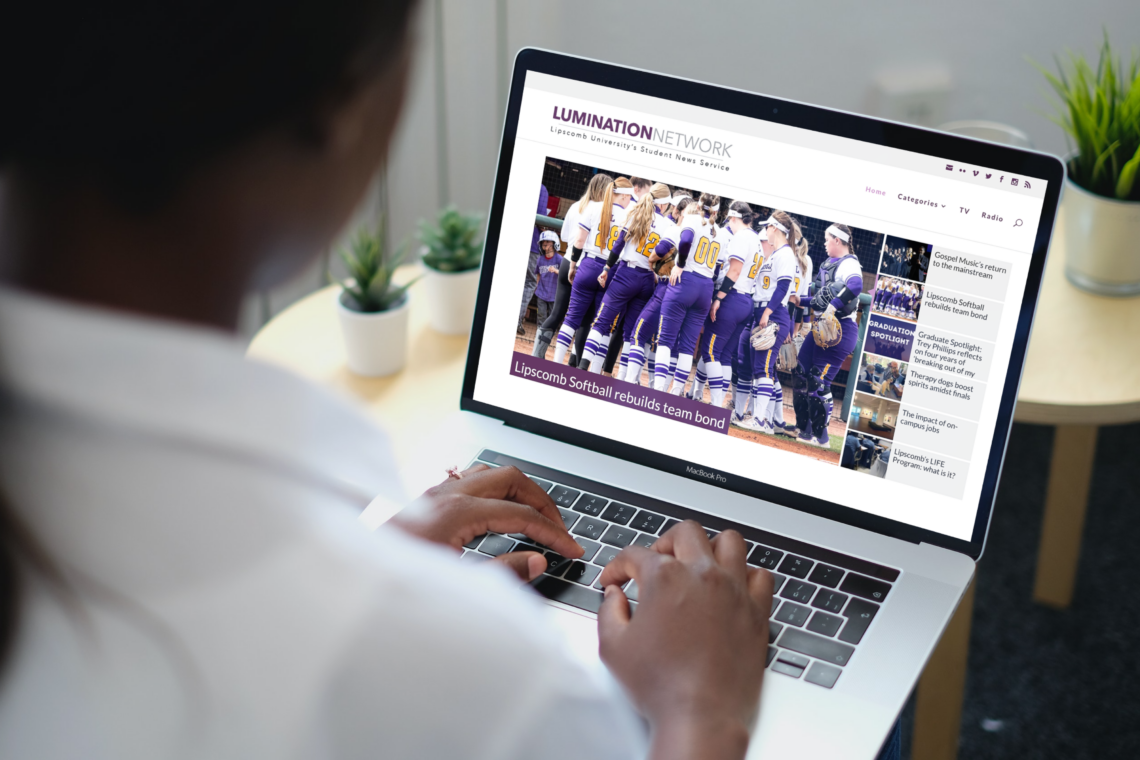 Student-led group illustrates 'Everyone is wanted' message
Republished from Lumination Network, Oct. 9, 2015.
In celebration of the one-year-anniversary of PAX, originally named Rep the Rainbow, a group of students painted the Bison with rainbow colors and the saying "Everyone is wanted" Friday morning.
"The group is called PAX because we commit to peace before truth," junior Bible major Josh Yarbrough said. "We believe that truth is important, and we all strive to do our best to understand what that is. There's a really beautiful element to us being able to live in community with one another even if we don't agree."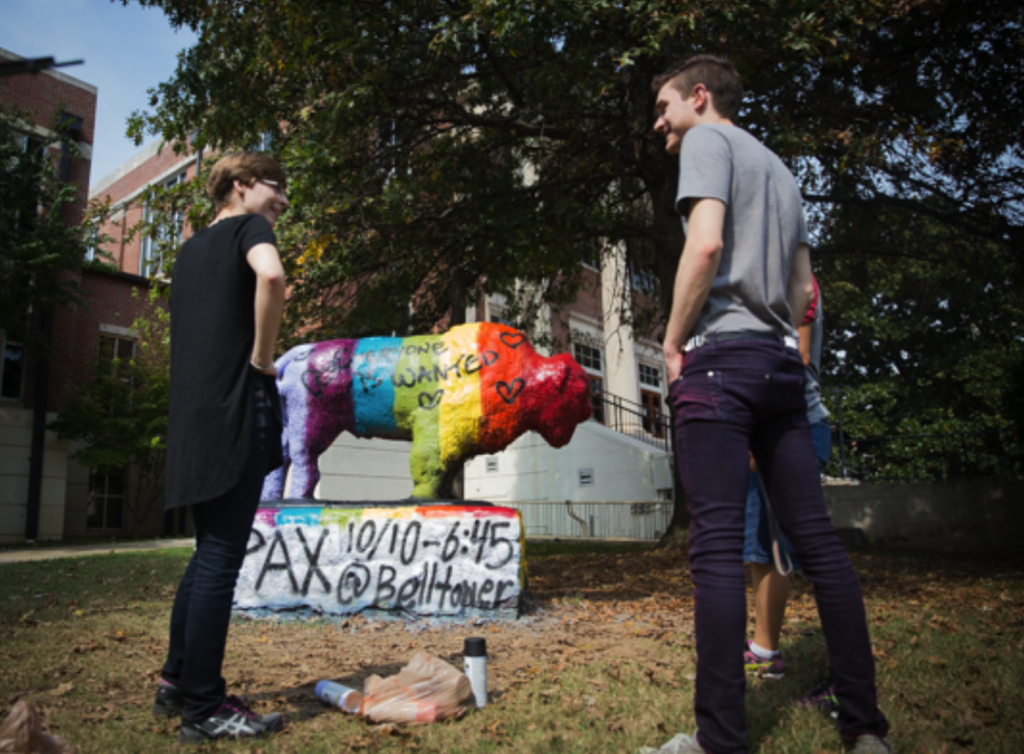 The group meets every Saturday from 7-9 p.m. at Second Presbyterian Church near campus. Before walking over to the building for the meeting, the group plans to gather at 6:45 p.m. by the Allen Bell Tower.
"We're going to gather at 6:45 so that people can walk and don't have to be alone," Yarbrough said. "We want there to be that sense of solidarity, so that people who are walking past can show up to the bell tower and they can see that there are other people gathered there who support them and love them."
This group was originally founded on Lipscomb's campus by Yarbrough and other students but is not a Lipscomb associated group. Several students from Vanderbilt have joined the weekly discussion, and Yarbrough plans to reach out to Belmont students as well.
According to Yarbrough, some members of PAX identify in the LGBT community, but the majority are not an identity or sexual minority.
PAX invites anyone of any age to join them for a weekly conversation of faith and identity. The group is currently dominated by college-aged individuals and young adults but remains open to anyone willing to talk about the LGBT and Christian communities.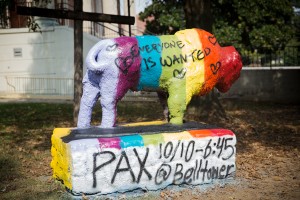 "This is a place to create healthy dialogue, support and love for people with questions, for people who don't know about their identity," Yarbrough said. "We talk about some really hard stuff. We allow people to ask any questions and we try to answer those as sensitively as we can. We make peace with the fact that we don't have a lot of answers to a lot of these things."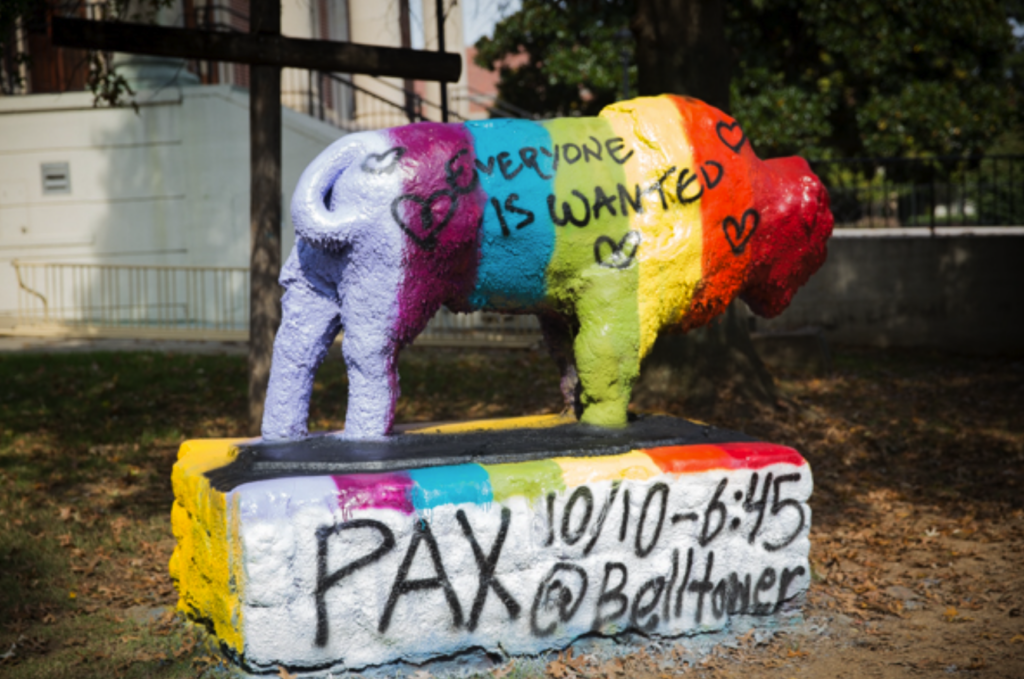 In addition to participating in discussions, PAX invites anyone interested to join them for coffee, cookies and board games at the meetings.
According to Yarbrough, the painting of the Bison served as an advertisement for the group Friday morning. PAX and Lipscomb Admissions worked together to find a solution to both promote PAX and allow visiting Lipscomb Friday guests to take a picture with the Bison during their tour.
"We didn't want to offend them," Yarbrough said. "We understood that there would be a lot of people who would want a picture with the Bison while visiting the school. We don't usually do a lot of open advertisement because we don't want to infringe upon the university or make them feel threatened in anyway."
Yarbrough said that having the Bison painted in rainbow colors Friday led to several conversations between him, the group and those passing by.
For more information on PAX visit its Facebook and Twitter account @PAXnashville or send an email to PAXnashville@gmail.com. The group meets at Second Presbyterian Church in room 309 each Saturday night from 7-9 p.m. `
"I think sometimes we get caught up in labels that shouldn't matter as much," Yarbrough said. "As a group we try to stress that not only is everyone welcome, but everyone is wanted. You're not just allowed to be in the room. We're excited that you're in the room and we're thrilled to be sharing life with you in the midst of some identities and questions that can be really hard."
By Becca Risley