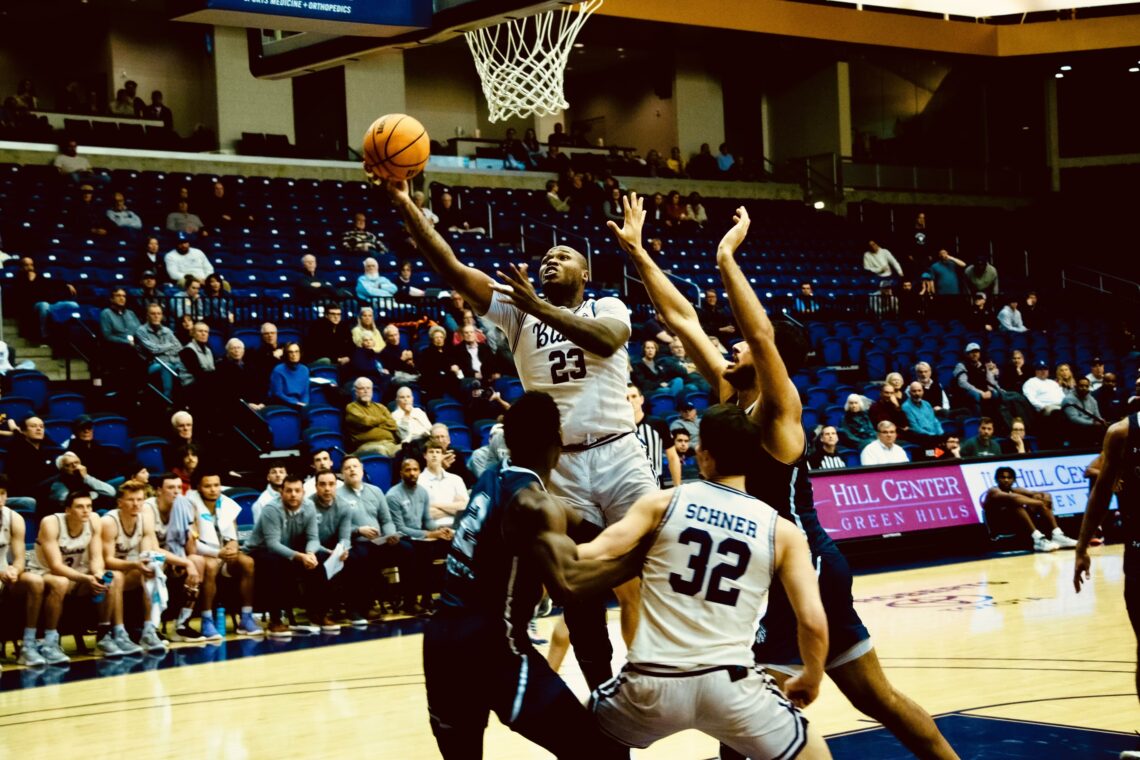 The Lipscomb Men's basketball season just ended, and the Bisons will not look the same when the season starts next year. The Bisons only have two seniors, but unfortunately, they are two very important players who play a huge role at Lipscomb University.
Matt Schner
First is Matt Schner. Matt transferred to Lipscomb this year for his final season of college basketball. Matt had previously played at Emory University, a D3 school in Atlanta Georgia (that's why he only has 1 year of stats on ESPN). If you want to see his Emory stats click here.
In his final year at Emory he brought in 23 points, 9 rebounds, and 4 assists each game he also led his team to the NCAA DIII tournament multiple times in his career. Matt's leadership showed when he came to Lipscomb. And his game came along with him. Matt brought the Bisons 6 points, 4 rebounds, and 1 assist each game and that's not all. His off-the-book stats spoke for themselves. He was a very sound basketball player. Great picks, and great cuts. He knew the offense very well; and the timeliness of the shots he hit didn't show up on paper either.
Schner was a fantastic basketball player and will be missed.
Ahsan Asadullah

Next, the big fella in the middle, the Lipscomb legend, Ahsan Asadullah. Asadullah averaged 12 points, 7 rebounds, and 3 assists during his entire 5-year span as a Bison. That's right, I said 5 years. He's been playing here at Lipscomb longer than some of our coaches have been coaching here. And to average that many point, assists, and rebound, over such a long period of time is outstanding.
One example of Asadullah's dominance would be the fact he became Lipscomb's all-time leading rebounder this season. And later, he became the ASUN's all-time leading rebounder. If you have the most rebounds in the entire history of a conference, you are one dominant player. Asadullah has been the biggest piece of Lipscomb's puzzle over the past couple of years and he will be missed.
Transfer Portal
Thankfully, the Bisons only have 2 seniors leaving, but you can't forget about the transfer portal. You may not have heard yet, but Trae Benham will not be here next season as he has decided to transfer. He doesn't know exactly where yet but will not be on the team come practice time.
Benham was the best shooter the Bisons had shooting roughly 38% from the three-point line both years he has played. Trae had an incredible freshman year starting in 11 out of 24 games and was a part of the ASUN all-freshman team. Benham had an enormous game against Liberty with 21 points and 3 three-pointers in the semifinal game of last year's ASUN tournament. But unfortunately, the Bisons came up short. He also had some massive games this year, including 7 three-pointers against Alabama A&M and 19 points with 4 threes at Notre Dame. Benham's incredible shooting and his energy will definitely be missed next season.
Our final guy leaving is Tommy Murr. As you know from his high school career. Murr can play some basketball. If you don't know about his high school career, he averaged the most points in the nation at 50 a game. His playmaking has translated into college as well. Although he doesn't average an insane number of points like he did in high school, Murr is an incredibly solid player. He's truly a floor general, meaning, when he's on the court, the offense runs smoothly and efficiently.
Murr has dropped in about 4 points a game over the three years he's been here, shooting around 43% from the field. He has also had some very clutch buckets during his time here. For example, he played 13 minutes against Navy, dropping 9 points, shooting 100% from the field. But like I said, Tommy does his damage with what he does off the stat sheet. His spark off the bench will be missed in the coming year.
Next year will look different, but one thing is for sure: Lipscomb wants that ASUN championship just as bad. Old guys leave and new guys come. Who knows what freshmen and transfers the Bisons will pull in for next season. But no matter what, the herd is going to keep on running.